Hello you wonderful people! Hope you're all well and staying safe. The past couple of days have been very worrisome in my family as my Nan was taken to hospital on Sunday for reasons they're still unsure about, so my family and I are feeling sad as we can't be with her due to current restrictions 😟 but we're hopeful and keeping our fingers crossed that she gets well soon.
To take my mind off from going stir-crazy with worry, and to also get me in the festive mood, I've been keeping busy with watching some Christmas films and I thought I would share with you 20 feel good Holiday films (which are in no particular order) on Netflix.
20 Christmas Films On Netflix!
Jingle Jangle: A Christmas Journey (2020)
Stars: Forest Whitaker, Keegan-Michael Key, Madalen Mills
Plot: In the gloriously vibrant town of Cobbleton, legendary toymaker Jeronicus Jangle's fanciful inventions burst with whimsy and wonder. But when his trusted apprentice steals his most prized creation, it's up to his equally bright and inventive granddaughter and a long-forgotten invention – to heal old wounds and reawaken the magic within.
Klaus (2019)
Stars: Jason Schwartzman, J.K. Simmons, Rashida Jones
Plot: When Jesper distinguishes himself as the postal academy's worst student, he is stationed on a frozen island above the Arctic Circle, where the feuding locals hardly exchange words let alone letters. Jesper is about to give up when he finds an ally in local teacher Alva, and discovers Klaus, a mysterious carpenter who lives alone in a cabin full of handmade toys. These unlikely friendships return laughter to Smeerensburg, forging a new legacy of generous neighbors, magical lore and stockings hung by the chimney with care.
Christmas Wedding Planner (2017)
Stars: Jocelyn Hudon, Stephen Huszar, Kelly Rutherford
Plot: Wedding Planner, Kelsey Wilson, is about to have her big break: planning her beloved cousin's lavish and exclusive wedding. Everything is going smoothly until Connor McClane, a devilishly handsome private investigator, shows up and turns Kelsey's world upside-down. Hired by a secret source, Connor quickly disrupts the upcoming nuptials but wins Kelsey's heart in the process.
Nativity! (2009)
Stars: Martin Freeman, Marc Wootton, Jason Watkins
Plot: This Christmas, primary school teacher Paul Maddens is charged with producing the school's nativity play. Competing against the posh rival school for the honor of best reviewed show in town, the stakes are raised when Paul idly boasts that his ex-girlfriend Jennifer, a Hollywood Producer, is coming to see his show with a view to turning it into a film. The only trouble is – they haven't spoken in years. With eccentric assistant Mr Poppy fuelling his 'little white lie', Maddens suddenly finds himself a local celebrity and at the center of quarreling parents and over-excited children desperate in their bid for fame and fortune. Maddens' only hope is to get back in touch with Jennifer and lure Hollywood to town so that everybody's Christmas wishes come true.
Nativity 2: Danger In The Manger! (2012)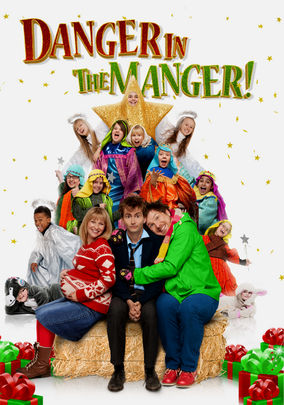 Stars: David Tennant, Marc Wootton, Jason Watkins
Plot: This sequel to the popular British comedy sees a new teacher take over. When he enters his school in the National 'Song for Christmas' Competition, he and his pregnant wife, and the schoolchildren, embark on an epic road trip that ends up with a birth and a donkey, where he must embrace his fears and become a hero.
Nativity 3: Dude, Where's My Donkey?! (2014)
Stars: Martin Clunes, Marc Wootton, Catherine Tate
Plot: The pupils of St Bernadette's and the madcap Mr Poppy are back! When their new teacher Mr Shepherd loses his memory as well as Archie the Donkey, it's up to them to save the day and reunite him with his fiancée Sophie in New York. Prepare for a race against time, fantastic flash mobs and plenty of Christmas fun on their greatest adventure yet.
Christmas Break-In (2018)
Stars: Denise Richards, Danny Glover, Cameron Seely
Plot: Izzy is an energetic 9-year-old. Overscheduled and running late, her parents can't pick her up on time on the last day of school before Christmas break. A blizzard complicates the matter, but not as much so as a pair of bad guys who are freezing in an ice cream truck. The school janitor is kidnapped by them, and it's up to Izzy to save the day.
The Christmas Chronicles (2018)
Stars: Kurt Russell, Darby Camp, Judah Lewis
Plot: The story of sister and brother, Kate and Teddy Pierce, whose Christmas Eve plan to catch Santa Claus on camera turns into an unexpected journey that most kids could only dream about.
The Christmas Chronicles 2 (2020)
Stars: Kurt Russell, Goldie Hawn, Darby Camp
Plot: Kate Pierce, now a cynical teen, is unexpectedly reunited with Santa Claus when a mysterious troublemaker threatens to cancel Christmas – forever.
Operation Christmas Drop (2020)
Stars: Kat Graham, Alexander Ludwig, Trezzo Mahoro
Plot: Congressional aide Erica forgoes family Christmas to travel at her boss's behest. At a beachside Air Force base, she clashes with Capt. Andrew Jantz, who knows her assignment is finding reasons to defund the facility.
Arthur Christmas (2011)
Stars: James McAvoy, Jim Broadbent, Bill Nighy
Plot: This movie reveals the incredible, never-before seen answer to every child's question: "So how does Santa deliver all those presents in one night?" The answer: Santa's exhilarating, ultra-high-tech operation hidden beneath the North Pole. But at the center of this movie is a story about a family in a state of comic dysfunction and an unlikely hero, Arthur, with an urgent mission that must be completed before Christmas morning dawns.
A Bad Moms Christmas (2017)
Stars: Mila Kunis, Kristen Bell, Kathryn Hahn
Plot: A Bad Moms Christmas follows our three under-appreciated and over-burdened women as they rebel against the challenges and expectations of the Super Bowl for moms: Christmas. And as if creating a more perfect holiday for their families wasn't hard enough, they must do all of that while hosting and entertaining their own mothers. By the end of the journey, our moms will redefine how to make the holidays special for all and discover a closer relationship with their mothers.
A Christmas Prince (2017)
Stars: Rose McIver, Ben Lamb, Alice Krige
Plot: When a reporter goes undercover as a tutor to get the inside scoop on a playboy prince, she gets tangled in some royal intrigue and ends up finding love – but will she be able to keep up her lie?
A Christmas Prince: The Royal Wedding (2018)
Stars: Rose McIver, Ben Lamb, Alice Krige
Plot: A year after helping Richard get to the throne, Amber is about to become his wife. But is she really made to be queen?
A Christmas Prince The Royal Baby (2019)
Stars: Rose McIver, Ben Lamb, Alice Krige
Plot: It's Christmastime in Aldovia, and a a royal baby is on the way. Queen Amber and King Richard are getting ready to take some time off to prepare for their first child's arrival, but first they have to host King Tai and Queen Ming of Penglia to renew a 600-year-old sacred truce. But when a snowstorm hits on Christmas Eve and the priceless treaty goes missing, peace is jeopardized and an ancient curse looms. Amber will have to figure out who the thief is before before the clock strikes midnight, for the safety of her family and the kingdom.
Christmas With The Kranks (2004)
Stars: Tim Allen, Jamie Lee Curtis, Dan Aykroyd
Plot: Strange as it may sound, Luther and Nora Krank, the award winning couple for their cheerful Christmas spirit, have decided for the first time, to skip this year's annual festivities when their daughter, Blair, departs for Peru after joining the Peace Corps. With the intention to save the staggering amount of $6,000 plus spent on previous year's holiday season, they are determined to invest the money on a sun-drenched, 10-day Caribbean cruise, much to their friends and neighbors' chagrin. However, that is easier said than done, and before long, menacing phone calls and angry protests on the snow covered pavements will betray that there is definitely no easy way out for Luther and Nora who has turned their backs on Christmas. And then, unexpectedly, Blair and her new fiance, Enrique, are coming home, unbeknownst to them that the empty family nest is far from ready for the event. Can Luther and Nora "generate" Christmas out of nothing in less than a few hours?
My Christmas Inn (2018)
Stars: Tia Mowry-Hardrict, Rob Mayes, Jackée Harry
Plot: With the holiday season in full swing, Jen Taylor is about to score a big promotion at the San Francisco ad agency where she works. But her life is unexpectedly turned upside down when she inherits a cozy inn in Alaska from her aunt. When she goes to inspect the property and meets handsome town attorney Brian Anderson, she's surprised to find that nothing is what she expected. The small town community is full of fun and festive Christmas traditions and soon, Jen starts wondering if the inn might just be the place she belongs, and if Steve could be the Mr. Right she has been waiting for.
A Perfect Christmas List (2014)
Stars: Ellen Hollman, Beth Broderick, Aaron Hill
Plot: As a last wish, a recently hospitalized grandmother, Evie, tasks her daughter and granddaughter, Sara, with a list of festive accomplishments to do together before Christmas, hoping that the adventure of the experience will repair their relationship. Along the way, Sara discovers an unlisted Christmas adventure of her own.
Santa Girl (2019)
Stars: Barry Bostwick, Jennifer Stone, Devon Werkheiser
Plot: The only daughter of Santa Claus wants to experience the "real world" before she must marry the son of Jack Frost and take over the family business. Cassie Claus, along with her trusty elf, sets off to college while trying to keep her magic powers and famous father a secret. At school, Cassie is pursued by two boys: Sam who is sweetly awkward and J.R., handsome and wealthy. As her impending arranged marriage looms, Cassie struggles with her feelings for Sam and her obligation to her father and to Christmas itself.
The Grinch (2018)
Stars: Benedict Cumberbatch, Cameron Seely, Rashida Jones
Plot: The Grinch and his loyal dog, Max, live a solitary existence inside a cave on Mount Crumpit. His main source of aggravation comes during Christmas Time when his neighbours in Whoville celebrate the holidays with a bang. When the Whos decide to make Christmas bigger and brighter, the disgruntled Grinch realises there is one way to gain peace and quiet. With help from Max, the green grump hatches a scheme to pose as Santa Claus, steal Christmas and silence the Whos' holiday cheer once and for all.
Thank you for visiting my blog, if you do decide to watch any of these films, I hope you enjoy them! I hope you have a good a week, and I shall see you next Wednesday. 😃