Good morning everyone, hope you're all doing Ok. I'm not gonna lie, this past week I've struggled a little bit with depression 😞 more-so because it finally dawned on me that I wont get to meet my little nephew (who is due next month) for a while, but as long as he and my sister are healthy I'll be alright!
Something that helps me to get through my depression is books, I love when a story can grip you and you can actually picture the story as it's happening, and as I love finding new books to read, I thought I would share with you some of the new ones that are out this Winter. So here is just a little selection…
15 Books To Read This Winter
A Promised Land – Barack Obama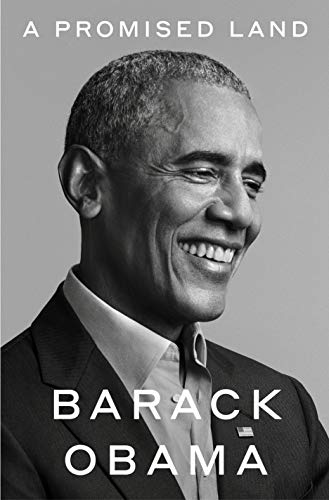 In the stirring, highly anticipated first volume of his presidential memoirs, Barack Obama tells the story of his improbable odyssey from young man searching for his identity to leader of the free world, describing in strikingly personal detail both his political education and the landmark moments of the first term of his historic presidency-a time of dramatic transformation and turmoil. Obama takes readers on a compelling journey from his earliest political aspirations to the pivotal Iowa caucus victory that demonstrated the power of grassroots activism to the watershed night of November 4, 2008, when he was elected 44th president of the United States, becoming the first African American to hold the nation's highest office.
How To Fail At Flirting – Denise Williams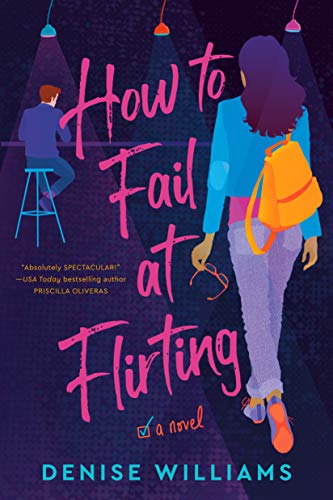 For one night only, Naya's friends convince her to shed her frumpy cardigan for an evening on the town. For once, she'll forget about her demanding job and, with the help of her new to-do list, practice flirting with a charming stranger . . .
Jake might be just what Naya never knew she was looking for. He's sexy, he makes her laugh and he challenges Naya to rebuild her lost confidence. But the best things in life are never easy, and the complicated strings around dating Jake might just destroy her career. Naya has two options: she can protect her professional reputation and return to her old life, or she can flirt with the unknown and stay with the person who makes her feel like she's finally living again .
Us Three – Ruth Jones
Meet Lana, Judith and Catrin. Best friends since primary school when they swore an oath on a Curly Wurly wrapper that they would always be there for each other, come what may.
After the trip of a lifetime, the three girls are closer than ever. But an unexpected turn of events shakes the foundation of their friendship to its core, leaving their future in doubt – there's simply too much to forgive, let alone forget. An innocent childhood promise they once made now seems impossible to keep . . .
Love Your Life – Sophie Kinsella
Ava is sick of online dating. She's always trusted her own instincts over an algorithm, anyway, and she wants a break from it all. So when she signs up to a semi-silent, anonymous writing retreat in glorious Italy, love is the last thing on her mind.
Until she meets a handsome stranger. . . All she knows is that he's funny, he's kind and – she soon learns – he's great in bed. He's equally smitten, and after a whirlwind, intoxicating affair, they pledge their love without even knowing each other's real names. But when they return home, reality hits. They're both driven mad by each other's weird quirks and annoying habits, from his eccentric, naked-sauna-loving family to her terribly behaved, shirt-shredding dog. As disaster follows disaster, it seems that while they love each other, they just can't love each other's lives. Can they overcome their differences to find one life, together?
Invisible Girl – Lisa Jewell
When Saffyre Maddox was ten, something terrible happened, and she's carried the pain of it ever since. The man who she thought was going to heal her didn't, and now she hides, learning his secrets, invisible in the shadows.
Owen Pick is invisible too. He's never had a girlfriend; he's never even had a friend.
Nobody sees him. Nobody cares.
But when Saffyre goes missing from opposite his house on Valentine's night, suddenly the whole world is looking at Owen. Accusing him. Holding him responsible for Saffyre's disappearance…
This Time Next Year – Sophie Cousens
Quinn and Minnie are born on New Year's Eve, in the same hospital, one minute apart. Their lives may begin together, but their worlds couldn't be more different.
Thirty years later they find themselves together again in the same place, at the same time.
What if fate is trying to bring them together?
Maybe it's time to take a chance on love…
Finding Love At The Christmas Market – Jo Thomas
Residential-home caterer Connie has had one online-dating disaster too many. Hurt in the past and with her son to consider, now she's feeling hesitant. Then one of Connie's residents sets her up on a date at a beautiful German Christmas market – with the promise she'll take a mini-bus full of pensioners along with her…
Amongst the twinkling lights and smell of warm gingerbread in the old market square, Connie heads off on her date with a checklist of potential partner must-haves. Baker Henrich ticks all the boxes, but when Connie meets Henrich's rival William, she starts to wonder if ticking boxes is the answer.
Will Connie's wish for love this Christmas come true, and if so – with who?
2 A.M At The Cat's Pajamas – Marie-Helene Bertino
Madeleine Altimari is a sassy, smart-mouthed nine-year-old and an aspiring jazz singer, inwardly mourning the recent death of her mother. Little does she know that on Christmas Eve Eve she is about to have the most extraordinary day – and night – of her life.
After bravely facing down some mean-spirited classmates and a galling rejection at school, Madeleine doggedly searches for Philadelphia's legendary jazz club The Cat's Pajamas, where she's determined to make her on-stage debut. Meanwhile, her fifth grade teacher Sarina Greene is nervously looking forward to a dinner party that will reunite her with an old high school crush. And across town at The Cat's Pajamas, club owner Jack Lorca discovers that his beloved haunt may have to close forever . . .
As these three lost souls search for love, music and hope on the snow-covered streets of Philadelphia, together they will discover life's endless possibilities over the course of one magical night.
The Other Passenger – Louise Candlish
It all happens so quickly. One day you're living the dream, commuting to work by riverbus with your charismatic neighbour Kit in the seat beside you. The next, Kit hasn't turned up for the boat and his wife Melia has reported him missing.
When you get off at your stop, the police are waiting. Another passenger saw you and Kit arguing on the boat home the night before and the police say that you had a reason to want him dead. You protest. You and Kit are friends – ask Melia, she'll vouch for you. And who exactly is this other passenger pointing the finger? What do they know about your lives?
No, whatever danger followed you home last night, you are innocent, totally innocent.
Aren't you?
The Cousins – Karen M. McMAnus
The Storys are the envy of their neighbours: owners of the largest property on their East Coast island, they are rich, beautiful, and close. Until it all falls apart. The four children are suddenly dropped by their mother with a single sentence: You know what you did.
They never hear from her again.
Years later, when 18-year-old cousins Aubrey, Milly and Jonah Story receive a mysterious invitation to spend the summer at their grandmother's resort, they have no choice but to follow their curiosity and meet the woman who's been such an enigma their entire lives. This entire family is built on secrets, right? It's the Story legacy.
This summer, the teenagers are determined to discover the truth at the heart of their family. But some secrets are better left alone.
The Open House – Sam Carrington
Everyone's welcome. But not everyone leaves…
Nick and Amber Miller are splitting up and selling their Devon family home. But despite the desirable location, the house isn't moving. Not a single viewing so far. When their estate agent suggests an open house event, Amber agrees, even as she worries about their gossiping neighbours attending and snooping around their home.But Amber has more to worry about than nosy neighbours. Because thirteen people enter her house that afternoon, and only twelve leave.
Someone doesn't want the house to sell, and is willing to do anything to stop it…
Holly's Christmas Countdown – Suzie Tullett
Holly has been planning Christmas in the Caribbean with her boyfriend Jeremy for the last few months and welcomes the chance to do something different for the festive season. But when Holly catches Jeremy in bed with another woman her hopes are shattered. Faced with no other option, it appears Holly is going to have to spend Christmas with her eccentric parents. Something she was keen to avoid. After a night out, drowning her sorrows with her friend, she has a chance encounter with a handsome stranger, Fin, who provides her with an opportunity to have a Christmas staycation away from her parents. But when it turns out that there is more to Fin than meets the eye, and the attraction between him and Holly grows, it looks like she is on the cusp of happiness again.
Will Holly get the Christmas she craved and the man of her dreams?
Thirteen Storeys – Jonathan Sims
GOING UP?
A dinner party is held in the penthouse of a multimillion-pound development. All the guests are strangers – even to their host, the billionaire owner of the building
.
None of them know why they were selected to receive his invitation. Whether privileged or deprived, they share only one thing in common – they've all experienced a shocking disturbance within the building's walls.
By the end of the night, their host is dead, and none of the guests will say what happened. His death has remained one of the biggest unsolved mysteries – until now.
But are you ready for their stories?
All On The Board: Inspirational quotes from the TfL underground duo
Transport for London employees and dynamic masked duo, All on the Board, made it their mission to bring smiles to the faces of London commuters through writing creative messages, quotes and poems on the service information boards. 'We were tired of looking at a board that just said "keep right" and thought can't we do something a bit more fun?'.
Fast-forward 3 years, they've grown a community of 600,000 loyal fans and a plethora of celebrity supporters. Through their magical words, they've marked momentous occasions, celebrated countless artists, legends and heroes, raised awareness of mental health and hidden illnesses and sprinkled thousands of our daily journeys with positivity, humour and love. Their kind messages remind us all that we're in it together and now, with this beautiful collection of quotes, you can brighten up and bring joy to your day wherever you are.
The Midnight Library – Matt Haig
When Nora Seed finds herself in the Midnight Library, she has a chance to make things right. Up until now, her life has been full of misery and regret. She feels she has let everyone down, including herself. But things are about to change.
The books in the Midnight Library enable Nora to live as if she had done things differently. With the help of an old friend, she can now undo every one of her regrets as she tries to work out her perfect life. But things aren't always what she imagined they'd be, and soon her choices place the library and herself in extreme danger.
Before time runs out, she must answer the ultimate question: what is the best way to live?
The Good Girls – Claire Eliza Bartlett
The troublemaker. The overachiever. The cheer captain. The dead girl. Like every high school in America, Jefferson-Lorne High contains all of the above.
After the shocking murder of senior Emma Baines, three of her classmates are at the top of the suspect list: Claude, the notorious partier; Avery, the head cheerleader; and Gwen, the would-be valedictorian.
Everyone has a label, whether they like it or not–and Emma was always known as a good girl. But appearances are never what they seem. And the truth behind what really happened to Emma may just be lying in plain sight. As long-buried secrets come to light, the clock is ticking to find Emma's killer–before another good girl goes down.
I hope you enjoy reading these books! Thank you for visiting my blog, enjoy the rest of your week and I will see you next Wednesday 👋.