Morning everyone, how are you all doing today? Alright hopefully 🤞 Did anyone else watch the 'Audience With Adele' special that aired over the weekend? I thought it was absolutely amazing, I loved her interactions with the audience and seeing so many different celebrities dancing (especially Emma Thompson) and singing along to her songs. It was so sweet when she was surprised and reunited with her old school teacher, it was so heartwarming! But I've got to say one of the top moments for me was when Alan Carr went up on stage to entertain the crowd for a couple of minutes whilst Adele got her make-up redone after that emotional surprise reunion, that was so funny and brilliant 😊
Let's move on with today's post… Now I'm not a huge fan of Caramel but I have to admit having it on a Cheesecake makes it taste even more scrumptious than it already is! And being a huge lover of Apple Crumble and with it being Thanksgiving in America tomorrow, I thought what a better way to combine the American Holiday and my love of desserts than to share this yummy recipe with you all, so let's get started…
Caramel Apple Crumble Cheesecake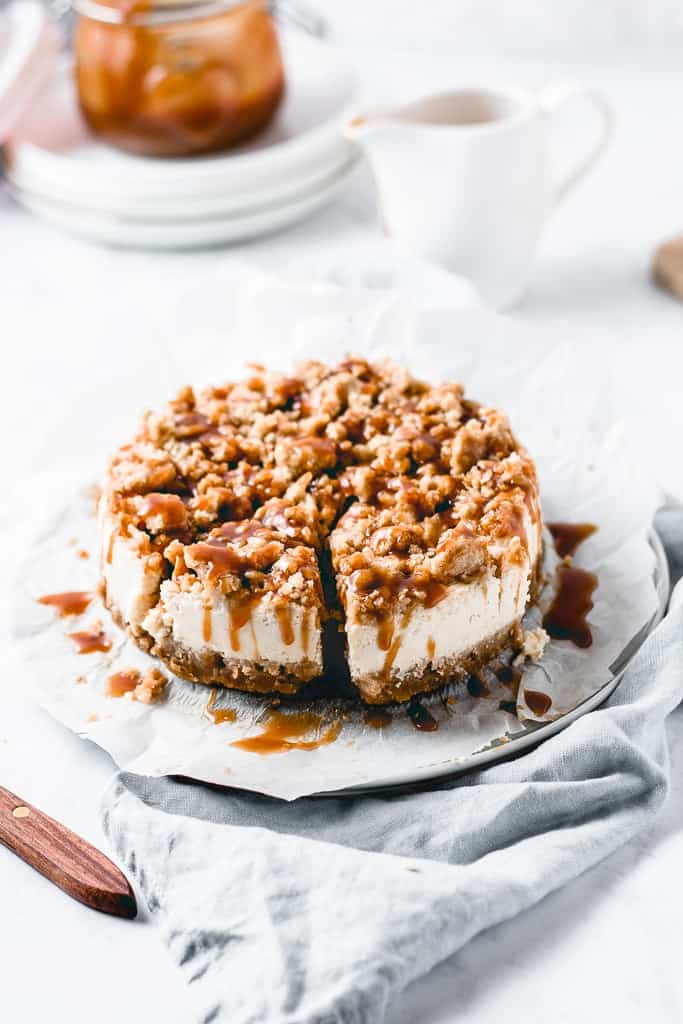 Ingredients:
CRUST:
2 cups Graham Cracker (170 g), crumbled
⅛ cup Brown Sugar (30 g)
⅓ cup Butter (75 g)
FILLING:
16 oz Cream Cheese (450 g), softened
¼ cup Brown Sugar (55 g)
¼ cup White Sugar (50 g)
2 tablespoons Cornstarch
1 teaspoon Cinnamon
¼ teaspoon Ginger
1 teaspoon Vanilla Extract
2 Green Apples, peeled and thinly sliced
TOPPING:
¼ cup Rolled Oats (25 g)
¼ cup Flour (30 g)
¼ cup Brown Sugar (55 g)
1 teaspoon Cinnamon
2 tablespoons Butter, melted
Caramel Sauce
Method:
Preheat oven to 350°F (180°C).
In a bowl, mix the crust ingredients.
Press into the bottom of a greased 8-inch (20 cm) springform pan.
Bake for 5 minutes.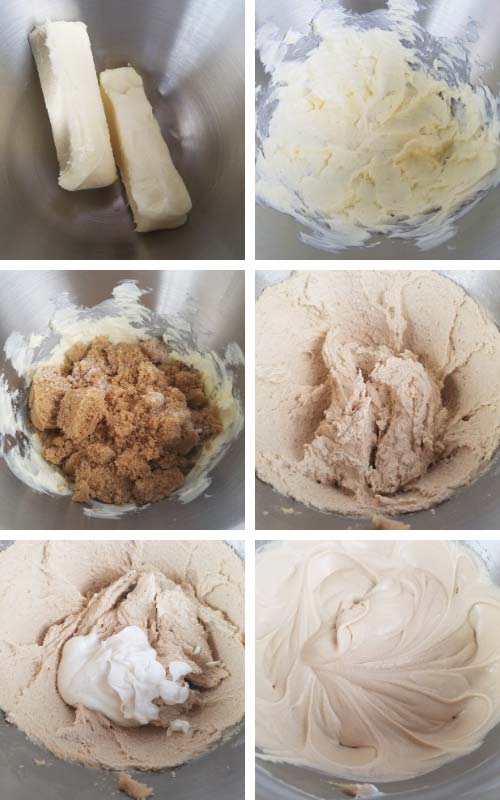 In another bowl, mix all the filling ingredients except the apples.
In another bowl, mix all the topping ingredients except the caramel.
Spread the filling over the graham cracker crust, then layer the apple slices on top.
Sprinkle the topping mixture evenly over the apple layer.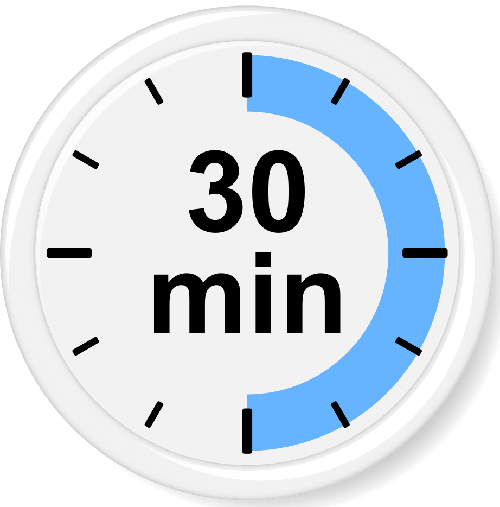 Bake for 30 minutes.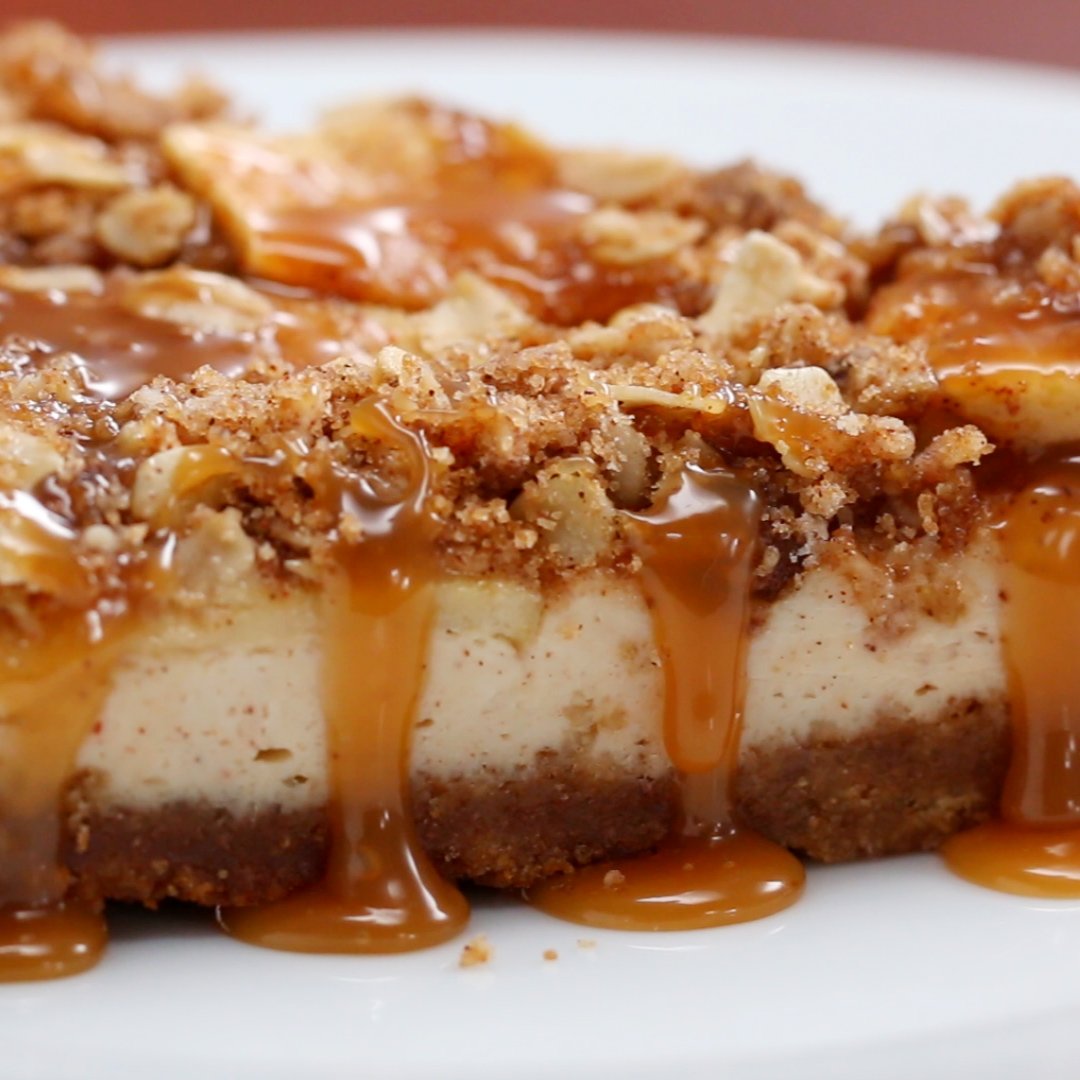 Drizzle on caramel sauce.
Enjoy!
I hope you enjoy this Caramel Apple Crumble Cheesecake! If you celebrate Thanksgiving this is a great dessert to make to share with friends and family, or even if you just fancy doing a bit of baking, either way, you won't be disappointed!
Thank you for coming to my blog, have a lovely week and I will see you next Wednesday.