Good morning everyone, are you all doing OK? On Sunday, I went to the Hospital close to where I live to get my wrist looked at again as I've mentioned in previous posts that it's still no better, and the Doctor I saw was so lovely and confirmed that I still have Tendonitis and that unfortunately it can take a while to heal, but that I need to see my General Practitioner (GP) so they can keep an eye on it as there may be a chance I might need an injection in it as it could potentially lead to some problems with my nerves or other things, so physio wouldn't be a good idea at the moment. So to sum all of that up, I've been advised to make an appointment with my GP and to also rest my wrist as much as possible, which is not an easy thing to do as my right wrist (the one I'm suffering with) is my dominant one, but I'm gonna try my best to follow the Doctor's (and my parents') orders to rest it.
With having to rest my wrist so as not cause any more problems with it, and having a cold, I haven't been able to go out very much to take pictures (which upsets me a lot, as it's one of my favourite things to do), my mum and I have resorted in doing another one of my favourite things to do, especially when I'm not well, and that is to have a Disney movie marathon, and one we love to watch a lot is 'The Little Mermaid' so when I realised that the movie was originally released in theatres 32 years ago today on the 17th November 1989, I wanted to do a post on facts that you may not know about the film. Let's start…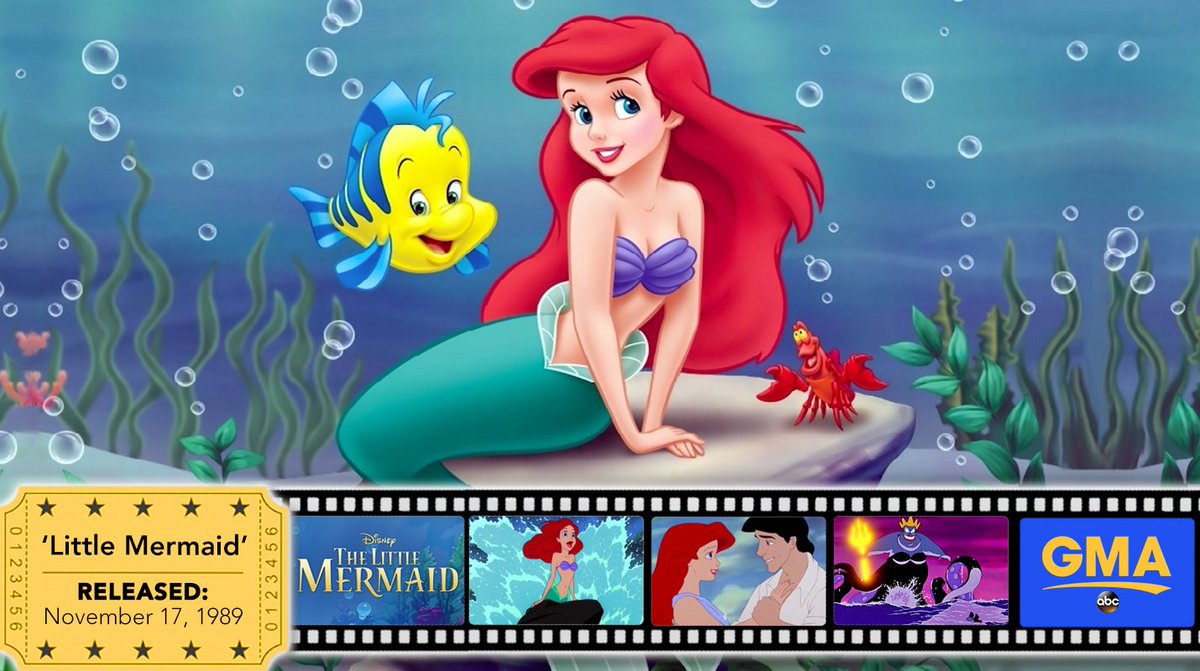 Based on the Hans Christian Andersen book of the same name, The Little Mermaid is a fairytale that tells the story of a mermaid named Ariel, who dreams of becoming human and falls in love with a prince named Eric who she rescues after he gets knocked overboard off his boat and brings him to the safety of the shore where she sings to him before disappearing just as he's regaining consciousness.
Thinking he'll never love her as a mermaid, it leads her to make a magic deal with the sea witch, Ursula, to become human and be with him. The deal that Ariel agrees to will transform her into a human for three days in exchange for her voice, which Ursula puts in a nautilus shell. Within these three days, Ariel must receive the "kiss of true love" from Eric. If Ariel gets Eric to kiss her, she will remain a human permanently. Otherwise, she will transform back into a mermaid and belong to Ursula. Unbeknownst to Ariel that Ursula has a hidden motive for helping her. So, angered by how close Ariel is to achieving her dream, Ursula disguises herself as a beautiful young woman named Vanessa and casts a hypnotic enchantment on Eric to make him forget about Ariel.
The next day, when Ariel discovers that Eric will be married to Vanessa, Scuttle a seagull who Ariel visits (and often offers inaccurate knowledge of human culture), discovers Vanessa's true identity and informs Ariel, who immediately pursues the wedding barge. Sebastian informs Triton, and Scuttle disrupts the wedding with the help of various sea animals. In the chaos, the nautilus shell around Ursula's neck is destroyed, restoring Ariel's voice and breaking Ursula's enchantment over Eric. Realizing that Ariel was the girl who saved his life, Eric rushes to kiss her, but the sun sets and Ariel transforms back into a mermaid. Ursula reverts to her true form and kidnaps Ariel.
Triton appears and confronts Ursula, but cannot destroy Ursula's contract with Ariel. Triton chooses to sacrifice himself for his daughter and is transformed into a polyp. Ursula takes Triton's crown and trident, which was her plan from the beginning. Ursula uses her new power to gloat, transforming into a giant, and forming a whirlpool that disturbs several shipwrecks to the surface, one of which Eric commandeers. Just as Ursula is set to use the trident to destroy Ariel, Eric turns the wheel hard to port and runs Ursula through the abdomen with the ship's splintered bowsprit, mortally wounding her. With her last breaths, Ursula pulls the ship down with her, but Eric escapes to shore in time. With Ursula gone, her power breaks and the polyps in Ursula's garden (including Triton) turn back into the old merpeople. . Later, after seeing that Ariel really loves Eric and that Eric also saved him in the process, Triton willingly changes her from a mermaid into a human using his trident. She runs into Eric's arms, and the two finally kiss.
This was the last Disney animated feature to use hand-painted cels and analog camera and film work. 1,000 different colors were used on 1,100 backgrounds. Over one million drawings were done in total.
Ariel is the first Disney princess to have biological siblings.
Several elements from the original Hans Christian Andersen story were kept in the movie, including: Ariel being the youngest of many sisters, the secret white marble statue, the polypi along the entrance to Ursula's cavern, and Ariel asking what she'll have left without her voice and the sea-witch's response. However, in the original story, Ariel doesn't turn back into a mermaid at the end. When the sun rises on the last day she turns to foam and dies. Later editions included her becoming a daughter of the air and rising to heaven.
Actress Alyssa Milano is said to have been some inspiration behind the look of Ariel.
Ariel's red hair was inspired by one of the art director's daughter's red hair.
Although commonly confused as being Jamaican, Sebastian is actually Trinidadian. Samuel E. Wright confirmed that was in fact the accent he used while voicing by the character.
After being moved to tears by The Little Mermaid, a New Jersey State Trooper called his estranged daughter to repair their relationship. He wrote to Ron Clements (writer/director) to tell him the story.
The popular song "Part of Your World" was almost cut from the film, after initial test screenings showed audience members weren't loving it. Fortunately, a positive second round of screenings saved the sentimental scene from the chopping block.
The sailors dancing on Prince Eric's ship were caricatures of the team that worked on the film. 
In the opening scene when King Triton arrives at the arena, Mickey Mouse, Goofy, Donald Duck and Kermit the Frog can be briefly seen in the crowd of sea-people as mermen when he passes over them.
In Greek mythology, Triton is the son of Poseidon. Poseidon is the brother of Zeus. Zeus had a son named Heracles, who is the main hero of Hercules (1997). This makes Disney heroes Ariel and Hercules first cousins once removed.
Jodi Benson sang "Part of Your World" in the dark to get that 'under the sea' feeling.
The two songs performed by Sebastian – "Under the Sea" and "Kiss the Girl" – were the only ones nominated for the Academy Award, the former being the winner.
Actress Jodi Benson who voiced Ariel still voices the character to this day with her most recent addition being in Ralph Breaks the Internet (2018).
Ariel and her sisters' tails consist of the colors of the rainbow. Attina: orange, Alana: violet, Aquata: blue, Arista: red, Adella: yellow, Andrina: indigo, and Ariel: green.
In the original character designs, Ursula was portrayed as a spinefish or a scorpion fish with lots of spikes and spines.
If the scene where Ursula emerges from the sea seemed familiar it's because it echoed another Disney film. Animators studied the scene where Monstro rises from the murky depths in Pinnochio.
Ariel's fin required a new colour. The Disney paint lab called the colour Ariel.
Ursula isn't an octopus, she's a Cecaelia, that's a mythical mix of human and octopus.
The character of Ursula was based on drag performer and John Waters regular Divine. Her personality and some of her actions were also largely inspired by a previous Disney villain, Madame Medusa from Disney's The Rescuers.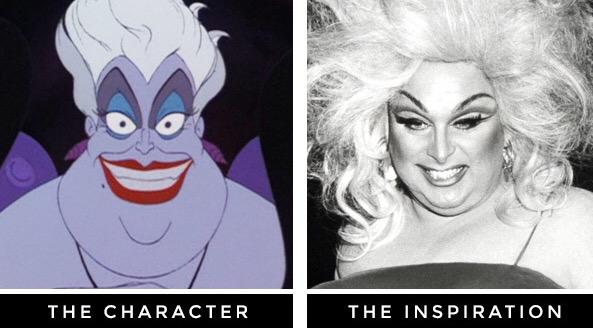 The dress Ariel wears during her dinner with Eric is actually a combination of different dresses worn by every Disney princess prior to her. The puffy sleeves with the diamond designs are similar to the sleeves on Snow White's iconic dress. The light pink color comes from Cinderella's mother's dress (the one the stepsisters rip apart). The full skirt and draping are from Cinderella's famous ball gown. Finally, the off-the-shoulder neckline and long, pointed sleeves were inspired by Princess Aurora's royal ball gown.
Before Kenneth Mars was signed up to voice Ariel's father, Sir Patrick Stewart was going to voice King Triton. He turned it down as it clashed with him filming Star Trek: The Next Generation.
The directors insisted that every one of the millions of bubbles should be hand-drawn, not xeroxed. The sheer manpower for such an effort required Disney to farm out most of the bubble-drawing to Pacific Rim Productions, a China-based firm with production facilities in Beijing.
The Little Mermaid won Best Original Score at the 1990 Oscars – the first Disney film to win one since 1972.
A Live-Action remake of The Little Mermaid is set to be released in 2023.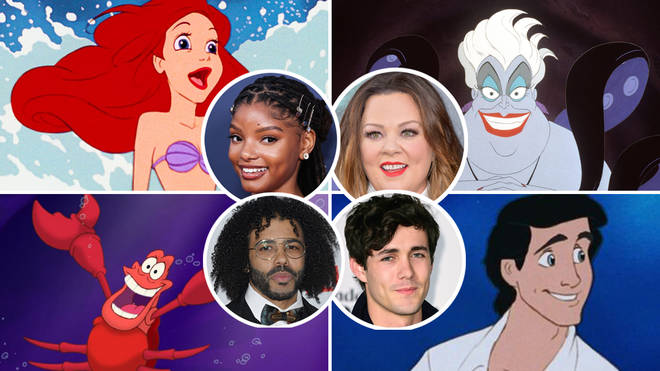 If you pause the film when Flounder does his impression of Scuttle you'll see he actually changes so his features match the seagull's.
The Little Mermaid was the first collaboration between Disney and Pixar, who became Disney's in-house developer of some of the most beloved computer-animated features of all time.
The Little Mermaid is considered the beginning of the Disney Renaissance.
Ariel's cave of treasures has some fun Easter eggs. When Ariel sings 'Part of Your World,' there are some fun background details in the treasure trove behind her. There's a bust of Abraham Lincoln on one of the shelves in the cave, and Ariel swims up to the famed painting "Magdalene With the Smoking Flame" by Georges de La Tour.
Ariel is the only Disney Princess to become a Mom. In the sequel film The Little Mermaid II: Return to the Sea, Ariel and Eric share a daughter together named Melody.
Did you know any of these facts? Were any a surprise to you? If you didn't know some of them before, you know now!
Thank you for coming to my blog and reading today's post, I hope you all enjoy the rest of the week and I will see you next Wednesday 😊