Hello December and good morning everybody, are you all Ok? It is absolutely freezing here in the U.K which hasn't been helped by the flurries of snow that we've been having since Saturday. Luckily, the roads were pretty clear on Monday, which was good for me and my mum when we had to walk to the Supermarket from the Hospital where I had an X-ray done to check there's no fracture in my wrist, which as I already knew…there isn't. Now I just have to wait for my Doctor to check the report over to see what is gonna happen next, hopefully (fingers crossed) within the next couple of weeks.
On with today's post… Because we woke up to our own Winter Wonderland here in England and as Christmas is only a couple of weeks away, I thought I would do a post on the best Wonderlands around the world that would be perfect for a winter getaway!
Frost, ice and snow sometimes create real wonders and can arrange a fabulous landscape literally out of the blue. And whether you love or hate winter, there is a certain type of beauty found within the colder time of the year. Apart from cold temperatures winter also brings on a whole new level of sightseeing and outdoor activities. So here is a list of winter destinations around the world that will make you appreciate the colder months and maybe inspire your next winter vacation plans.
French Alps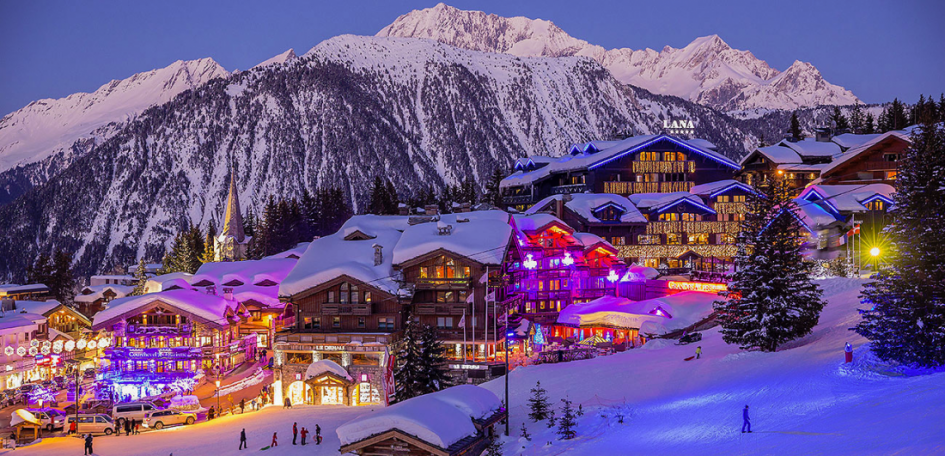 For stunning, wintry landscapes, tourists can head to the French Alps, which are part of the Western Alps. The mountains in France are subdivided into the Southern and Northern Alps, with Mont Blanc being the highest point and the main attraction. The Northern French Alps are incredibly beautiful in the cold season! There you can see glaciers, coniferous forests, alpine and subalpine meadows covered with snow.  The combination of charming old towns and impeccable ski slopes cater to every traveller who wants to spend quality time in this scenic wonderland. Explore the Roof of Europe from the picturesque Chamonix region, winter walhalla Val d'Isère or the unspoiled Mercantour National Park. Expect an outdoor playground with perfect slopes, thrilling activities and plenty of time for relaxation.
Vatnajökull Glacier in Iceland
In the "Land of Ice" the winter fairy tale never ends. Sparkling and crystal, milky white and terribly cold ice inspire a chilling feeling of fear and delight. Glaciers are one of the most spectacular winter wonders that can be seen even in summer. The most amazing and beautiful of them is Vatnajökull – the largest glacier in Iceland. It is also famous for its ice caves that are located right above hot springs heated by active volcanoes. That is also one of the special destinations that travel bloggers love due to the beautiful pictures that come out there.
Lake Baikal, Russia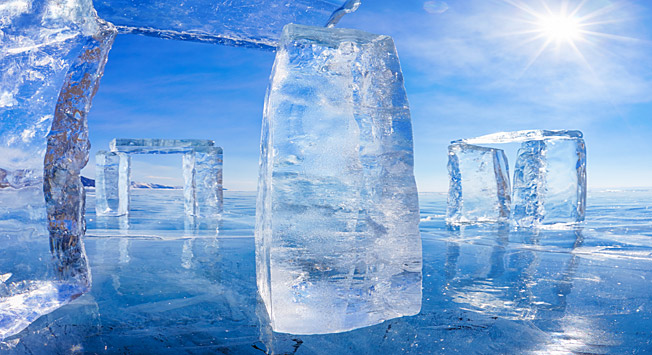 Winter Baikal is a real fairy tale land – transparent ice, bright sunshine from which you can even get a tan, and at the same time freezing temperatures. Each year more and more tourists are visiting Baikal during this period. The ice of the frozen Lake Baikal is unique as it is absolutely see-through and when you are walking on it you can see several metres down. Some people even experience vertigo. Baikal freezes relatively late and in February lots of ice-hummocks form – massive blocks of ice, some reaching heights of multi-storey buildings.
Lapland, Finland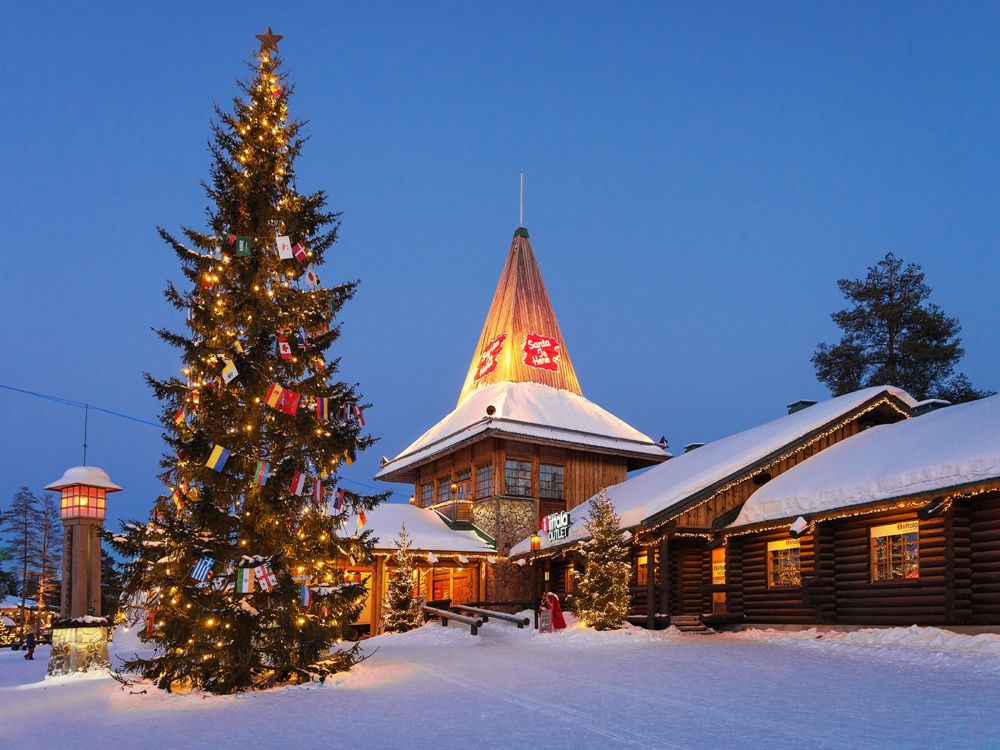 Lapland, Finland — located in the northernmost part of the country, is a true winter wonderland. The whole landscape is blanketed in thick, white snow, with plenty of winter-themed things to do — like watching the Northern Lights, reindeer sleigh rides, and basking in Finnish sauna culture. With so much snow and the magic of the Northern Lights, it's not hard to see why Lapland is a winter wonderland. That's why Santa Claus set up shop under the twin peaks of Korvatunturi and holds office in Santa Claus Village every day of the year.
Shirakawa-go, Japan
Shirakawago (and neighboring Gokayama) is a UNESCO World Heritage Site famous for its traditional gassho-zukuri farmhouses. It's located in the remote Shogawa River Valley in Gifu prefecture, close to the border with Toyama. Unique to Japan, gassho-zukuri farmhouses are noted for their slanted thatched gable roofs. They're constructed at a steep angle to allow heavy snow to fall off easily in winter. Their unique shape resembles hands clasped in prayer, which is how this architectural style got its name. "Gassho" means to hold one's hands in prayer while "zukuri" refers to an architectural style.
Munich, Germany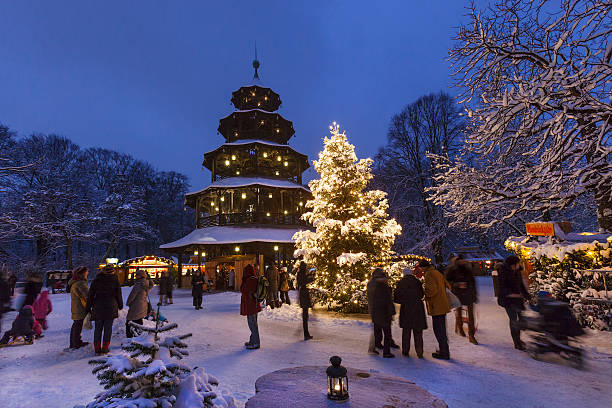 Bavaria's capital enjoys four glorious seasons, giving travellers who need any excuse to return at least three good reasons. Winter is especially enjoyable in Munich, as centuries-old traditions are played out across the city. The Christkrindlmarkt in Munich's Marienplatz is the place to go for handcrafted mugs filled with steaming mulled wine, elaborate gingerbread houses and artisanal children's toys carved from wood.
Harbin, China
With its bitterly cold winters, Harbin is heralded as the Ice City for its well-known winter tourism and recreations. Harbin is notable for its ice sculpture festival in the winter. Massive ice buildings, large-scale snow sculptures, ice slides, festival food and drinks can also be found in several parks and major avenues in the city. Winter activities in the festival include Yabuli Alpine Skiing, snow mobile driving, winter-swimming in Songhua River, and the traditional ice-lantern exhibition in Zhaolin Garden, which was first held in 1963.
Lofoten Island, Norway
Winter can be harsh and long but the snow does a good job in transforming the landscape into a winter wonderland. Lofoten is full of surprises and during night you might even get a good look at the Northern Lights elegantly dancing on the night sky. No matter how you've spent a winter day in Lofoten, it's quite likely that you've been a little cold at some point and perhaps even tired after a hike or long day of exploring. Luckily for you, a sauna awaits just outside your cabin door. What better way to end the day than relaxing in a sauna with a view.
Tallinn, Estonia
The beauty of Estonian winter attracts a crowd of admirers from the locals and internationals alike. During this time of the year you'll find Tallinn Old Town at its most charming and can head out to the country for a lungful of fresh crisp air. The daylight hours tend to be brief, which is perfect for those looking for a cosy winter romance in a lit up medieval surroundings, or yearning for a much obliged reset in a cute cottage in midst of the wintry nature. Marvel at the spectacle of frozen waterfalls, the coastline and sea, and the country's snow-covered forests and national parks. If the winter is sufficiently cold and the sea is frozen, you can even experience the amazing feeling of driving from the mainland to the islands across Europe's longest ice road.
Vienna, Austria
Wintertime in Vienna is a magical experience that has made weekend gateways in the city popular, especially just before Christmas. Families, couples, and solo travelers arrive to Vienna from all over Austria and the world to visit the many Christmas markets with their Christmas ornaments and seasonal food and beverage.  The City's main streets and pedestrian zones are decorated with beautiful and colorful lights, the stores displaying wonderful Christmas exhibits thus creating the perfect atmosphere for the most romantic moments. This idyllic Christmas feeling is enhanced by the cozy cafés, bars and restaurants. Ending your night by taking a city tour in one of the famous horse-drawn carriages, will be the ultimate final touch for your winter city getaway. For a bit of more "Joie de vivre", visiting one of the many balls of Vienna can be the experience of a life time, catapulting you into a world of sublime music, wonderful dances and lots of fun.
Quebec City, Canada
Canadian winters might be bitterly cold, but in Quebec City, it's all about embracing the chill with ice slides, snow tubes, and strolls along powdery cobblestone streets draped in sparkling holiday lights. North America's oldest fortified city is at its dreamiest during the cold season, when a dusting of snow makes everything look so magical, and the highly anticipated Quebec Winter Carnival heats up the Old Town with toasty terraces, alfresco ice bars, and tons of outdoor activities. The end-of-the-year celebrations are particularly festive in Quebec City. Or, come Christmastime, the entire town transforms into a scene straight from a holiday card, replete with festive joy and tasteful decorations.
Zermatt, Switzerland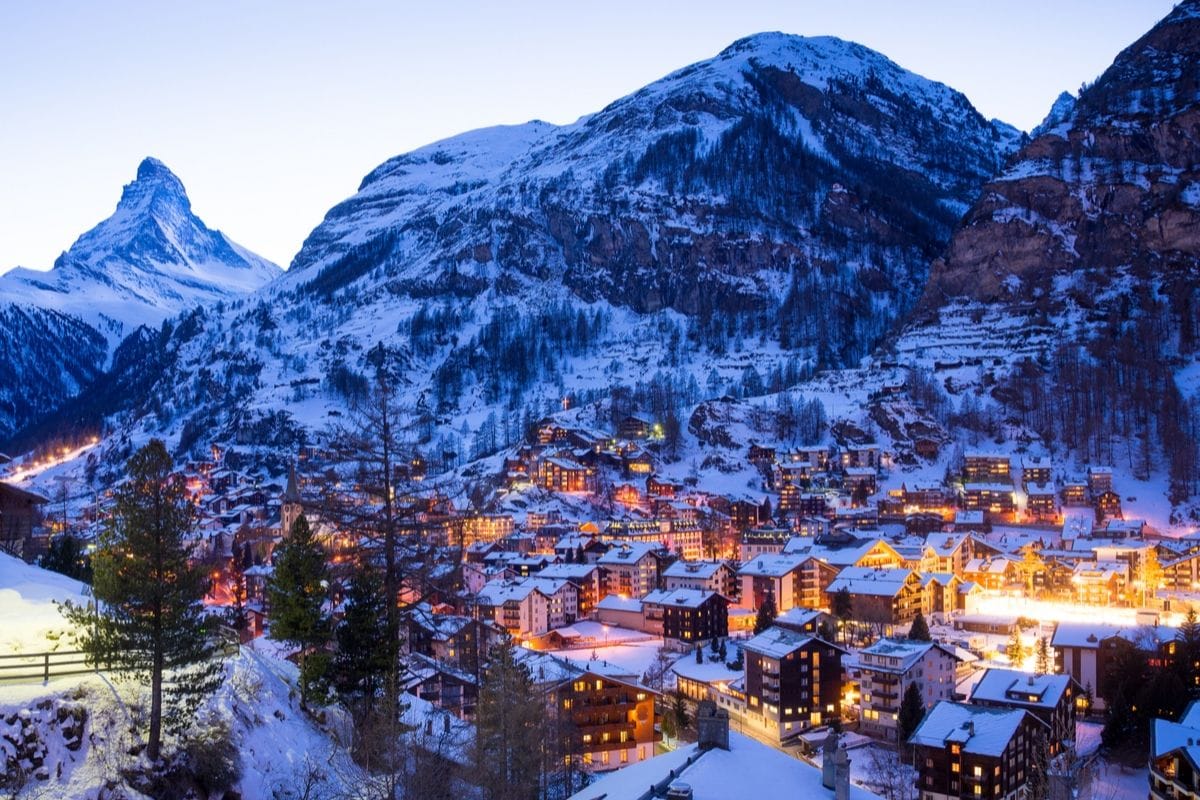 Switzerland in the winter is so rich in beautiful and stunning places – Zermatt in the winter is probably one of the best places to visit! At an elevation of 1,620 meters, Zermatt lies at the base of Switzerland's highest peaks. With such proximity to the Swiss Alps and guaranteed snow throughout the winter, it's no wonder Zermatt is one of the most popular winter vacation spots in the world. From mountain excursions to skiing to tobogganing and paragliding, there is something for every winter sports enthusiast. But there are also many outdoor activities for those, you like it quieter and relaxed. And if you prefer to stay inside, there are restaurants and a museum to enjoy.
South Tyrol, Italy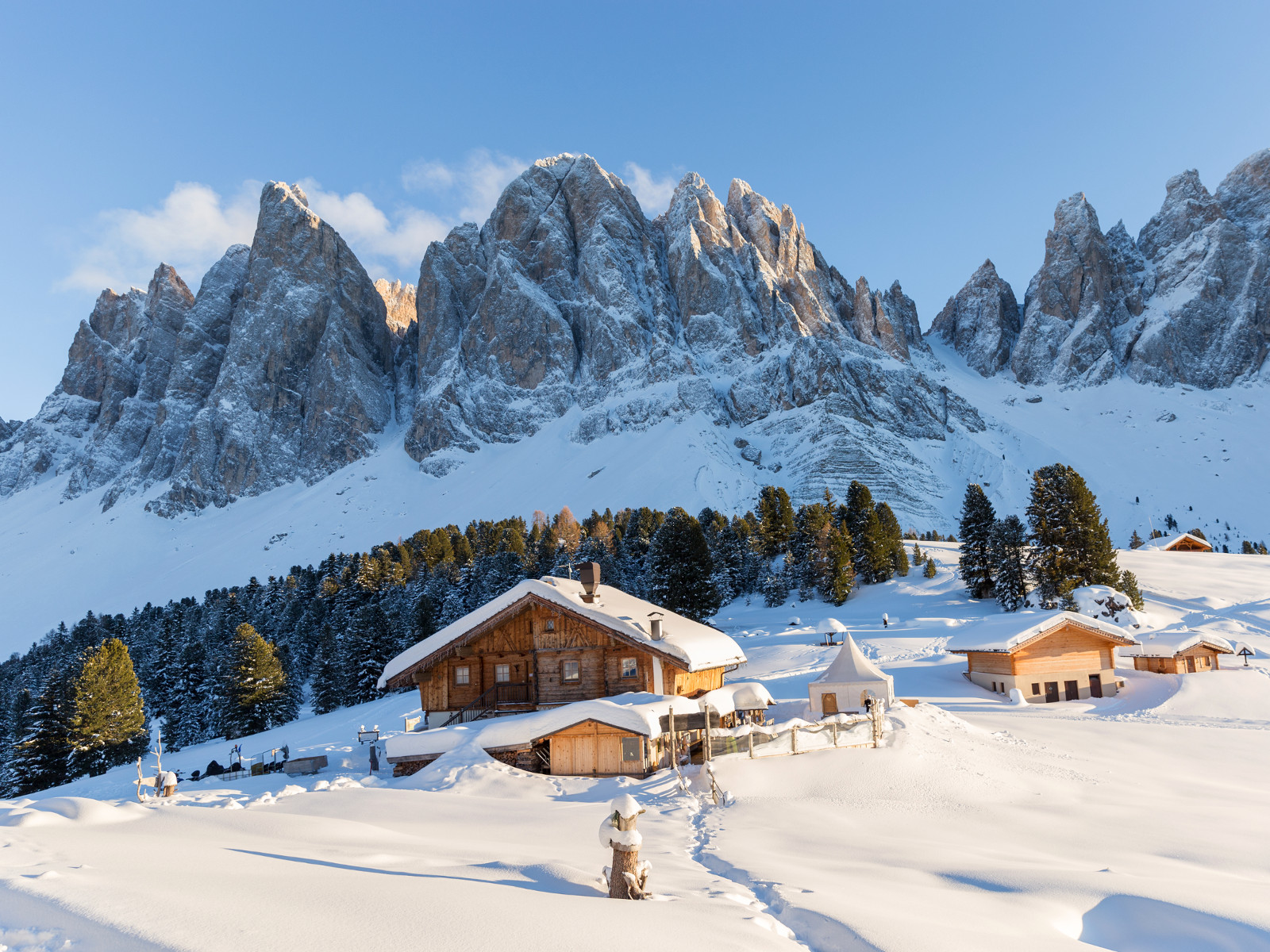 Sparkling white mountains, Christmas Markets and thousands of lights – the winter in South Tyrol offers a multitude of possibilities. If you enjoy active holidays, you can look forward to the perfectly groomed ski slopes, to winter hiking paths and toboggan runs, as well as a romantic horse-drawn sleigh ride. South Tyrol is a haven for winter sports activities, skiing, cross-country skiing, winter hiking and sledging – activities ideal for luring you outdoors to enjoy sports and nature. If you'd rather take it easy, let the winter sun warm your cheeks you as you enjoy down-to-earth dishes or gourmet cuisine with a view of the mountains. Later, you can relax your tired muscles in the sauna after an intense day on the slopes. After all, spa facilities are never far from the pistes! As an alternative to skiing, stroll through the Christmas markets in South Tyrol's towns and enjoy the pre-Christmas vibe with a mulled wine.
Krakow, Poland
Winter is one of the best times of the year to visit Krakow. The Krakow Christmas Market is one of the best in Eastern Europe. It takes over the main historic square and offers artisanal handicrafts, gourmet food, music, entertainment and more. The food is heavy and satisfying, perfect for enjoying on a cold day. If you visit Krakow in winter, you should use the opportunity to go to Polish Mountains that are less than 100 km away. There, you'll have a chance to go for exciting sleigh-ride through a snowy forest! This old Polish tradition is present to this day and constitutes one of the major Krakow winter attraction.
Budapest, Hungary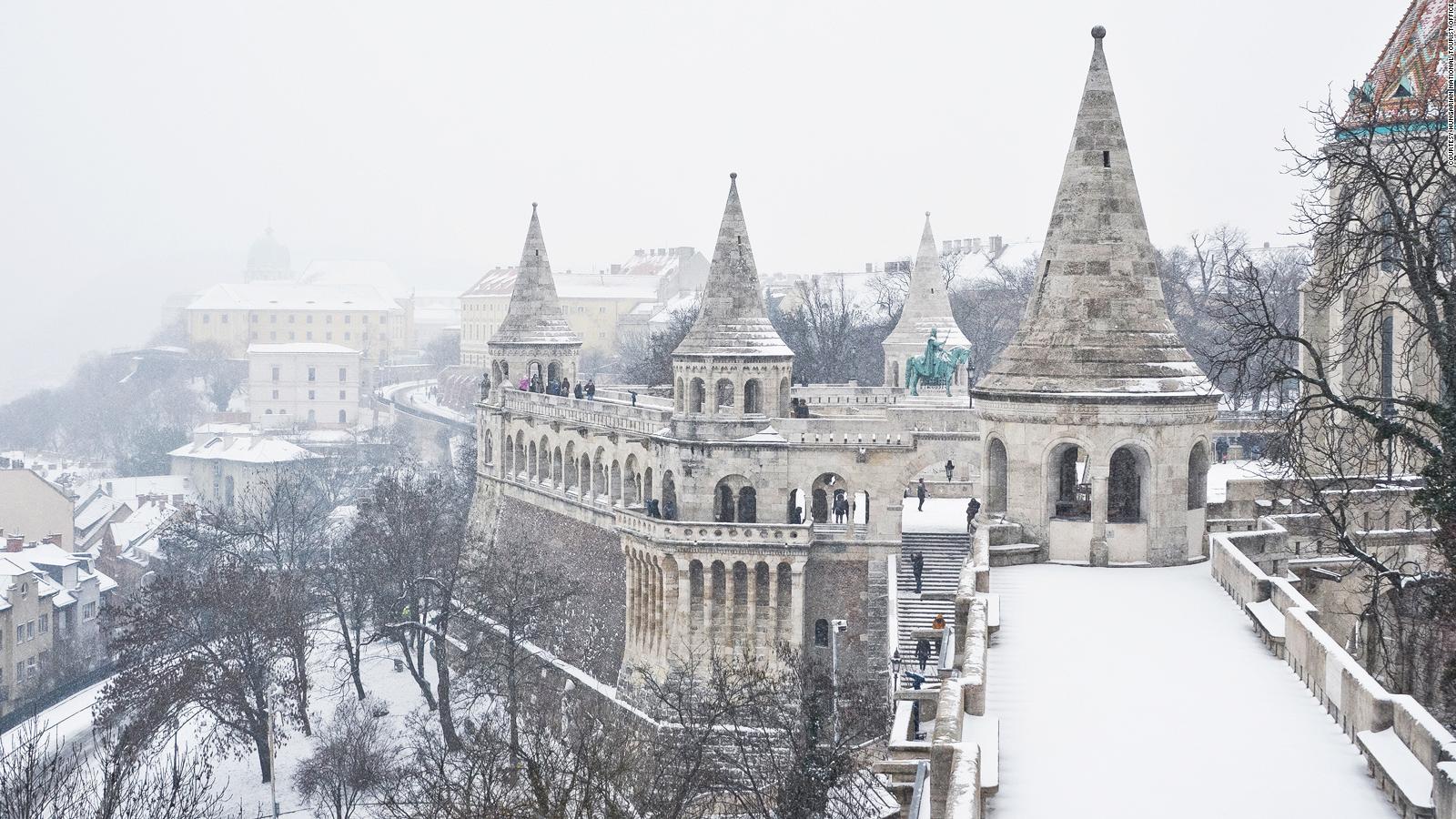 Budapest is fast becoming one of Europe's leading travel destinations, especially in winter when Hungary's capital city truly comes to life. Offering a cozy winter atmosphere with romantic architectural creations, Budapest delivers a scene reminiscent of a classic Christmas movie. Rich in culture and steeped in tradition, winter here not only feels like a fairytale, it looks like one, too. An array of seasonal delights draw visitors from around the world to the "Pearl of the Danube," all chasing that magical travel experience. Its Christmas markets and outdoor ice skating rinks help to create a perfect winter wonderland, while the local spas and thermal baths offer a twist on outdoor bathing.
There are many more places you can visit that are perfect to go if your looking for somewhere either to vacate for Christmas, to go on a skiing holiday, or even just because you like to travel. This was only a small list out of hundreds of places, and if you decide to go to any one of the places I've listed above whether that be anytime soon or sometime in the future, I genuinely hope you have a great time!
Thank you for visitig my blog, enjoy the rest of your week and I will see you next time 😊