Good morning everyone, hope you're all well. My mum and I binge-watched all of Wandavision last Saturday, we wanted to wait until all of the episodes were on Disney+ so we could watch it all in one go (plus we've been quite busy with an Electrician appointment and other things, that Saturday was the first chance we actually got to watch it), I have to say that I absolutely loved it! I don't want to spoil it for anyone who hasn't seen it but its definitely a must-watch in my opinion.
Anyway on with today's post… as I said a few weeks ago in Best Chandler Bing Quotes I'll be doing each of the Friends main characters best quotes over the course of the next couple of months so I can space them out as there are some weeks in-between that I already have posts planned for, and for this week I've decided to do Monica's, so lets get on with it shall we?
50 Monica Geller Quotes
Monica: Sweetie, this is the most special day of our lives.
Chandler: I realize that, honey, but I'm not going to spend all the money on one party.
Monica: Honey, I love you. But if you call our wedding a party one more time, you may not get invited. (7×2 – The One With Rachel's Book)
Chandler: It'll be okay because when they come over, I will be all charming. I will make them love me and then we will tell them.
Monica: You really think that will that work?
Chandler: Hey, I can be pretty charming, babe. I won you over, didn't l?
Monica: I don't think you'll ever get my parents that drunk.
Answering Machine: Message erased. To record your message, begin speaking at the tone.
Monica: Hi, Richard. It's Monica. Listen, I did something kind of crazy tonight. Maybe I'm getting my period or something. I don't know. Anyway, I beeped into your machine and I heard this message that freaked me out, and Michelle will tell you the rest. I'm sorry, okay? And I hope that we can just forget the whole thing.
Answering Machine: Your outgoing message has now been changed. (3×2 – The One Where No One's Ready)
Monica: Chandler, for so long I wondered if I would ever find my prince. My soul mate. Then three years ago, at another wedding, I turned to a friend for comfort. And instead, I found everything that I'd ever been looking for my whole life. And now here we are with our future before us. And I only want to spend it with you. My prince. My soul mate. My friend. Unless you don't want to. You go. (7×24 – The One With Monica And Chandler's Wedding: Part 2)
Monica: Yeah, well, I'd take a little crying any day over Howard, the "I win" guy! "I win! I win!" I went out with the guy for two months. I didn't get to win once. (1×14 – The One With The Candy Hearts)
Monica: You know what? This is not over. We will play you again. And we will win. And you will lose. And you will beg. And you will laugh. And we will take every last dime you have. And you will hate yourselves forever!
Rachel: Huh. Kind of stepped on my point there, Mon. (1×18 – The One With All The Poker)
Monica: I can't believe that this whole time we thought he hated us. Isn't it amazing how much you can touch someone's life without even knowing it?
[cut to the group in Mr. Heckles' apartment, surrounded by rubbish]
Would you look at this dump? He hated us! This was his final revenge! (2×3 – The One Where Heckles Dies)
Rachel: So why don't you go over and talk to him? Go tell him he's cute. What's the worst that could happen?
Monica: He could hear me. (2×13 – The One After The Super bowl: Part 2)
Richard: You know, the other day he told me he liked me better than his other grandpa. Now in all fairness, his other grandpa's a drunk, but still.
Monica: Whoa. You're a grandpa.
Richard: Yeah. Are we nuts here?
Monica: I don't know. Maybe. I mean, I'm dating a man whose pool I once peed in.
Richard: I didn't need to know that. (2×15 – The One Where Ross And Rachel…. You Know)
Joey: That's right. I have a phone. In here.
Monica: Joey, promise me something. Never call me from that phone. (2×17 – The One Where Eddie Moves In)
Monica: I can't believe this. I hate this. You're too normal. I can't believe my boyfriend don't have a "thing." My boyfriend doesn't have a "thing."
Richard: See, if anyone overheard that, I didn't come off well there. (2×23 – The One With The Chicken Pox)
Ben: Monica.
Monica: Oh, my God. He just said my name. Did you hear that?
Ben: Monica bang.
Rachel: Okay, I heard that.
Monica: Did he just say, "Monica bang"? Oh, my God. He's gonna rat me out. (3×8 – The One With The Giant Poking Device)
Monica: I need a few more things to make the margaritas. I need some salt, some margarita mix and tequila.
Rachel: So all we had was ice?
Monica: See if he has ice. (5×20 – The One With The Ride Along)
Chandler: You know, I was thinking what if l unpack here?
Monica: Then all your stuff would be here.
Chandler: Well, what if all my stuff was here?
Monica: Then you'd be going back and forth all the time. I mean, it doesn't make any sense.
Chandler: Okay. What if we live together, and you understand what I'm saying? (6×1 – The One After Vegas)
Monica: I do not like that woman.
Joey: I can hear you!
Monica: I am loud. (6×11 – The One With The Apothecary Table)
Monica: I have not made this many cookies since I was in the 9th grade.
Phoebe: What was that for, like a bake sale?
Monica: No, just a Friday night. (7×3 – The One With Phoebe's Cookies)
Monica: Chandler one time wore my underwear to work.
Chandler: Hey!
Monica: Oh. I'm sorry, I couldn't think of any more for Ross. (7×4 – The One With Rachel's Assistant)
Chandler: I'll tell you what. You roll another hard eight and we get married here tonight.
[cheering]
Monica: Shut up. It just got interesting! (5×24 – The One In Vegas: Part 2)
Monica: So you would have just lied?
Chandler: Yes.
Monica: And it would really have been that easy?
Chandler: Yes.
Monica: Good. So do it Saturday night, because we're going to dinner with her and Clark. [mimics Janice's laugh] (7×7 – The One With Ross's Library Book)
Joey: But it's going to start late? I mean, weddings start a little late, right?
Monica: Have you ever been to one of my weddings? (7×20 – The One With Rachel's Big Kiss)
Joey: Okay, here's a good one for you. Who do you think would win in a fight between Ross and Chandler?
Monica: I can't answer that. Chandler's my husband.
Joey: So Ross?
Monica: Yeah. (8×6 – The One With The Halloween Party)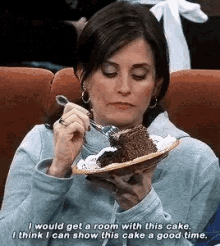 Monica: Where did you get those jeans?
Rachel: You gave them to me.
Monica: No, I didn't.
Rachel: All right, I took them. But I figured it'd be okay because you got a big ink stain on the crotch.
Monica: Oh, no. Did you take my bra too?
Rachel: What bra?
Monica: The pink one with the flowers.
Rachel: You mean the one you're wearing?
Brenda: I quit!
Monica: Sounds about right. (8×7 – The One With The Stain)
Ross: Uh, how does my hair look?
Monica: Ross, it hasn't moved since 1996. (5×19 – The One Where Ross Can't Flirt)
Monica: Hi. You don't know me. I'm Monica Geller, Ross's sister.
Cheryl: Oh, yeah. It's too bad that didn't work out.
Monica: Anyway, he told me about your apartment. And, well, I couldn't sleep thinking about it. So would it be okay if I cleaned it? [Cheryl slams the door] No? [Monica starts cleaning the door frame] (4×6 – The One With The Dirty Girl)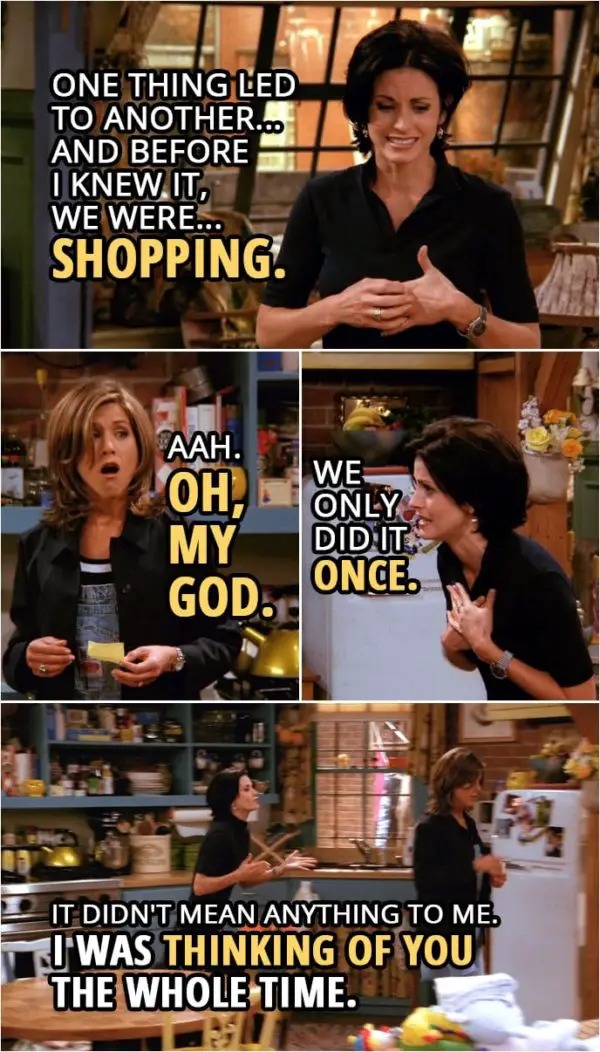 Joey: I figured if people keep seeing me just standing there, they're gonna start to think I don't own it. So I figure I'll wash it, right? Monica, you got a bucket and some soap I can borrow?
Monica: Oh, yeah. I got soap and sponges and rags and carnauba wax and polishing compound.
Chandler: You don't even have a car.
Monica: I know. But one time there was this really dirty car parked in front of the building, so I washed it.
Chandler: And?
Monica: And six others.
Chandler: There you are. (6×5 – The One With Joey's Porsche)
Thank you for reading my blog! I hope you enjoy the rest of the week, and I shall see you next Wednesday 😃