Hey guys, I hope everyone is doing OK after the news that has been given out over the last week. I know this whole thing has been really hard and made a lot of people (myself included) really sad, and that has especially been the case this past week. I've had moments these past few days where I've just wanted to cry/scream/curl up into a ball and hide away from the world, but as I'm a huge fan of Friends, I would look up the funniest quotes from the TV show to cheer me up and I thought I would share them with you and hopefully they might cheer you up as well (even if it is just for a second).
20 Of The Funniest Friends Quotes
Joey: "Occupation? Dinosaurs."
Ross: "Actually I'm a paleo…"
Joey: "Dinosaurs is fine."
2.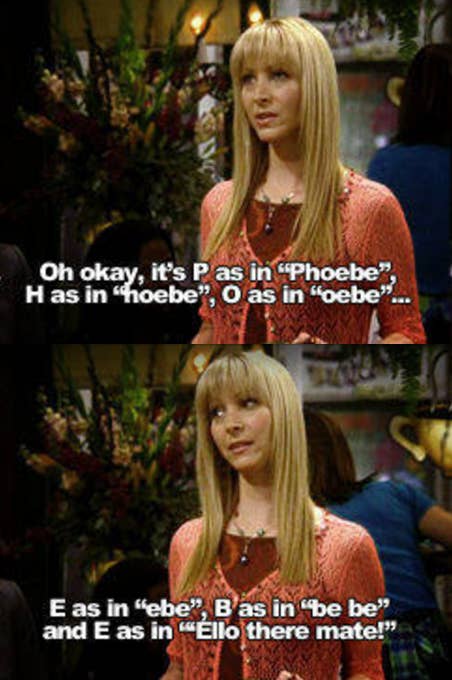 3. Rachel: "…How many centimetres am I dilated? Eight? Nine?"
Doctor: "Three."
Ross: "Just three? I'm dilated three!"
4.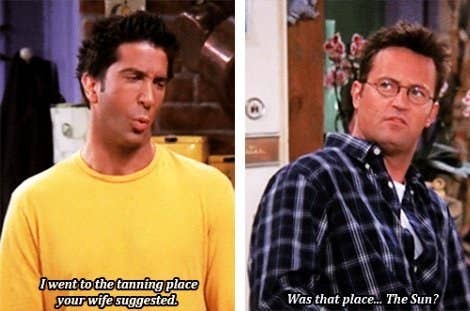 5. Janice: "What a small world!"
Chandler: "And yet I never run into Beyoncé!"
6.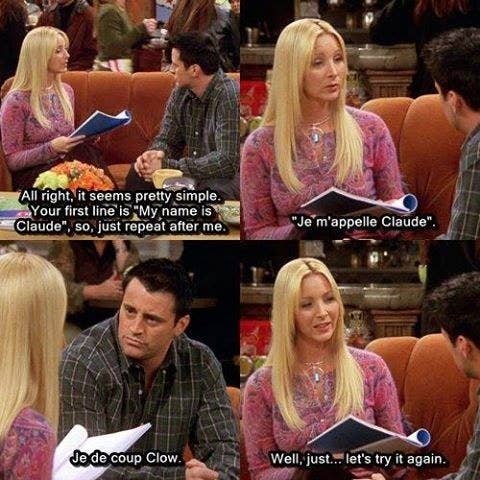 7. Ross: "No, homo habilis was erect. Australopithecus was never fully erect."
Chandler: "Well, maybe he was nervous."
8.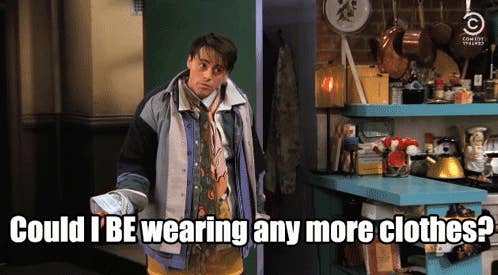 9. Chandler: "I'm glad we're having a rehearsal dinner, I rarely practice my meals before I eat."
10.
11. Phoebe: "Meet: Princess Consuela Banana Hammock!"
Mike: "You really did that?"
Phoebe: "Yep."
Mike: "Alright, then I'm gonna change my name."
Phoebe: "Great, okay, what are you gonna change it to?"
Mike: "Crap Bag"
12.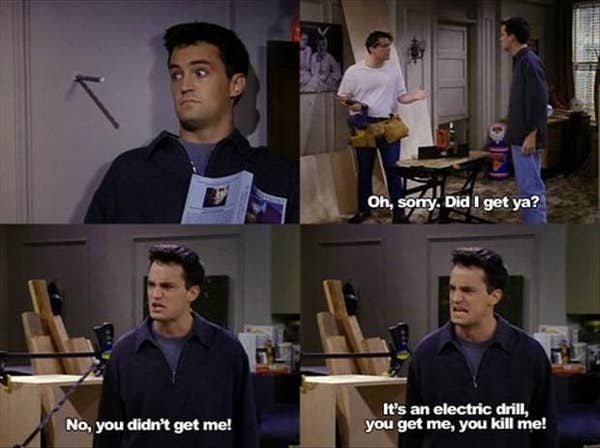 13. Phoebe: "None of them are. The father is my brother."
Nurse: "Okay"
Rachel: "I'll miss watching you freak people out like that!"
14.
15. Rachel: "Monica, we need more candy!"
Monica: "What? There's only been like four kids."
Rachel: "Yeah, I know, but one of them just said that she loved me so I just gave her everything."
Phoebe: "No wonder you're pregnant."
16.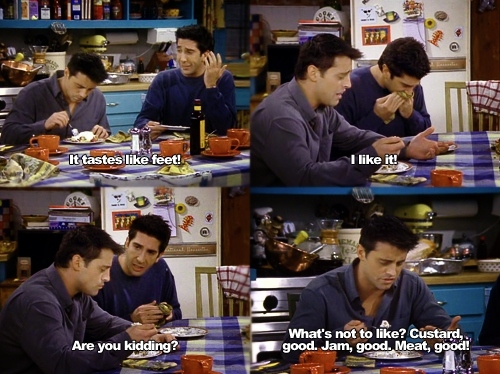 17. Chandler: "I say more dumb things before 9 A.M. than most people say all day."
18.
19. Chandler: "WHUPAH!"
Ross: "What's Whupah?"
Chandler: "You know, whipped.WHUPAH!"
Joey: "That's not whipped! Whipped is whutshhh!"
Chandler: "That's what I said. WHUPAH!"
Joey: "YOU CAN'T DO ANYTHING!"
20.
I hope one of these quotes made you smile or brightened your day up just a little bit. Remain strong everyone. You can do this.
Stay safe and I will see you next week!