Hey everyone, hope you're all well. I can't believe we're now in October, when did that happen? These past 7 months have made all the days just mold into one long one, that you'll have to excuse me for not realizing that it's now October.
The arrival of autumn in the UK is no reason to despair. Sure, it makes our almost entirely alfresco social lives a little trickier to maintain but we can make it work. There are crisp bright mornings, cosy evenings and pubs with open fires to look forward to. Not forgetting great swathes of yellow, orange and brown leaves to admire. The UK has many locations you can visit to take remarkable photographs in Autumn. Here are just Ten of them…
Best Places In The U.K For The Perfect Autumn Photo
Snowdonia National Park, Wales
Snowdonia national park which is in Northwest wales is filled with great mountains, rivers and lakeside views. There are many locations to shoot from here such as Ogwen, Llyn Gwynant, Tall-y-llyn and Capel Curig to name just a few. Here you can see breath-taking mountains mirrored in remarkably calm lakes and stunning misty valleys. The luminous greens and purples of Snowdonia capture the best moody weather and sensational landscapes. Also, Tall-y-llyn is dusted in a rusty red coloring throughout Autumn. With parking available nearby it is a location not to be missed. Snowdonia National Park is best for dramatic scenery and beautiful skies.
Lake District, North West England 
The Lake District located in Cumbria is beautiful all year round, but especially during Autumn. There are clear days, crisp nights and there is a golden cloak of Autumnal color that covers the hills and valleys. You can stop almost anywhere in the Lake District to take photos! Ullswater, Coniston, Grasmere, Castlerigg Stone Circle and Buttermere are just a few of the places to visit. One of the best locations is Derwent water. This is located close to Keswick, with good parking nearby. The boats, jetties and shoreline offer unlimited photography potential. Visiting in the morning offers the most atmospheric conditions, but the clear and cool nights will add interest to your shots. The Lake District is the best for panoramic views of lakes and mountains as well as lakeside shots.
Peak District, southern end of the Pennines
The Peak District is an upland area in England at the southern end of the Pennines. It is mostly in northern Derbyshire, but also includes parts of Cheshire, Greater Manchester, Staffordshire, West Yorkshire, and South Yorkshire. An area of great diversity, it is usually split into the Dark Peak, where most of the moorland is found and the geology is gritstone, and the White Peak which is a limestone area, known for its valleys and gorges which cut through the limestone plateau. The Dark Peak forms an arc along the north, east and west sides while the White Peak makes up the central and southern extent of the area.
Yorkshire Dales National Park, Northern England
The Yorkshire Dales national park located in the North of England hosts a variety of scenery, it is a collection of mountainous terrain, footpaths and bridleways to explore and has some bizarre ruins and rock formations. The Ribblehead Viaduct, Whernside, Cowdide Beak or Bolton Abbey are all magnificent places to go and shot some pictures. There is parking available near all the locations. At Ribblehead Viaduct the walking track leading up to the viaduct makes an alluring wavy leading line for the viewer's eye. Also, the back-lit viaduct through a silhouette into your pictures. The Yorkshire Dales national park is best for rolling green hills and curious rock formations.
Richmond Park, London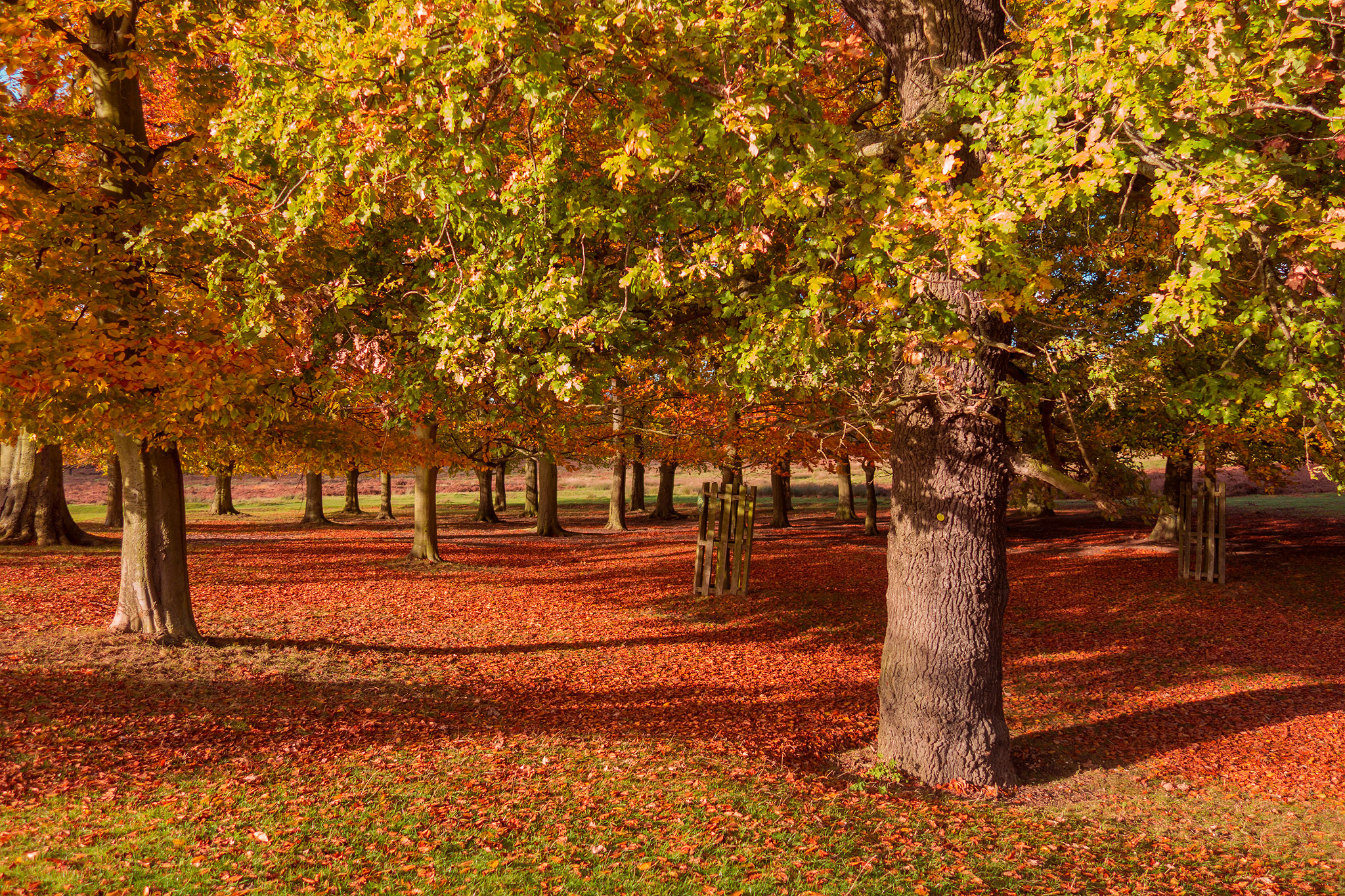 Richmond Park, in the London Borough of Richmond upon Thames, was created by Charles I in the 17th century as a deer park. The largest of London's Royal Parks, it is of national and international importance for wildlife conservation. The park is a national nature reserve, a Site of Special Scientific Interest and a Special Area of Conservation and is included, at Grade I, on Historic England's Register of Historic Parks and Gardens of special historic interest in England. Its landscapes have inspired many famous artists and it has been a location for several films and TV series. Richmond Park includes many buildings of architectural or historic interest. The Grade I-listed White Lodge was formerly a royal residence and is now home to the Royal Ballet School.
The New Forest National Park, Hampshire
The New Forest national park which is located mostly in Hampshire offers many different habitat types. Areas of oak and beech woodland, pine forest, pastureland and open heath. The national park covers 219 square miles, so it isn't short of space. It is easily accessible by car and is nearby the small town of Lyndhurst, which hosts a helpful visitor center and is an excellent place to start your photography. Vales Moor and Hasley Hill which are both covered in bell heather throughout Autumn is an extraordinary place to shoot. Both locations have a captivating mistiness in the morning and in the evening. The New Forest is best for stunning pond areas and misty heath purples.
Westonbirt, The National Arboretum, Tetbury, England
Westonbirt, The National Arboretum, which is about 4 mi (6 km) from Tetbury in Gloucestershire, is known for having one of the most wonderful fall foliage displays in the UK. Between October and mid-November, you'll discover gold and red leaves from more than 2,500 native and exotic tree species, like paperbark maple, incense cedars and Scots pine. Tickets to the arboretum cost £7.
River Avon, South West England
The River Avon spans a large area of South West England. Some of the best locations along the River Avon are the stretches from Trowbridge to Bath and under Clifton suspension bridge. There is parking available all around the River Avon, so you will never be short of places to stop and take some photographs. In Autumn as all the leaves are turning red, orange and brown the view from Clifton suspension bridge is astonishing. With the architecture of the bridge and the beauty of the autumnal leaves on the tress this is the perfect autumnal location! The River Avon is best for river, bridge and canal boat shots.
Wye Valley, Monmouthshire
Winding its way along the border between Wales and England, the River Wye carves out one picture-perfect scene after another. In the Wye Valley Area of Outstanding Natural Beauty, the river reflects a stunning autumn display. The riverside 12th-century Cistercian abbey of Tintern is more beautiful than ever when set against the surrounding wooded hillsides, flushed coppery red and orange in autumn.
St Michael's Mount, Cornwall
Located in Cornwall, St Michael's Mount is a well photographed spot. The enchanting little tidal island is accessible in a few ways. At low tide you can walk across to the island using the cobbled causeway and at high tide can be accessed by boat. The mount is best shot from the beach of Marazion. At low tide the cobble causeway provides a leading line to guide the viewer's eye towards the mount. There is plenty of parking nearby but check tide times before visiting to get the shots you want. To the east of the causeway you will find a harbor which provides an alternative view and a secondary shooting point of the mount. St Michael's Mount is best for panoramic views of the mount and seaside shots.
If you do decide to take a trip to one of these beautiful places, make sure you check the guidelines first to see if it's safe for you to travel to. Thank you for looking at my blog, I hope you all enjoy whatever you decide to do, and I shall see you next week! 😃