Hey everybody, I hope you're all ok. 🤞
I have been really poorly this week 😪 I've had no energy and just been generally unwell, but I'm not gonna bore you with that, instead, shall we get on with today's post?
Friends Quotes
Now everyone remembers when Friends started but did anybody know that the last episode aired in the USA on the 6th of May in 2004, 16 years ago today. If you didn't know before, you do now.
52.5 million viewers watched the finale on May 6, 2004, making it the most-watched entertainment telecast since the Seinfeld finale in 1998. Although not the most-watched episode of the series, the finale was the fourth most-watched series finale in television history, only behind the finales of M*A*S*H, Cheers, and Seinfeld, which were respectively watched by 105, 80.4 and 76.2 million viewers. The retrospective episode was watched by fewer than 36 million viewers, and the finale was the second most-watched television broadcast of the year in the United States, only behind the Super Bowl. Following the finales of Friends and Frasier, media critics speculated about the fate of the sitcom genre. Expressed opinions varied between a signalling of the end of the sitcom genre, a small decline in the large history of the genre.
---
---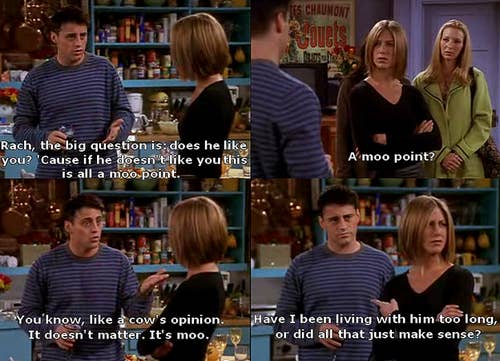 Joey: "Rach, the big question is: does he like you? 'Cause if he doesn't like you this is all a moo point."
Rachel: "A moo point?"
Joey: "You know, like a cow's opinion. It doesn't matter. It's moo."
Rachel: "Have I been living with him too long or did all that just make sense?"
---
Rachel: "Barry and Mindy are getting a divorce."
Joey: "What is the matter with you?"
Phoebe: "No, Barry and Mindy."
Joey: "Oh sorry, I hear "divorce" and I immediately go to Ross."
---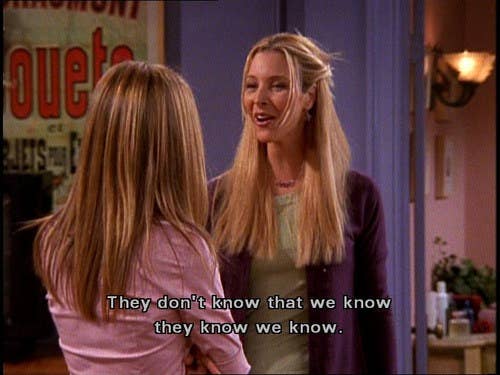 ---
Ross: "Rach, I got a message from you."
Rachel: "Oh my god Ross, no, hang up the phone, give me the phone Ross, give me the…"
Ross: "You're over me?"
Rachel: "Ohhhhhhhh God."
Ross: "When, when were you… under me?"
---
---
Ross: "Aaah, love. L.O.V.E, love.' L' is for life. And what is life without love?"
Rachel: "Oh my god, are we supposed to answer?"
Ross: "'O' is for… "Oh wow!!"…'V' is for this very surprising turn of events.
Which I'm still fine with by the way. 'Eeee'…is for how extremely normal I find it
that you two are together."
---
---
Joey: "Joey doesn't share food!"
---
---
Joey: "Oh sorry, did I get ya?"
Chandler: "No you didn't get me! It's an electric drill…you get me, you kill me!"
---
---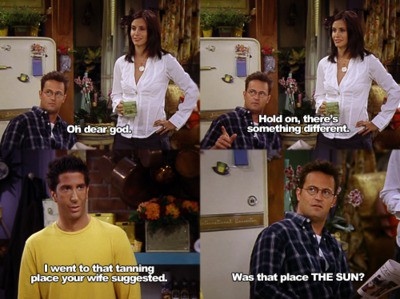 Chandler: "Oh dear god. Hold on, there's something different."
Ross: "I went to that tanning place your wife suggested."
Chandler: "Was that place THE SUN?"
---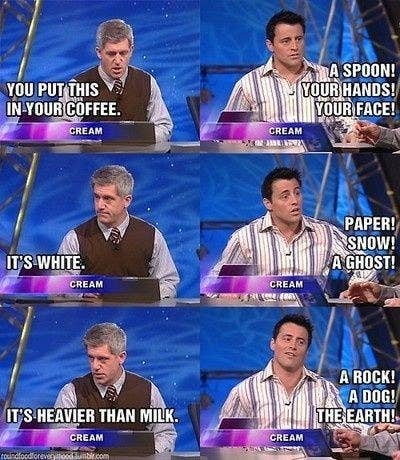 ---
Ross: "Turn, turn, turn!"
Chandler: "I don't think we can turn anymore!"
Rachel: "Ross, I just don't think it's gonna fit."
Ross: "Oh yeah it will! Come on, up! Up-up-up! Yes! Here we go!
Pivot! Pivot! Pivot! Pivot! Pivot! PIVOT!"
Chandler: "Shut up! Shut up! SHUT UP!"
Ross: "Okay, I don't think it's gonna pivot anymore."
Rachel/Chandler: " You think?!"
---
---
There are many more memorable quotes, and if I continued…the list would be endless so I had to narrow it down, so I'm sorry about the ones I didn't include, I might do a post some other time on more memorable F.R.I.E.N.D.S quotes.
I hope you all enjoy the rest of your week, and I shall see you next Wednesday 😃