Good morning everyone, how are you all doing? Managing to stay warm I hope. Is it just me or does the cold weather and having a cold affect your teeth/gums, causing immense pain to travel to not only just the ears but to your head as well, making it difficult to eat and waking you up during the night? Does anybody else suffer from this problem or know what I'm talking about? In other news, my sister informed us that my nephew has to wear his cast for another two weeks as his X-ray didn't show much change from his last one, we're hoping that he'll be out of it in time for Christmas, but all we can do is keep our fingers crossed for him.
On with today's post… There's nothing more magical than drinking a warm mug of hot cocoa, watching fresh snow fall, and listening to cheery Christmas music. But winter isn't just about the holidays—and it's often during the days and weeks before and after Christmas that we feel the most stir-crazy. If you're feeling the winter slump while snowbanks or sleet cover the neighborhood, try a few things from this bucket list to keep you busy.
Start A New Tradition
The holidays are always a special time of the year, but part of what makes it so magical is the people that we get to spend it with and the traditions that live on. The traditional things we do with our friends and family for Christmas- and in the days leading up to it– bring more meaning and create vivid memories that can last a lifetime. Every family has their own unique way to celebrate, from Christmas activities that range from counting down the days with advent calendars to baking festive Christmas cookies, there are so many Christmas traditions to partake in, you may already have some traditions that you do every year or you may want to start a completely new one!
Bake Cookies
Making, baking, and decorating cookies is a classic winter activity for many families–Christmas cookies or not. There is nothing like the smell of freshly baking cookies in a nice warm oven on a cold winter's day. If you're feeling generous, you could even bake enough to share with your friends or neighbors.
Watch Holiday Movies
There is nothing better than curling up by the fire, cocoa in one hand and the remote in the other while you get ready to watch a classic Christmas movie. From the old favorites to Hallmark Christmas movies, there is something for everyone this holiday season. Over the years, Hollywood has made hundreds of holiday-themed movies, but some stand out as classics of the genre. Because the holiday theme is so loose, however, there are many kinds of movies that embrace it, from heart-warming romance movies to action comedies to song-and-dance musicals and everything in between. You can find most Christmas movies on major streaming sites.
Decorate The Christmas Tree
Nothing brings holiday cheer to an interior quite like a well-decorated Christmas tree, whether you're sticking with classic red and green baubles and twinkling lights or opting for a creative Christmas tree theme, like adorning your spruce with pom-poms, colorful ribbons or candy. Encourage the whole family to embrace this timeless holiday tradition as they cover the Christmas tree with homemade ornaments, weave in gorgeous garlands and pick out the perfect tree topper.
Go To A Christmas Market
Christmas is one of the most heart warming seasons of the year in many countries involving family reunions and other traditions to bring people together to share love and joy. Christmas markets are one of the major events hosted in winter cities where you can find lots of outdoor activities like fairground rides, food and drink stalls and shops hosted by locals selling local produces as well as souvenirs. In these markets, you can also find festive special drinks like mulled wine. Some of the best christmas markets are in Germany, especially in major cities like Munich and Berlin , Austria, Poland and other eastern European countries like Estonia.
Go Ice Skating
Frozen ponds, lakes or rivers can provide you with some of the most scenic ice skating rinks around the world. Glide along, enjoying the fresh air. If you can't find a lake or such, outdoor ice skating rinks start popping up everywhere during the winter season-even in places that have no snow! Put on a pair of blades and glide around the rink. Don't forget to follow it up with a cup of hot cocoa.
Make A Gingerbread House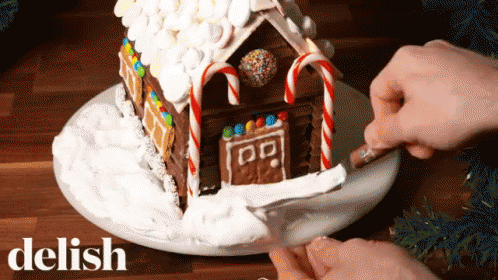 Spend an afternoon putting together a gingerbread house that is filled with all the sweets and treats of the season. This is such a fun activity to do with children! If you need any Gingerbread house ideas check out Country Living or Good House Keeping for inspiration.
Take A Family Photo
Any time you can get the entire family together it is a blessing, but a photo memory of the event is even better! If you are stumped for theme ideas check out 50 Family Photoshoot Ideas and 100 Fun Family Photo Ideas. Mark your calendar to do it the same time next year, and the year after that, and so on. As a perennial winter bucket list item, it's a fun way to see your little ones grow over the years.
Look At Christmas Lights
For most people, the start of the winter season means Christmas and nothing is more beautiful during the holiday season than admiring Christmas lights. Big cities usually go all out at displaying the best Christmas lights to fully bring out the magic of the holidays. So get out and enjoy the Christmas-filled atmosphere as you celebrate the most magical time of the year.
Visit Lapland (Finland)
Imagine frost-covered trees, festive lighting, and outdoor fun in the snow followed by cuddling with a warm beverage. It doesn't get much closer to a winter wonderland than Lapland! If you are looking for the Ultimate winter break in a Winter Wonderland you cannot go passed the Finnish Lapland. It is of course the home of Santa Claus and one of the most magical places in the world. Lapland is filled with snow, fairy lights, warm food, igloos, tree houses, husky sleds and snowball fights.
Go Sledding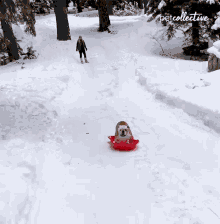 Sledding is a very popular local activity in snowy countries and you can often see kids being pulled by parents on the sleds along the roads. This is a fun activity everyone should try at least once in snow and I absolutely recommend adding it to your winter bucket list. It is equally fun for adults and kids.
Build A Snowman
Whether you have kids or not, building a snowman is sure to put a smile on your face. Escape to a winter wonderland to make a snow angel or build a good old fashioned Frosty. Have fun plopping yourself right into the snow, waving your arms and legs to create the perfect angel or stacking big balls on top of each other for a jolly snowman (don't forget the carrot nose, hat and stick arms!).
Listen To Christmas Music
Put on some traditional Christmas music to make the holiday season more festive. Listening to classic Christmas songs can bring joy and meaning to your family at Christmastime and makes the holidays even more fun. Music is a great way to get you geared up for any season, especially one made for chilly days spent by the fire. If you have young children, make sure you keep them entertained with music and educational songs that are suited to their age so they have the opportunity to carry on learning through the winter. Enjoy any of the excellent music suggestions with your family for Christmas!
Make A Snow Globe
Are you looking for a fun, holiday-themed project to make with your kids (or parents)? One solution is to create a snow globe! A snow globe is a cute, traditional decoration which is easy to make using everyday items from around your home. Alternatively, you can buy a ready-made kit online or in craft stores to create a more professional-looking snow globe you can enjoy year after year. If you want to know how to make your own snow globe click the link here to show you how.
See A Play Or Broadway Show
What better way to spend your free time during the festive season than watching lively feel-good performances with your family? Created by enchanting productions and with a star cast at the forefront, family pantomimes are a hit with parents and younger children. A night filled with stunning costumes, sensational songs, and your favourite stories make the recipe for a wonderful day out. Exciting panto performances are filled with life, laughter, and bursts of colour – all things that make kids and adults feel good and happy.
Do A Small Random Act Of Kindness
Winter is an excellent time of year to volunteer and serve communities and families that are not as fortunate as others. Many people don't have the food, clothing, or shelter they need during the cold winter months. So, encourage children to serve their communities and commit random acts of kindness in service to others, or the environment. Other ideas could include paying for a stranger's drink at the drive-through/coffee shop, or surprise a coworker with a few sweet words of encouragement via text or email. Another little thing could do is if you're expecting a lot of deliveries, you could put out a sweet or savory surprise for your delivery drivers.
Go On A Winter Hike
When winter arrives, you have two options: sit indoors killing time until the warmer months come OR kick back the duvet and embrace the frosted mountains, snowy woodlands and frozen lakes… Winter completely changes the landscape around you and your whole hiking experience. You quite often get the trail to yourself, with a winter walk showing you completely different wildlife and vegetation too. The cold temperatures bring frosted peaks and frozen lakes, icicle-laden ridges and snow-covered trees. Whether you're working hard on technical routes or traipsing around white woodlands, there's stillness in the air and only the sounds of your breath, movement and the elements around you. You feel part of the environment and it's unbeatable.
Make Your Own Hot Chocolate
There's nothing quite like sipping some hot cocoa while watching a fire blazing. It's the perfect way to wind down after a long day whilst reading a book! You can make yourself a simple classic Hot Chocolate or spruce it up by trying out various different flavours by clicking here. Don't forget to sip it in your favorite mug and add marshmallows (if you like them).
Go Tech-Free for A Day
In today's modern world, we're all probably all guilty of spending too much time looking at screens. Whether you're checking your social newsfeeds, going through your work emails or binge-watching TV programs on your favourite streaming service, chances are you could do with a bit of a break from the screens we seem to spend so much time with. Christmas Day only comes around once a year, and for some families it's the only day that everyone can be together. Spending quality time with friends and family is the most enjoyable thing about this time of year, so we are asking that you put down your laptops, phones and tablets, and enjoy a tech free Christmas.
Spend New Years Eve in New York City and See The Ball Drop
Where in some countries setting off fireworks at midnight is the number one way to celebrate, in the United States, and especially in NYC, the ball drop at Times Square is the way to go. Best way to watch it is of course by being on location for it, but even if you can't make it to New York City this time, you can always watch it on the telly. If you're watching it from home, don't forget to pop open that bubbly and toast in unison with that ball dropping. 
The holidays can be a very busy time of year for many families. There always seem to be lots of things to do and sometimes having too many choices can be overwhelming. Having a Winter bucket list can help you focus on what's important this season: spending quality time making memories together with your family.
Thank you for visitng my blog and reading today's post, this is going to sound like a broken record but I hope you all have a lovely week and manage to stay warm. For now though I will see you next week.