Morning all, hope everyone had a nice Valentine's Day, regardless of whether you celebrated it or not. The past week has been very stressful and tiring, to put it mildly, whilst moving is a pain anyway when you add in having chest problems (most likely caused by excessive mold exposure over a long period of time) it makes it even more difficult, but it's something that has to be done, so we've been pushing through it and cracking down on getting things sorted as best as we can! One of the things that I've been doing when I've actually had a little bit of free time (which isn't often) is preparing and pre-scheduling some blog posts for the next few weeks which leads me to this week's post…
As I'm a massive Marvel fan, it came to my realization that Black Panther was released in cinemas four years ago in many countries this week, so I wanted to do a facts post about the movie, some that you may already know, others that you might not.
*Before continuing…I should forewarn you that if you haven't seen the film at all / or as of yet, this post might contain spoilers, so only read if you are ok with that.*
About Black Panther
Run Time – 2 Hours and 14 Minutes
Directed By: Ryan Coogler
Summary:
Following the events of Captain America: Civil War, and the death of his father King T'Chaka, T'Challa returns home to the African nation of Wakanda to take his rightful place as king. But when a powerful old enemy reappears, T'Challa's mettle as king and Black Panther is tested when he is drawn into a formidable conflict that puts the fate of Wakanda and the entire world at risk. To defeat his enemies and protect his country, he must team up with the Dora Milaje, his little sister Shuri, and his CIA ally Everett K. Ross, and harness the powers of the Black Panther to fight his enemy and save Wakanda from destruction.
Main Cast:
Chadwick Boseman – T'Challa / Black Panther
Michael B. Jordan – Erik Killmonger
Lupita Nyong'o – Nakia
Danai Gurira – Okoye
Martin Freeman – Everett K. Ross
Daniel Kaluuya – W'Kabi
Letitia Wright – Shuri
Winston Duke – M'Baku
Sterling K. Brown – N'Jobu
Angela Bassett – Ramonda
Forest Whitaker – Zuri
Andy Serkis – Ulysses Klaue
Florence Kasumba – Ayo
John Kani – T'Chaka
Facts
Black Panther made a whopping $500 million worldwide in its first week in theaters.
Marvel Studios president Kevin Feige says a Black Panther film has been in the works since Phase One of the Marvel Cinematic Universe. In fact, they hinted at Wakanda in Iron Man 2 when Tony Stark is seen standing in front of a map of Africa with a pinpoint where Wakanda is.
The name "Wakanda" comes from the Wakamba tribe of Kenya, also known as the Kamba.
This film marked chapter six of phase three in the Marvel Cinematic Universe.
First comic book/superhero film to be nominated for the Golden Globe for Best Motion Picture – Drama.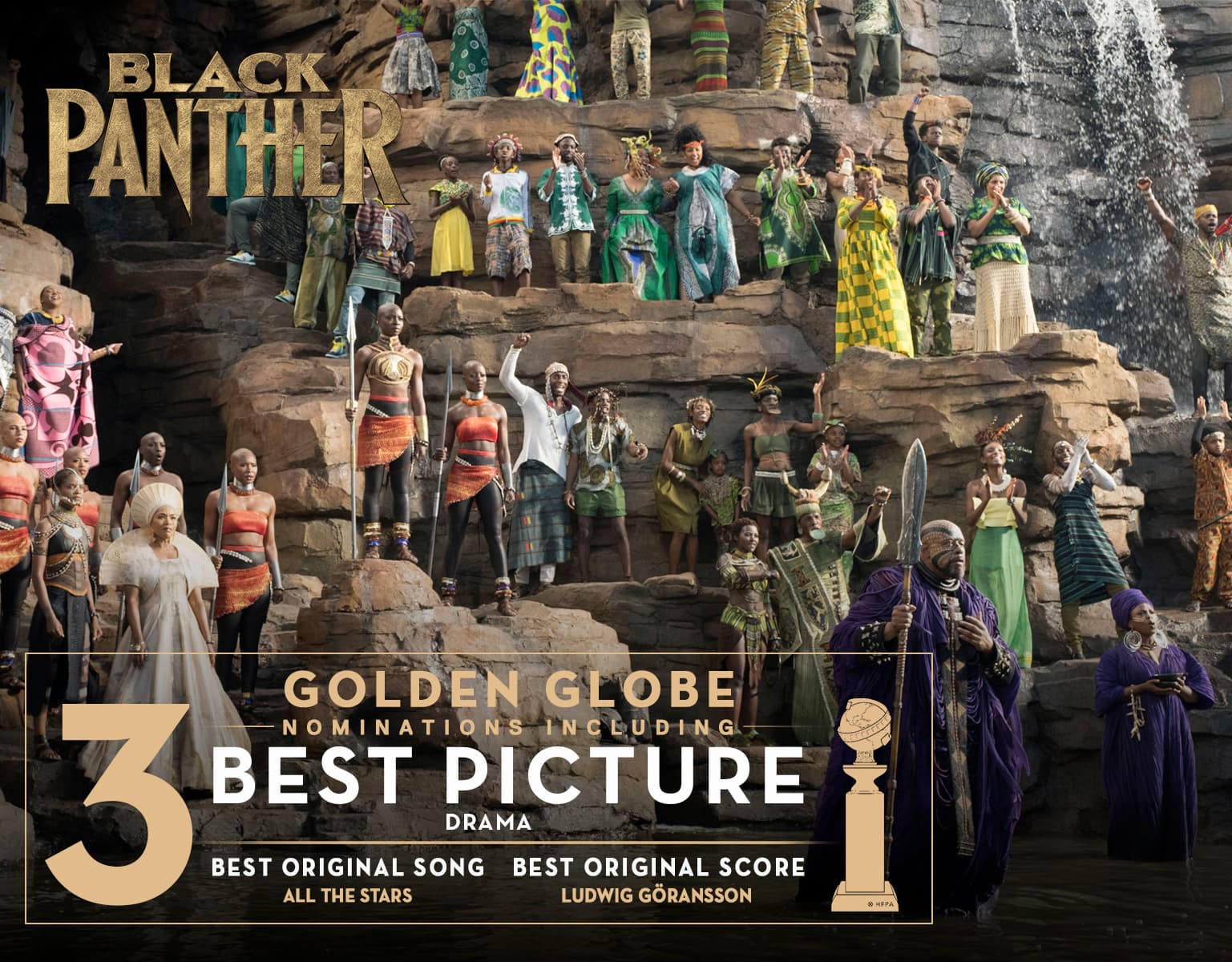 The Wakanda dialect was inspired by John Kani's (T'Chaka) real-life Xhosan dialect. Since he plays the King of Wakanda it only seemed right to have everyone's dialect reflect his.
When developing the character of M'Baku, Winston Duke used Nigerian and Nigerian Igbo influences. He wanted to make sure that the Jabari tribe and M'Baku stood out from the rest of Wakanda.
Ruth E. Carter created over 1,000 costumes for the film. She drew inspiration for the costumes from Afrofuturism, Afropunk fashion, and traditional African tribal garments.
Danai Gurira said having to completely shave their heads acted as a bonding experience for her and the actors that make up the Dora Milaje army.
The unique color of each character's costume helps establish the character's identity and pays homage to the vibrantly colored comic books. T'Challa is purple, Okoye is red, and Nakia is green.
Chadwick Boseman was the first and only person considered for the role of T'Challa. After Feige brought him up in an early creative meeting, Boseman booked the role 24 hours later.
Michael B. Jordan kept a journal while preparing for the role of Killmonger. He does this with most of his roles in order to help him get in the mindset of the character.
While preparing for the role of Shuri, Letitia Wright didn't read any of the comic books. She didn't want to be informed by her character's story arc in the comics while playing the role.
Both Gurira and Nyong'o signed onto Black Panther without having even read the script. While working together on Eclipsed, they didn't know they were both in the film until Coogler told them.
In order to train for their roles, the entire cast would warm up together before completing their individual workout regimens. It helped bond the cast even more.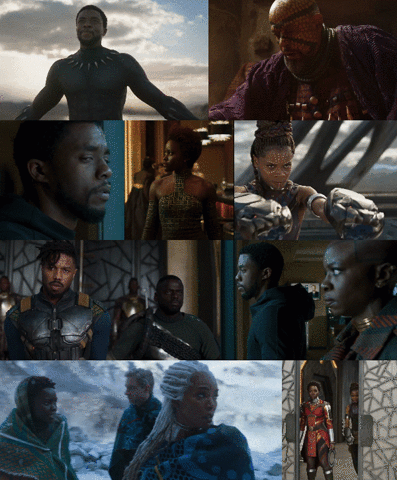 The Dora Milaje translates to The Adored Ones, a group of female soldiers who protect Wakanda. In the comics, each of the tribes sends their most powerful female fighters to join the Dora Milaje guard.
Visibility and inclusivity were important both on-screen and off: Director Ryan Coogler made sure a lot of the key department heads off-screen were African-American, women, or both.
Production designer Hannah Beachler said it was very important to both Coogler and herself that the history of Wakanda was represented in the set design. The duo crafted over 10,000 years of history, right down to what the street names would be.
The movie was filmed in Atlanta, Georgia, and Busan, South Korea. The aerial shots of Wakanda are from South Africa, Zambia, Uganda, and even Argentina.
Michael B. Jordan, who played Black Panther's rival Killmonger, had to endure more than two hours of makeup production every day. If you've seen the film, you'll remember those dots that covered Jordan's upper body. These were all distinct molds that had to be placed individually and then painted over in precise tone and texture.
The fight scenes in the club with T'Challa, Okoye, and Nakia was one of the first scenes filmed for the movie.
Director Ryan Coogler described Zuri as the Wakandan Obi-Wan Kenobi.
One of very few recent roles for Andy Serkis in which his real face and most of his real body are used; he has become famous for acting in a motion-capture suit, or supplying only a voice.
The location for the Oakland apartment building was shot in Atlanta, near the church where Martin Luther King is buried. During production, MLK's daughter visited production, shook everyone's hand and blessed the project.
Dorothy Steel (Merchant Tribe Elder) was treated with great respect when she was on set filming her scenes. At 91 years old, she was considered the resident grandmother. Chadwick Boseman would often give her a hug.
Lupita Nyong'o bought Black Panther tickets for 600 children in her hometown of Kisumu, Kenya.
While in London (UK) promoting the film, Martin Freeman introduced his young son Joseph to his co-star Danai Gurira who played Okoye, the boy's favorite character in the film. According to Danai, the boy was so entranced by the experience he would not let go of her hand. Danai was deeply touched by how the film had so completely captured the imagination of one so young.
Animal shelters reported adoption rates for black cats increased following the release of the movie, with many cats being named after the characters.
Co-stars Lupita Nyong'o and Winston Duke, who play adversaries Nakia and M'Baku, star together in Us (2019) with Nyong'o playing Adelaide Wilson/Red and Duke playing Gabe Wilson/Abraham.
For her role as Queen Ramonda, Angela Bassett wore a special wig, made up of 120 pieces of hair that were literally rolled and handmade into multiple dreadlocks.
Killmonger is partially inspired by a veteran Ryan Coogler once met in New York City who shared some stories about his time in the service. "It was about the pain and the matter-of-factness to it that stuck to me."
Production designer Hannah Beachler created a 515-page bible on the history of Wakanda.
Between takes Letitia Wright amused her co-stars by rapping in Shuri costume and was nicknamed "Baby MC Underbite" by Danai Gurira who encouraged her to do it in the first place.
T'Challa's conversation with Zuri where he gets the truth about his father and uncle is the most important scene in the film to Ryan Coogler. Francis Ford Coppola agrees, and when he watched an early cut of the film he immediately asked to watch this scene again.
(at around 38 mins) While Shuri may not leave Wakanda often, she reminds us that she is young and connected to the outside world via the internet with her "What are those!?" exclamation for T'Challa's sandals. The line is a nod to a viral Vine meme and is used to call out someone with lame shoes.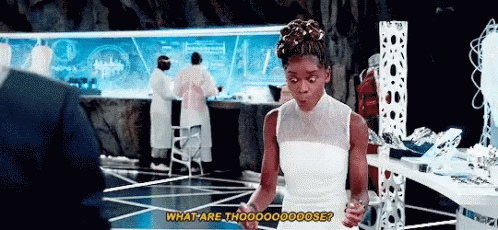 Chadwick Boseman is trained in martial arts and brought a lot of his prior knowledge to the fighting style of T'Challa/Black Panther.
The film was nominated for seven awards for the 2018 MTV & TV Movie Awards which includes Movie Of The Year, Best Hero, Best Villain, Best Fight, Best Scene Stealer, Best Actor, and Best On-Screen Team. It won four: Movie Of The Year, Best Hero, Best Villain, and Best Actor.
Chadwick sadly died on August 28th 2020 at 43 years old after 4-year fight with colon cancer. He was two years into his four year battle with colon cancer when this film came out.
As a tribute to Chadwick Boseman, the Marvel Studio intro was changed to honor his life, showing scenes during filming his role as T'Challa/Black Panther
On 30 August 2020, ABC showed the film commercial-free along with a tribute to Chadwick's life and legacy.
Before I finish this post I just want to say thank you to Marvel for creating this masterpiece of a film and for the; Director/Writers/Actors and Actresses who brought the characters to life and made it one of the best films, not only in the Marvel Cinematic Universe but also in films in general! Thank you again and may Chadwick Rest In Peace.
Thank you for visiting my blog and reading today's post, I hope you enjoy the rest of your week, for now though…I will see you next Wednesday!