Well hello again, is everyone doing Ok? I haven't been feeling very well this past week 🤒 I've come down with the flu, so my nose has started to go red because of how much I keep wiping it, and my head is even more painful than ever as its really affecting that as well, so I've been "trying" to rest (trying = not doing a very good job of it) but I'm going to do my best to get better over the next coming week, hopefully before next Monday as my Mum has a hospital appointment that's important and she needs to attend, but especially for next Thursday as it's my Nannie's funeral and I wouldn't want to make anyone else poorly.
Enough of my ramblings/moaning, let's talk about this weeks post, which as you've seen from the title, it's about Castles in the United Kingdom. I will be doing a post on best Castles around the world at a later date, but as I live in the United Kingdom, and travelling to different places abroad is still chaotic and uncertain with what places are safe to travel to and my family and I not feeling comfortable yet to travel abroad, I thought I would stick with doing my home Country first. So lets get started….
Top 20 Castles in The U.K
1. Orford Castle – Orford, Woodbridge, Suffolk, IP12 2ND
Orford Castle was built between 1165 and 1173 by Henry II of England to consolidate royal power in the region.
The well-preserved keep, described by historian R. Allen Brown as "one of the most remarkable keeps in England", is of a unique design and probably based on Byzantine architecture. The keep still stands among the earth-covered remains of the outer fortifications. Prices – Adult: From £7.90, Child (5-17 years),: From £4.70.
Opening Times: Mon – Sun: 10am – 5pm
2. Durham Castle – Palace Green, Durham, DH1 3RW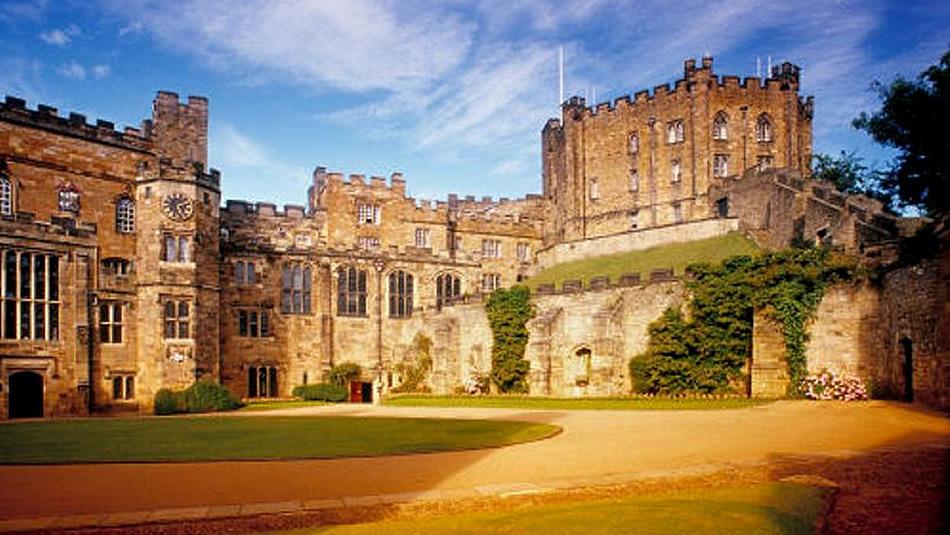 Durham Castle is a Norman castle in the city of Durham, which has been wholly occupied since 1840 by University College, Durham. The castle stands on top of a hill above the River Wear on Durham's peninsula, opposite Durham Cathedral. It is open to the general public to visit, but only through guided tours, since it is in use as a working building and is home to over 100 students. Prices -Adult: £4.50, Child (12+ years): £4.50
Opening Times: Mon – Sun: 11am-3pm
3. Arundel Castle – Arundel, West Sussex, BN18 9AB

Arundel Castle is a restored and remodeled medieval castle, established by Roger de Montgomery on Christmas Day 1067. Roger became the first to hold the earldom of Arundel by the graces of William the Conqueror. The castle was damaged in the English Civil War and then restored in the 18th and 19th centuries. From the 11th century, the castle has served as a home and has been in the ownership of the family of the Duke of Norfolk for over 400 years. It is the principal seat of the Norfolk family. It is a Grade I listed building. Prices – Castle, Keep & Gardens – Adult: £23, Child: £10. Gardens – Adult: £13, Child: £6
Opening Times: Tues – Sun: Castle & Gardens open from 1 April – 31 October 2021
Gardens 10.00am – 5.00pm
Keep 11.00am – 4.30pm
Castle rooms 12.00pm – 5.00pm
4. Alnwick Castle –  Alnwick, Northumberland NE66 1NQ
Alnwick Castle is the seat of the Duke of Northumberland, built following the Norman conquest, and renovated and remodeled a number of times. It is a Grade I listed building and as of 2012 received over 800,000 visitors per year.
An increase in public interest in the castle was generated by its use as a stand-in for the exterior and interior of Hogwarts in the Harry Potter films. Its appearance in the films has helped shape the public imagination regarding what castles should look like. Prices – Adults: £18.50, Children (5 to 16 years): £9.75
Opening Times FROM 6TH SEP: Castle Grounds – 10:00am – 5:30pm
Artisan's Courtyard – 10:00am – 4:30pm
State Rooms – 10:30am – 4:30pm
Museum Towers – 10:00am – 5:30pm
Fusiliers Museum – 11:00am – 4:45pm
5. Edinburgh Castle – Castlehill, Edinburgh EH1 2NG
Edinburgh Castle is a historic fortress which dominates the skyline of the city of Edinburgh, from its position on the Castle Rock. There has been a royal castle on the rock since at least the reign of David I in the 12th century, and the site continued to be a royal residence until 1633. As one of the most important strongholds in the Kingdom of Scotland, Edinburgh Castle was involved in many historical conflicts from the Wars of Scottish Independence in the 14th century to the Jacobite Rising of 1745. Research undertaken in 2014 identified 26 sieges in its 1100-year-old history, giving it a claim to having been "the most besieged place in Great Britain and one of the most attacked in the world". Prices – Adult: £15.50, Child: £12.40
Opening Times: Mon – Sun: 9:30am – 6pm
6. Warwick Castle –  Warwick, Warwickshire, CV34 6AH
Warwick Castle is a medieval castle developed from an original built by William the Conqueror in 1068. During the Hundred Years War, the façade opposite the town was refortified, resulting in one of the most recognizable examples of 14th century military architecture. In 2001, Warwick Castle was named one of Britain's "Top 10 historic houses and monuments" by the British Tourist Authority; the list included Tower of London, Stonehenge, and Edinburgh Castle. Warwick Castle was recognized as Britain's best castle by the Good Britain Guide 2003.
Around this time it was getting in excess of half a million visitors a year. Prices – One Day Entry: From £20, Overnight Entry: £47 Per Person
Opening Times: Mon – Sun: 10am – 4pm
7. Caernarfon Castle – Castle Ditch, Caernarfon LL55 2AY
There was a motte-and-bailey castle in the town of Caernarfon from the late 11th century until 1283 when King Edward I of England began replacing it with the current stone structure. The Edwardian town and castle acted as the administrative centre of north Wales and as a result the defenses were built on a grand scale. During the English Civil War, Caernarfon Castle was held by Royalists, and was besieged three times by Parliamentarian forces. This was the last time the castle was used in war. Caernarfon Castle was neglected until the 19th century when the state funded repairs. In 1911, Caernarfon Castle was used for the investiture of the Prince of Wales, and again in 1969. It is part of the World Heritage Sites. Prices – Adult: £9.25, Child  (Aged 5-17): £6.60
Opening Times: Mon – Sun: 9;30am – 6pm
8. Caerphilly Castle – Castle St, Caerphilly CF83 1JD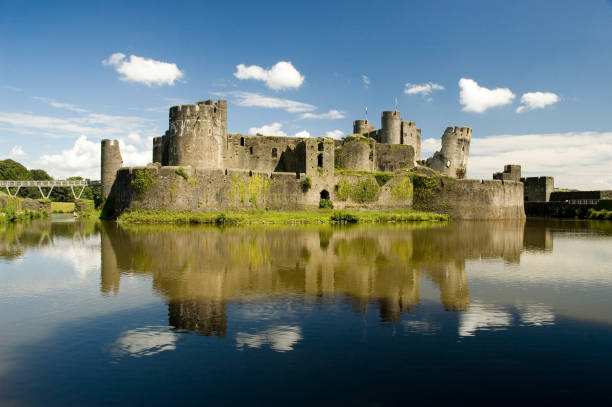 Caerphilly Castle is surrounded by extensive artificial lakes – it occupies around 30 acres (12 ha) – and is the second largest castle in Britain. It is famous for having introduced concentric castle defenses to Britain and for its large gatehouses. It is considered by historian Allen Brown to be "the most elaborate water defenses in all Britain". In 1950 the castle and grounds were given to the state and the water defenses were re-flooded. In the 21st century, the Welsh heritage agency Cadw manages the site as a tourist attraction. Prices – Adult:£8.40, Child (5 – 17 years): £5.90
Opening Times: Mon – Sun: 9:30am – 1pm / 2pm – 6pm
9. Windsor Castle – Windsor, Berkshire, SL4 1NJ
Windsor Castle is a royal residence, notable for its long association with the English and later British royal family and for its architecture. The original castle was built in the 11th century after the Norman invasion of England by William the Conqueror. Since the time of Henry I, it has been used by the reigning monarch and is the longest-occupied palace in Europe. The castle State Apartments are considered by many historians as the finest and most complete expression of later Georgian taste. It is a popular tourist attraction, a venue for hosting state visits, and the preferred weekend home of Elizabeth II. Today, more than 500 people live and work in Windsor Castle – the largest inhabited castle in the world. Prices – Adult: £23.50, Child (5 – 16 years): £13.50
Opening Times: 1 Mar – 31 Oct: 10am – 5:15pm
1 Nov – 28 Feb: 10am – 4:15pm
10 Bamburgh Castle – Bamburgh, Northumberland, NE69 7DF
Built on a dolerite outcrop, the location was previously home to a fort of the native Britons. The Normans built a new castle on the site, which forms the core of the present one. As an important English outpost, the castle was the target of occasional raids from Scotland. In 1464 during the Wars of the Roses, it became the first castle in England to be defeated by artillery. The castle still belongs to the Armstrong family, and is opened to the public. It also hosts weddings and corporate events. It has been used as a film location since the 1920s, featuring in films such as Ivanhoe (1982), El Cid (1961), Mary, Queen of Scots (1971), Elizabeth (1998) and both the 1971 and 2015 adaptions of Macbeth. Prices –Adult: £12.50, Child (5 – 16 years): £6.15
Opening Times: Mon – Sun: 10am – 5pm
11. Highclere Castle –  Highclere Park, Highclere, Newbury RG20 9RN
One of the stars of TV's Downton Abbey, Highclere Castle in Hampshire provided the backdrop for four series of the show and the hit movie. Initially a medieval palace, Highclere was transformed in the mid-19th century by Sir Charles Barry, the architectural mind behind the Houses of Parliament in London. Alongside tours of its many rooms, including those used as the state rooms from the Downton Abbey movie, you can explore gardens dating back to the 13th century and 1,000 acres of stunning parkland, designed by the renowned landscape gardener, Capability Brown. The castle is home to the Earl and Countess of Carnarvon, whose family have lived there since 1679, and also houses a unique display of Egyptian antiquities celebrating the 5th Earl of Carnarvon's role in the discovery of the tomb of Tutankhamun. This year, the castle will also hosts special autumn and winter tours, including Real Lives and Film Sets and Christmas at Highclere. Prices – Adult: £24, Child (4 – 16 years): £14
Opening Times: Sun – Thurs: 10am – 3:30pm
12. Leeds Castle –  Broomfield, Maidstone ME17 1PL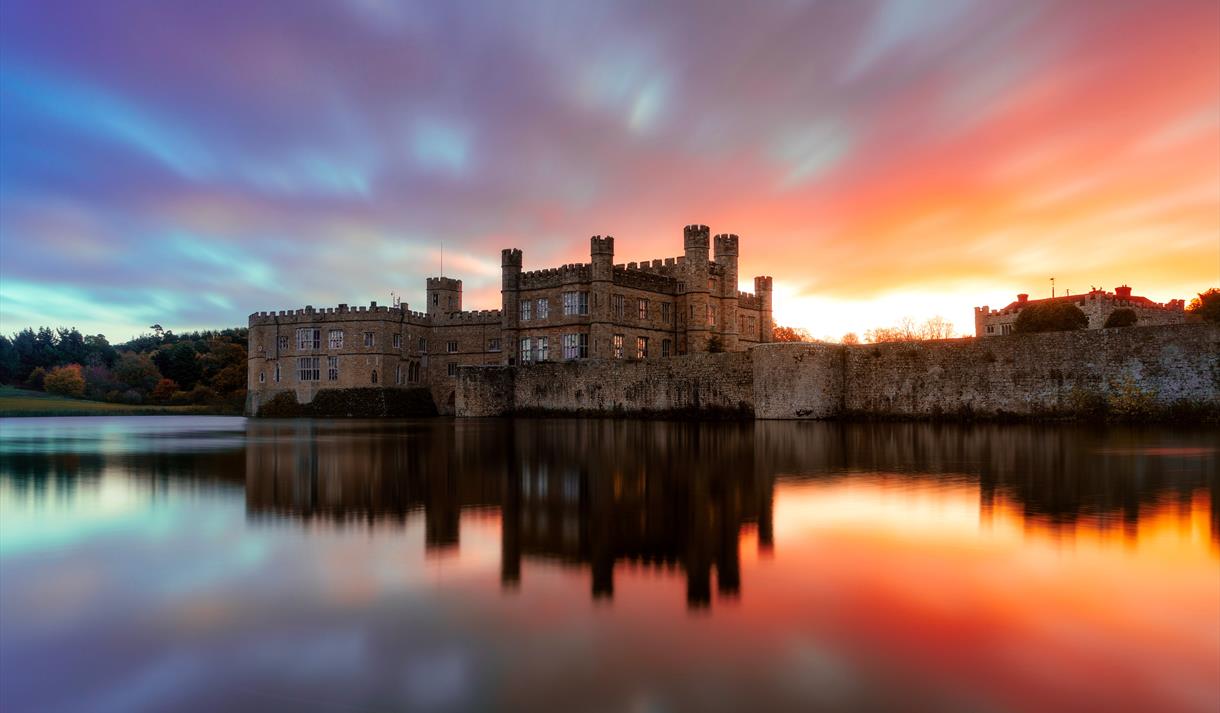 Occupying 500 acres in the heart of the Kent countryside, Leeds Castle celebrated its 900th anniversary in 2019. You can trace its journey from its Norman roots, through royal ownership and its time as a magnificent Tudor palace for Henry VIII, to the country retreat that stands today. The Gatehouse Exhibition explores this history, while the castle's Bird of Prey Centre features displays from hawks, owls and eagles, among other majestic birds. All visits must be reserved online. Prices – Adult: £28, Child(4 – 15 years): £19.50
Opening Times: Mon – Sun: 10am – 6pm
13. Bodiam Castle – Robertsbridge TN32 5UA
Bodiam Castle is one of the most famous castles in England. Built in the 14th century by a British soldier who married and worked his way to wealth, Bodiam Castle is a beautiful historic relic and one of the best castles in the UK. The iconic quadrangular castle, with its crowd of imposing stone towers and battlements all emerging from a misty moat, has been widely photographed for decades. In contrast to the near-perfect, stately castle exterior, sections of the castle's interior have unfortunately fallen into ruin. Instead of roaming a dilapidated interior, visitors may delight in exploring the castle's battlements, grand courtyards and towers. Prices – Adult: From £11, Child: From £5.50
Opening Times: Mon – Sun: 10am – 5pm
14. Highcliffe Castle – Rothesay Dr, Highcliffe BH23 4LE
Highcliffe Castle is arguably the most important surviving house built with a view toward the Romantic and Picturesque style of architecture. Built between 1831 and 1836, Highcliffe Castle remained a family home until the 1950s. Despite two devastating fires in the 1960s which destroyed the castle's rich interiors and renovations to the castle's exterior in the 1990s, the castle remains a spectacular sight to behold and one of the best castles in England. Prices – Adult: £7, Child (5 – 16 years): £3
Opening Times: Sun – Thurs: 10am – 4pm
15. Tower Of London –  London, EC3N 4AB
The castle was founded towards the end of 1066 as part of the Norman Conquest, but its White Tower (which gives the castle its name) was constructed in 1078 by William the Conqueror and became a symbol of the oppression being levelled on London by the new rulers. The tower was used as a prison from 1100 and whilst this wasn't its sole use in 1952, the Krays were incarcerated there for a period. Over the ages, the Tower has had various roles, including an armory, treasury, a menagerie, public records office and a Royal Mint. Prices – Adult: £29.90, Child:£14.90
Opening Times: 9am – 5:30pm
16. Warkworth Castle – Castle Terrace, Warkworth, Morpeth NE65 0UJ
The first castle was thought to be built during the Norman Conquest by Henry II to secure his Northumberland lands. Warkworth became the home to the all-powerful Percy family who also occupied Alnwick Castle in Northumberland. The fourth Earl redesigned the castle in the bailey and started to build a collegiate church in the grounds and in 1670, the last Percy Earl died resulting in ownership being passed on. The castle somehow eventually weaved its way back into the Percy clan after it was taken over by Hugh Smithson who married a Percy heiress, resulting in them changing their name to Percy and founding the Dukes of Northumberland. The 8th Duke of Northumberland passed on custody of the Castle to the office of works in 1922 and English Heritage has managed it since 1984. Prices – Adult: From £7.90, Child (5 -17 Years): From £4.70
Opening Times: Mon – Sun: 10am – 5pm
17. Chirk Castle – Chirk Castle LL14 5AF
Roger Mortimer de Chirk started to build the castle in 1295 and it was completed in 1310, whilst Edward I was on the throne, to subdue the last princes of Wales. The castle was strategically placed at the meeting point of the rivers Dee and Ceroig to defend the Ceirog Valley, which had become the areas base for the Marcher Lordship of Chirkland. It also acted as a demonstration of English intent in these lands that were long battled over. Chirk Castle was acquired by Thomas Myddelton in 1595 and his son used it to support the Parliamentarians during the English Civil War. The castle switched its allegiances to become 'royalist' and was restored in 1659 after the son changed sides. The Myddeton family lived at the castle all the way through to 2004 when it was passed to National Trust ownership. Prices – Adult: £14.20, Child: £7.10
Opening Times: Mon – Sun: 10am – 5pm
18. Conwy Castle – Rose Hill St, Conwy LL32 8AY
In the distance rise the craggy mountains of Snowdonia and spread out below you are the harbor and narrow streets of Conwy – still protected by an unbroken 1,400-yard (1.3km) ring of town walls. It's enough to take the breath away. Especially when you consider that King Edward I and his architect Master James of St George built both castle and walls in a barely believable four years between 1283 and 1287. This famous fortress is exceptionally well preserved. It contains the most intact set of medieval royal apartments in Wales. The high curtain wall and eight lofty towers rise almost as impressively as when they were built more than 700 years ago. Prices – Adult: £9.25, Child (5 – 17 years): £6.60
Opening Times: 1 September – 31 October:
10am – 5pm
Closed 1pm–2pm
1 November – 28 February:
Daily 10am – 4pm
Closed 1pm – 2pm
Closed 24, 25, 26 Dec and 1 Jan
19. Dover Castle – Castle Hill Rd, Dover CT16 1HU
Explore 2000 years of history during an action-packed day out at Dover Castle. Step inside the Great Tower and discover the grandeur of Henry II's medieval palace. Explore vividly-recreated rooms filled with colorful furnishings and imagine the world of courtly intrigue and royal ambition. Make sure to climb to the rooftop for unmissable views across the English Channel.  Fast forward over 700 years and discover the vital role Dover Castle played in two world wars at the recreated Port War Signaling Station. On weekends, meet costumed characters who will reveal the medieval story of Dover Castle as the recreate the court of Henry II at the mighty medieval Great Tower. There are over 80 acres of castle grounds to explore too. Walk the battlements and mighty defenses as you stretch your legs and imagination at England's greatest fortress. Prices – Adult: From £11.55, Child (5 – 17 years): From £6.95
Opening Times: Tues – Sun: 10am – 6pm
ue and royal ambition. Make sure to climb to the rooftop for unmissable views across the English Channel.
20. Framlingham Castle – Church St, Framlingham, Woodbridge IP13 9BP
Dating back to the 12th century, Framlingham Castle is a terrific historical attraction in Suffolk. Looking over the River Ore, the impressive castle has three distinct sections: the Bailey, the Lower Court, and the Inner Court. Walk along the mighty walls and soak up the history in the very spot where Mary Tudor (later known as Bloody Mary) became the Queen of England. There are often diverse activities and exhibitions.  Prices – Adult: From £11.30, Child (5 – 17 years): From £6.80
Opening Times: Mon – Sun: 10am – 6pm
Thank you for coming to my blog and reading today's post! If you decide to visit any of the Castles, I hope you have a lovely time and enjoy yourself, oh and manage to get lots of photos as-well. For now though, I shall leave you to enjoy the rest of your week, and I will see you next Wednesday! 😃