Hello everyone, how is everybody doing? Keeping well I hope 🤞🏽 I'm still suffering with my ears, We've had to contact the Doctors for the third week in a row as they're just not getting any better. I'm hoping that they will start getting better soon as I've suffered with ear infections all my life and they have told me before that if I keep having ear infections in them, I could end up rupturing my eardrum(s) which is something I don't want to happen. Other than my ears I've been mostly Ok with everything else, tired and weak, but mostly alright!
On with this weeks post…It's National Photography month and before May is over I wanted to do a post on the best Black and White (B&W) Photos, I'm a huge fan of shooting in B&W 😃 don't get me wrong I do like taking pictures with all types of Lenses, and seeing photographs in different colors (whether it be in an Art Gallery or on the Internet), but I have to admit that I get really drawn in by a photo that's been shot in B&W, I mean there is just something magical about black and white photography, the timeless beauty of the photos, the emotion that they bring, the different lighting contrasts that come to life. it can bring a new perspective and aesthetic to your photos that can't be expressed through color. I wanted to share with you today some of the best Black & White Photos that has ever been taken of all time.
15 of the best black & white photos of all time
1.V-J Day in Times Square
Alfred Eisenstaedt, one of the first four photographers hired by LIFE magazine, made it his mission "to find and catch the storytelling moment." He didn't have to go far for it when World War II ended on August 14, 1945. Taking in the mood on the streets of New York City, Eisenstaedt soon found himself in the joyous tumult of Times Square. As he searched for subjects, a sailor in front of him grabbed hold of a nurse, tilted her back and kissed her. Eisenstaedt's photograph of that passionate swoop distilled the relief and promise of that momentous day in a single moment of unbridled joy.
2. Migrant Mother
The picture that did more than any other to humanize the cost of the Great Depression almost didn't happen. Driving past the crude "Pea-Pickers Camp" sign in Nipomo, north of Los Angeles, Dorothea Lange kept going for 20 miles. But something nagged at her and she turned around. At the camp, the Hoboken, N.J.–born Lange spotted Frances Owens Thompson and knew she was in the right place. The farm's crop had frozen, and there was no work for the homeless pickers, so the 32-year-old Thompson sold the tires from her car to buy food, which was supplemented with birds killed by the children. Lange, who believed that one could understand others through close study, tightly framed the children and the mother, whose eyes, worn from worry and resignation, look past the camera. Lange took six photos with her 4×5 Graflex camera.
3.  Rose and Driftwood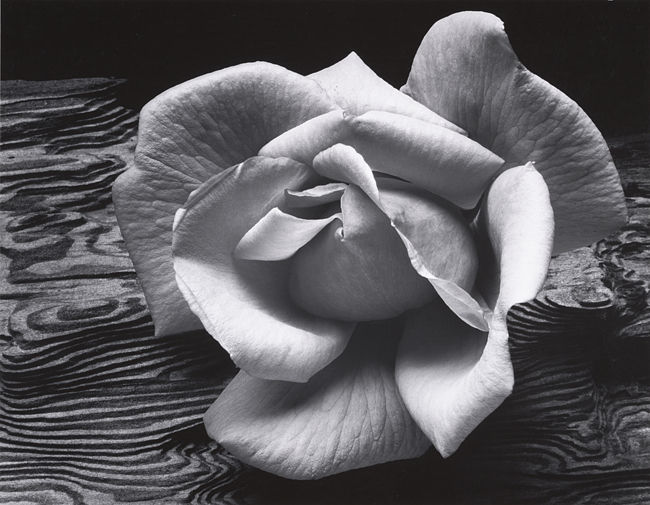 Adams made use of sharp focus and high contrast to depict the delicate veins of the rose and the raised striations of the driftwood. The resulting image is a strikingly modern interpretation of the traditional still life. Unlike his contemporary Edward Weston, who preferred to isolate objects by physically removing them from their surroundings, Adams married the rose with the wood on which it was placed. Drawing on his experience of photographing landscapes – imparting on him an eye for texture, contrast, composition, and an emotional connection with his choice of subject matter – Adams treats the rose and driftwood in much the same way, using the concentric circles of the driftwood and the rose rising from its surface like elements found in nature.
4. Noire et Blanche (Black and White)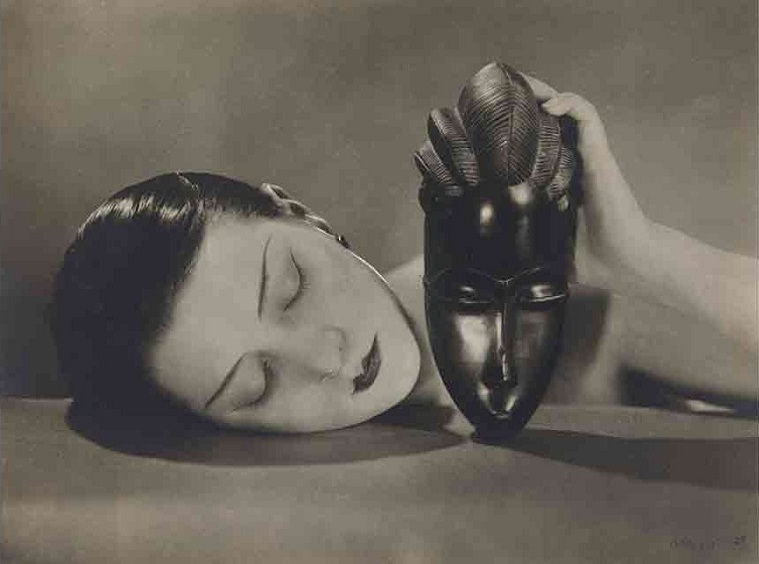 This photograph of Kiki de Montparnasse's head next to an African ceremonial mask bears a title that references both the black and white process of photography as well as skin color. It was created at a time when African art and culture was much in vogue. The oval faces of the two almost look identical in their serene expressions, but he contrasts her soft pale face with the shiny black mask. He simplifies the conflict of society into a problem of lighting and imagery in aesthetics – one oval next to another oval; one laying on its side contrasted with another that is erect; one lit from above and the other from the side.
5. Place de l'Europe Gare Saint Lazare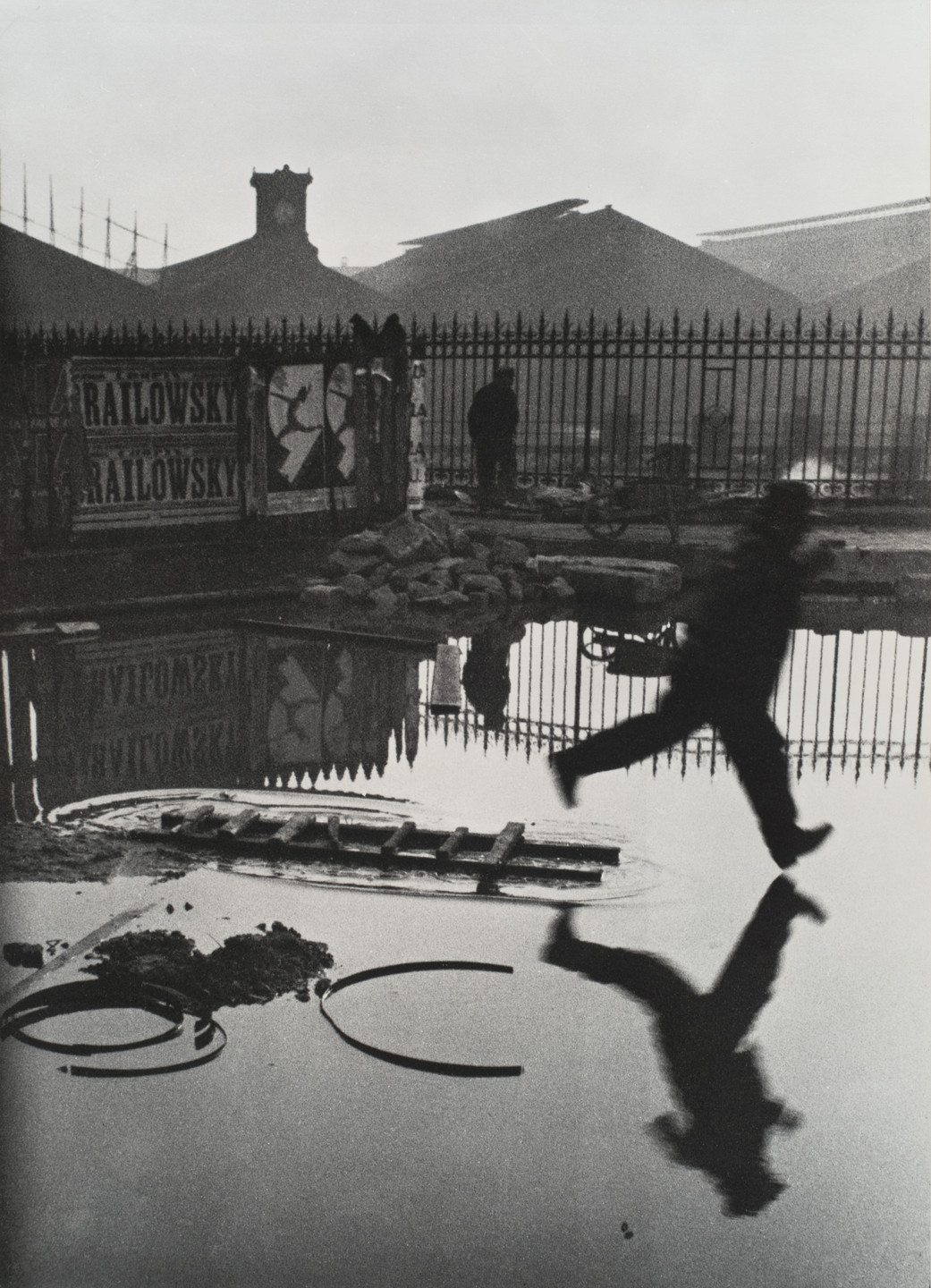 Speed and instinct were at the heart of Henri Cartier-Bresson's brilliance as a photographer. And never did he combine the two better than on the day in 1932 when he pointed his Leica camera through a fence behind Paris' Saint-Lazare train station. The resulting image is a masterpiece of form and light. As a man leaps across the water, evoking the dancers in a poster on the wall behind him, the ripples in the puddle around the ladder mimic the curved metal pieces nearby. Cartier-Bresson, shooting with a nimble 35-millimeter camera and no flash, saw these components all come together for a brief moment and clicked his shutter.
6. The Hindenburg Disaster
Zeppelins were majestic sky liners, luxurious behemoths that signified wealth and power. The arrival of these ships was news, which is why Sam Shere of the International News Photos service was waiting in the rain at the Lakehurst, N.J., Naval Air Station on May 6, 1937, for the 804-foot-long LZ 129 Hindenburg to drift in from Frankfurt. Shere was one of nearly two dozen still and newsreel photographers who scrambled to document the fast-moving tragedy. But it is his image, with its stark immediacy and horrible grandeur, that has endured as the most famous—owing to its publication on front pages around the world and in LIFE and, more than three decades later, its use on the cover of the first Led Zeppelin album.
7. Camelot
Before they could become American royalty, America needed to meet John Fitzgerald Kennedy and Jacqueline Lee Bouvier. That introduction came when Hy Peskin photographed the handsome politician on the make and his radiant fiancée over a summer weekend in 1953. Peskin, a renowned sports photographer, headed to Hyannis Port, Mass., at the invitation of family patriarch Joseph Kennedy. The ambassador, eager for his son to take the stage as a national figure, thought a feature in the pages of LIFE would foster a fascination with John, his pretty girlfriend and one of America's wealthiest families.
8. Mushroom Cloud Over Nagasaki
Three days after an atomic bomb nicknamed Little Boy obliterated Hiroshima, Japan, U.S. forces dropped an even more powerful weapon dubbed Fat Man on Nagasaki. The explosion shot up a 45,000-foot-high column of radioactive dust and debris. Lieutenant Charles Levy, the bombardier, was knocked over by the blow from the 20-kiloton weapon. The officer then shot 16 photographs of the new weapon's awful power as it yanked the life out of some 80,000 people in the city on the Urakami River. Six days later, the two bombs forced Emperor Hirohito to announce Japan's unconditional surrender in World War II.
9. Betty Grable
Helen of Troy, the mythic Greek demigod who sparked the Trojan War and "launch'd a thousand ships," had nothing on Betty Grable of St. Louis. For that platinum blond, blue-eyed Hollywood starlet had a set of gams that inspired American soldiers, sailors, airmen and Marines to set forth to save civilization from the Axis powers. And unlike Helen, Betty represented the flesh-and-blood "girl back home," patiently keeping the fires burning. Frank Powolny brought Betty to the troops by accident. A photographer for 20th Century Fox, he was taking publicity pictures of the actress for the 1943 film Sweet Rosie O'Grady when she agreed to a "back shot." The studio turned the coy pose into one of the earliest pinups, and soon troops were requesting 50,000 copies every month. The men took Betty wherever they went, tacking her poster to barrack walls, painting her on bomber fuselages and fastening 2-by-3 prints of her next to their hearts.
10. The Babe Bows Out
He was the greatest ballplayer of them all, but by 1948, Babe Ruth had been out of the game for more than a decade and was struggling with terminal cancer. So when the beloved Bambino stood before a massive crowd on June 13 to help celebrate the silver anniversary of Yankee Stadium—known to all in attendance as the House That Ruth Built—and to retire his No. 3, it was clear this was a final public goodbye. Nat Fein of the New York Herald Tribune was one of dozens of photographers staked out along the first-base line. But as the sound of "Auld Lang Syne" filled the stadium, Fein walked behind Ruth, where he saw the proud ballplayer leaning on a bat, his thin legs hinting at the toll the disease had wreaked on his body. From that spot, Fein captured the almost mythic role that athletes play in our lives—even at their weakest, they loom large.
11. Untitled Film Still #21
Since she burst onto the art scene in the late 1970s, Cindy Sherman the person has always been obscured by Cindy Sherman the subject. Through inventive, deliberately confusing self-portraits taken in familiar but artificial circumstances, Sherman introduced photography as postmodern performance art. From her Untitled Film Stills series, #21 ("City Girl") calls to mind a frame from a B movie or an opening scene from a long-since-canceled television show. Rather than capture real life in the click of a shutter, Sherman uses photography as an artistic tool to deceive and captivate.
12.Gandhi and the Spinning Wheel
When the British held Mohandas Gandhi prisoner at Yeravda prison in Pune, India, from 1932 to 1933, the nationalist leader made his own thread with a charkha, a portable spinning wheel. The practice evolved from a source of personal comfort during captivity into a touchstone of the campaign for independence, with Gandhi encouraging his countrymen to make their own homespun cloth instead of buying British goods. By the time Margaret Bourke-White came to Gandhi's compound for a life article on India's leaders, spinning was so bound up with Gandhi's identity that his secretary, Pyarelal Nayyar, told Bourke-White that she had to learn the craft before photographing the leader.
13. Dalí Atomicus
Capturing the essence of those he photographed was Philippe Halsman's life's work. So when Halsman set out to shoot his friend and longtime collaborator the Surrealist painter Salvador Dalí, he knew a simple seated portrait would not suffice. Inspired by Dali's painting Leda Atomica, Halsman created an elaborate scene to surround the artist that included the original work, a floating chair and an in-progress easel suspended by thin wires. Assistants, including Halsman's wife and young daughter Irene, stood out of the frame and, on the photographer's count, threw three cats and a bucket of water into the air while Dalí leaped up. It took the assembled cast 26 takes to capture a composition that satisfied Halsman.
14. The Pillow Fight
Harry Benson didn't want to meet the Beatles. The Glasgow-born photographer had plans to cover a news story in Africa when he was assigned to photograph the musicians in Paris. But once he met the boys from Liverpool and heard them play, Benson had no desire to leave. The Beatles were on the cusp of greatness, and Benson was in the middle of it. His pillow-fight photo, taken in the swanky George V Hotel the night the band found out "I Want to Hold Your Hand" hit No. 1 in the U.S., freezes John, Paul, George and Ringo in an exuberant cascade of boyish talent—and perhaps their last moment of unbridled innocence. It captures the sheer joy, happiness and optimism that would be embraced as Beatle mania and that helped lift America's morale just 11 weeks after John F. Kennedy's assassination.
15. Windblown Jackie
People simply could not get enough of Jacqueline Kennedy Onassis, the beautiful young widow of the slain President who married a fabulously wealthy Greek shipping tycoon. She was a public figure with a tightly guarded private life, which made her a prime target for the photographers who followed wherever she went. And none was as devoted to capturing the former First Lady as Ron Galella. It was Galella's relentless fixation that led him to hop in a taxi and trail Onassis after he spotted her on New York City's Upper East Side in October 1971. The driver honked his horn, and Galella clicked his shutter just as Onassis turned to look in his direction.
Thank you for reading my blog! I hope you all enjoy the rest of the week, and I shall see you next Wednesday 😃