Hello hello hello, how's everybody doing? I don't know what's going on with the weather in the U.K but it really can't make its mind up, in the space of 3 seconds it went from sunshine to snow… it's completely mind-boggling. A lot of people are excited at the moment in Britain as non-essential shops, pubs and hairdressers have now re-opened again after being shut for quite some time and while it is great that life is slowly starting to get back to normal, I hope everyone is still being careful and adhering to the rules that are in place to keep each other safe.
As well as this month being National Humor Month, today is also International Moment Of Laughter, and I thought I would combine the two celebrations for todays post, and as comedy is my favorite movie genre, I decided to do 25 of the funniest comedies of the 2010s! Now this isn't a complete list of comedy films (obviously) as there have been hundreds of hilarious films that have been made since 2010, and with great difficulty I narrowed it down to 25, but there were so many more that I wanted to include which means there may be a post in the near future featuring more films that you just can't help but laugh at 🤣 but to be going on with here is a list of films I would definitely recommend that will be sure to make you laugh.
25 Funniest Films of The 2010s
Spy (2015)
Stars: Melissa McCarthy, Jude Law, Rose Byrne, Jason Statham, Miranda Hart
About: Susan Cooper is an unassuming, deskbound CIA analyst, and the unsung hero behind the Agency's most dangerous missions. But when her partner falls off the grid and another top agent is compromised, she volunteers to go deep undercover to infiltrate the world of a deadly arms dealer, and prevent a global crisis.
2. Jumanji: Welcome To The Jungle (2017)
Stars: Dwayne Johnson, Karen Gillan, Kevin Hart, Jack Black, Nick Jonas
About: In a brand-new Jumanji adventure, four high-school kids discover an old video-game console and are drawn into the game's jungle setting, literally becoming the adult avatars they chose. What they discover is that you don't just play Jumanji–you must survive it. To beat the game and return to the real world, they must go on the most dangerous adventure of their lives, discover what Alan Parrish left 20 years ago, and change the way they think about themselves –or they'll be stuck in the game forever, to be played by others without break.
3. Deadpool (2016)
Stars: Ryan Reynolds, Morena Baccarin, T.J. Miller, Ed Skrein,
About: This is the origin story of former Special Forces operative turned mercenary Wade Wilson, who after being subjected to a rogue experiment that leaves him with accelerated healing powers, adopts the alter ego Deadpool. Armed with his new abilities and a dark, twisted sense of humor, Deadpool hunts down the man who nearly destroyed his life.
4. Horrible Bosses (2011)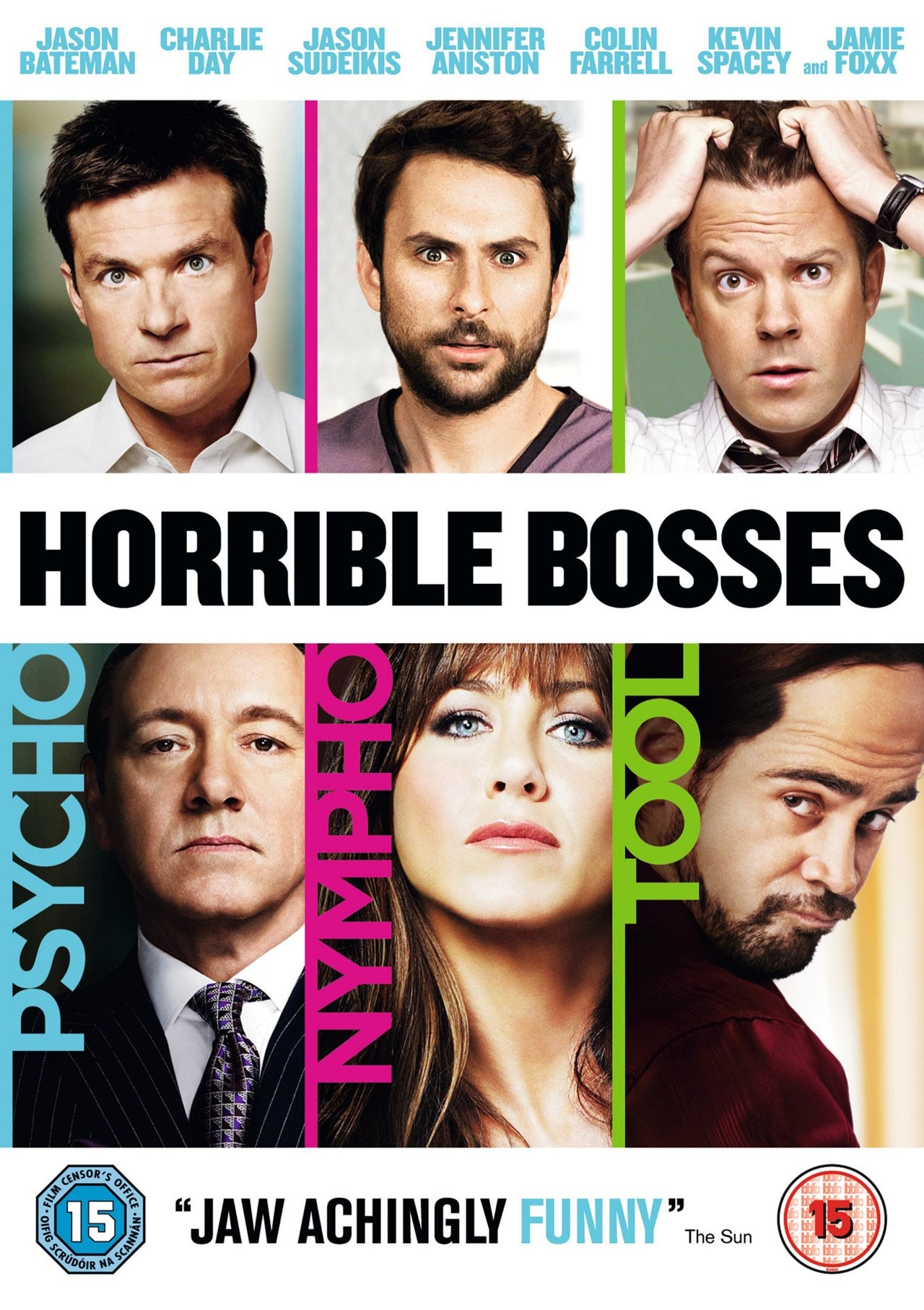 Stars: Jason Bateman, Charlie Day, Jason Sudeikis, Jennifer Aniston, Colin Farrell, Kevin Spacey
About: Nick hates his boss, mostly because he's expected to work from before sunrise to after sunset and his boss, Mr. Harken, calls him out for being a minute late and blackmails him so he can't quit. Dale hates his boss, Dr. Julia Harris, because she makes unwelcome sexual advances when he's about to get married. But Dale is on that pesky list of child-offenders so he can't quit. Kurt actually likes his job and his boss–well, up until his boss dies and the boss's coked-out, psychopathic son takes over. But who would be crazy enough to quit their jobs in such poor economic times? Instead, Nick, Dale, and Kurt drunkenly and hypothetically discuss how to kill their bosses, and before they know it, they've hired a murder consultant to help them pull off the three deeds.
5. Grown Ups (2010)
Stars: Adam Sandler, Salma Hayek, Kevin James, Chris Rock, Rob Schneider, Salma Hayek, Maya Rudolph
About: In 1978, five 12-year-olds win a CYO basketball championship. Thirty years later, they gather with their families for their coach's funeral and a weekend at a house on a lake where they used to party. By now, each is a grownup with problems and challenges: Marcus is alone and drinks too much. Rob, with three daughters he rarely sees, and a history of divorces. Eric who lies that he is co-owner of a lawn furniture company to impress his friends is actually out of work. Kurt is a househusband, henpecked by wife and mother-in-law. Lenny is a successful Hollywood agent married to a fashion designer with three kids and his two sons take their privilege for granted. Can the outdoors help these grownups rediscover connections or is this chaos in the making?
6. The Hangover Part II (2011)
Stars: Bradley Cooper, Zach Galifianakis, Ed Helms, Ken Jeong
About: Stu is getting married. Along with Doug, Phil, and his soon-to-be brother-in-law Teddy, he regretfully invites Alan to Thailand for the wedding. After a quiet night on the beach with a beer and toasting marshmallows by the camp fire, Stu, Alan and Phil wake up in a seedy apartment in Bangkok. Teddy is missing, there's a monkey with a severed finger, Alan's head is shaved, Stu has a tattoo on his face, and they can't remember any of it. The wolf-pack retrace their steps through strip clubs, tattoo parlors and cocaine-dealing monkeys on the streets of Bangkok as they try and find Teddy before the wedding.
7. Identity Thief (2013)
Stars: Jason Bateman, Melissa McCarthy, Jon Favreau, Amanda Peet
About: Straight-laced, kind, and happily married, sadly, the hard-working father of two, Sandy Patterson, is the perfect sucker. After revealing his vital personal information to the devious con artist, Diana, Sandy sees his world turn upside down, his credit cards maxed, and his credit rating ruined. As the hard-partying doppelgänger tastes a slice of the good life putting Sandy's job on the line, Patterson embarks on a long road trip from Denver to sunny Florida, hell-bent on tracking down the scheming woman, put an end to her shopping spree, and, hopefully, clear his name. Now, the real Sandy has one short week to get his ordinary life back; however, can he bring the unapologetic identity thief to justice and save his job before it's too late?
8. Night School (2018)
Stars: Kevin Hart, Tiffany Haddish, Rob Riggle, Taran Killam, Megalyn Echikunwoke
About: Teddy Walker is a successful salesman whose life takes an unexpected turn when he accidentally blows up his place of employment. Forced to attend night school to get his GED, Teddy soon finds himself dealing with a group of misfit students, his former high school nemesis and a feisty teacher who doesn't think he's too bright.
9. Ted (2012)
Stars: Mark Wahlberg, Mila Kunis, Seth MacFarlane, Giovanni Ribisi
About: John makes a Christmas miracle happen by bringing his one and only friend to life, his teddy bear. The two grow up together and John must then choose to stay with his girlfriend or keep his friendship with his crude and extremely inappropriate teddy bear, Ted.
10. What Men Want (2019)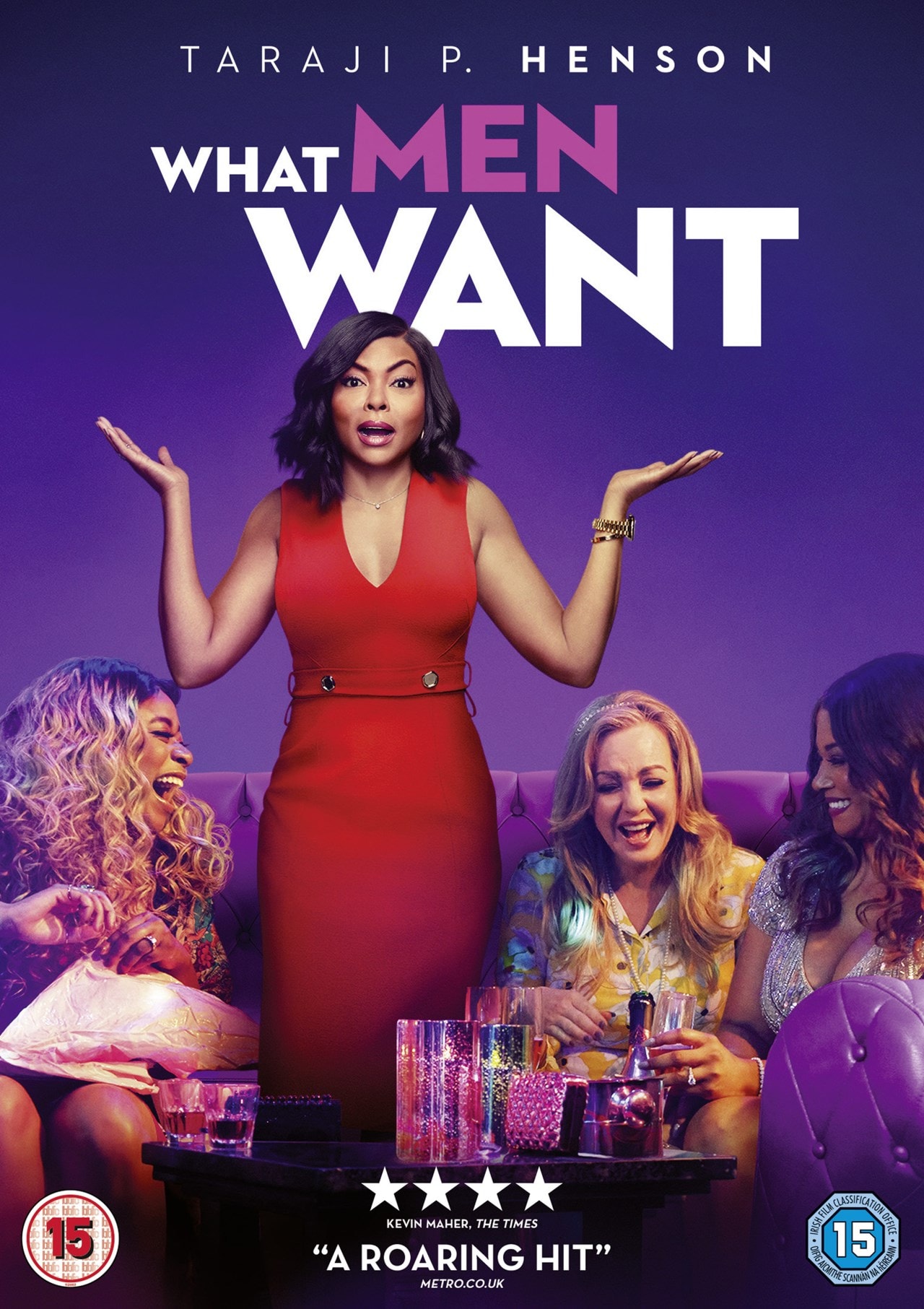 Stars: Taraji P. Henson, Aldis Hodge, Josh Brener, Tracy Morgan
About: Passed up for a well-deserved promotion, sports agent Ali Davis wonders what else she needs to do to succeed in a man's world. Hoping to find answers from a psychic, Ali drinks a weird concoction that suddenly allows her to hear what men are thinking. Using her newfound ability, Ali starts to turn the tables on her obnoxious male colleagues while racing to sign the next basketball superstar.
11. Blended (2014)
Stars: Adam Sandler, Drew Barrymore, Terry Crews, Kevin Nealon, Wendi McLendon-Covey
About: After a blind date gone horribly wrong, Jim and Lauren agree they never, ever want to see each other again. Well, that's all about to change when the two find themselves and their respective families (including children) all stuck together in one suite at an African Safari vacation spot.
12. Girls Trip (2017)
Stars: Regina Hall, Queen Latifah, Jada Pinkett Smith, Tiffany Haddish
About: Four best friends, known as the Flossy Posse, have grown apart over the years. Yet when one of the friends is offered an opportunity to be a keynote speaker at the Essence Music Festival in New Orleans, she decides to bring along her friends to turn her work vacation into a girl's trip. Along the way, they rekindle their wild side by dancing, drinking, brawling and romancing to excess.
13. The Heat (2013)
Stars: Sandra Bullock, Melissa McCarthy, Marlon Wayans, Michael Rapaport
About: FBI Special Agent Sarah Ashburn is a methodical investigator with a long-standing reputation for excellence — and arrogance. In contrast, foul-mouthed, hot-tempered detective Shannon Mullins goes with her gut instincts and street smarts to remove criminals from the streets of Boston. Sparks fly when these polar opposites have to work together to capture a drug lord, but in the process, they become the last thing anyone expected — buddies.
14. Naked (2017)
Stars: Marlon Wayans, Regina Hall, Dennis Haysbert, Scott Foley, Loretta Devine
About: Rob Anderson is all set to marry the girl of his dreams, but can't quite get to the altar. He finds himself caught in a time loop, waking up naked in a hotel elevator over and over again.
15. Shazam! (2019)
Stars: Zachary Levi, Mark Strong, Asher Angel, Jack Dylan Grazer
About: We all have a superhero inside of us — it just takes a bit of magic to bring it out. In 14-year-old Billy Batson's case, all he needs to do is shout out one word to transform into the adult superhero Shazam. Still a kid at heart, Shazam revels in the new version of himself by doing what any other teen would do — have fun while testing out his newfound powers. But he'll need to master them quickly before the evil Dr. Thaddeus Sivana can get his hands on Shazam's magical abilities.
16. Bad Moms (2016)
Stars: Mila Kunis, Kathryn Hahn, Kristen Bell, Christina Applegate
About: Amy has a seemingly perfect life – a great marriage, over-achieving kids, a beautiful home and a career. However, she's overworked, over-committed and exhausted to the point that she's about to snap. Fed up, she joins forces with two other over-stressed moms on a quest to liberate themselves from conventional responsibilities – going on a wild, un-mom-like binge of long overdue freedom, fun and self-indulgence – putting them on a collision course with PTA Queen Bee Gwendolyn and her clique of devoted perfect moms.
17. Sisters (2015)
Stars: Stars: Amy Poehler, Tina Fey, Maya Rudolph, Ike Barinholtz
About: Sisters Kate and Maura Ellis are summoned home to clean out their childhood bedroom before their parents sell the family house, much to their dismay. Looking to recapture their glory days, they throw one final high-school-style party for their classmates, which turns into the cathartic rager that a bunch of ground-down adults really need.
18. Central Intelligence (2016)
Stars: Dwayne Johnson, Kevin Hart, Danielle Nicolet, Aaron Paul
About: Bullied as a teen for being overweight, Bob Stone shows up to his high school reunion looking fit and muscular. While there, he finds Calvin Joyner, a fast-talking accountant who misses his glory days as a popular athlete. Stone is now a lethal CIA agent who needs Calvin's number skills to help him save the compromised U.S. spy satellite system. Together, the former classmates encounter shootouts, espionage and double-crosses while trying to prevent worldwide chaos.
19. Bridesmaids (2011)
Stars: Kristen Wiig, Maya Rudolph, Rose Byrne, Chris O'Dowd
About: Annie is a single woman whose own life is a mess, but when she learns that her lifelong best friend, Lillian, is engaged, she has no choice but to serve as the maid of honor. Though lovelorn and almost penniless, Annie, nevertheless, winds her way through the strange and expensive rituals associated with her job as the bride's go-to gal. Determined to make things perfect, she gamely leads Lillian and the other bridesmaids down the wild road to the wedding.
20. Thor: Ragnorak (2017)
Stars: Chris Hemsworth, Tom Hiddleston, Cate Blanchett, Mark Ruffalo
About: Imprisoned on the other side of the universe, the mighty Thor finds himself in a deadly gladiatorial contest that pits him against The Incredible Hulk , his former ally and fellow Avenger. Thor's quest for survival leads him in a race against time to prevent the all-powerful Hela from destroying his home world and the Asgardian civilization.
21. Blockers (2018)
Stars: Leslie Mann, John Cena, Ike Barinholtz, Kathryn Newton
About: Julie, Kayla and Sam are three high school seniors who make a pact to lose their virginity on prom night. Lisa, Mitchell and Hunter are three overprotective parents who flip out when they find out about their daughters' plans. They soon join forces for a wild and chaotic quest to stop the girls from sealing the deal — no matter what the cost.
22. Game Night (2018)
Stars: Jason Bateman, Rachel McAdams, Kyle Chandler, Sharon Horgan, Lamorne Morris
About: Max and Annie's weekly game night gets kicked up a notch when Max's brother Brooks arranges a murder mystery party — complete with fake thugs and federal agents. So when Brooks gets kidnapped, it's all supposed to be part of the game. As the competitors set out to solve the case, they start to learn that neither the game nor Brooks are what they seem to be. The friends soon find themselves in over their heads as each twist leads to another unexpected turn over the course of one chaotic night.
23. The Nice Guys (2016)
Stars: Russell Crowe, Ryan Gosling, Angourie Rice, Matt Bomer, Maragaret Qualley
About: Holland March is a down-on-his-luck private eye in 1977 Los Angeles. Jackson Healy is a hired enforcer who hurts people for a living. Fate turns them into unlikely partners after a young woman named Amelia mysteriously disappears. Healy and March soon learn the hard way that some dangerous people are also looking for Amelia. Their investigation takes them to dark places as anyone else who gets involved in the case seems to wind up dead.
24. Get Hard (2015)
Stars: Will Ferrell, Kevin Hart, Alison Brie, Craig T. Nelson
About: When obscenely rich hedge-fund manager James is convicted of fraud and sentenced to a stretch in San Quentin, the judge gives him one month to get his affairs in order. Knowing that he won't survive more than a few minutes in prison on his own, James desperately turns to Darnell — a black businessman who's never even had a parking ticket — for help. As Darnell puts James through the wringer, both learn that they were wrong about many things, including each other.
25. 21 Jump Street (2012)
Stars: Jonah Hill, Channing Tatum, Ice Cube, Dave Franco, Brie Larson
About: When cops Schmidt and Jenko join the secret Jump Street unit, they use their youthful appearances to go under cover as high-school students. They trade in their guns and badges for backpacks, and set out to shut down a dangerous drug ring. But, as time goes on, Schmidt and Jenko discover that high school is nothing like it was just a few years earlier — and, what's more, they must again confront the teenage terror and anxiety they thought they had left behind.
Thank you for reading my blog. I hope you enjoy the rest of your week and remain safe, if you're going out i.e. to the shops/park/pub/gardens (visiting friends or family) etc.. I hope you have a good time, but for now, I shall see you next Wednesday! 😃