Good morning all, hope you're all well.
Update on health: still weak and fragile 😭 but still fighting!
But going away from that, I ventured out for the first time in ages so I could get some fresh air, and as we were queuing this adorable little boy really took a shine to me, his mother said he doesn't often blow kisses to anyone and that I was very special, my heart literally burst just there, they were so sweet and he kept saying "I love you" it was a very good outing.
Father's Day Gifts
Father's' Day is a day of honoring fatherhood and paternal bonds, as well as the influence of fathers in society. In Catholic countries of Europe, it has been celebrated on March 19 as Saint Joseph's Day since the Middle Ages. In America, Father's Day was founded by Sonora Smart Dodd, and celebrated on the third Sunday of June for the first time in 1910. It is held on various days in many parts of the world all throughout the year, often in the months of March, May and June. In the United Kingdom, Father's Day is celebrated on the third Sunday of June.The day does not have a long tradition; The English Year (2006) states that it entered British popular culture "sometime after the Second World War, not without opposition". Singer songwriter Jon Barker also contributed to the UK's Father's Day culture by releasing the now popular song "Thank you for being my dad". The song reached charts around the world and is widely played at funerals each year around the world.
If you're stuck for ideas on what presents you could get, here are a few suggestions…
Make a Personalised Book – The Book of Dad

– PRICE:£23.99
If he is a man of few words and hates fuss or being the centre of attention, why not show him how special he is by creating a personalised book? You can fill it to the brim with words about how wonderful he is, as well as photos, messages and memories. Plus, you can also ask other family members and friends to record video messages for his online video gift box. It's bound to be a keepsake that he'll treasure forever!
2. Memories For When He's On-the-Go
Photograph Wallet Insert Card – PRICE: £25.00
Does he love nothing more than looking through sentimental photographs? Then why not transform some of his most priceless memories into a personalised photograph wallet insert card that he can enjoy while he's on the go? The wallet card will display the photo and an additional message, making it the perfect timeless keepsake!
3. Dad Coupons: Breakfast In Bed, Take-Out Tonight, & More
Coupons For The Best Dad – PRICE:£19.99
Show your dad how much he means to you with these fun dad coupons. Whether he would like to enjoy breakfast in bed or enjoy being master of the remote for the day, these coupons are bound to go down a treat and make him feel extra special.
4. For the 'pretends to be tech savvy' dad – Price: £12.88
Techie dads like to have all the latest bits and bobs, regardless of whether or not he knows what you're meant to do with it. So if he's one of those periodically ahead of the game kind of guys (who happens to have the Samsung S7) then he might enjoy this battery case. Yeah it's a battery pack AND a case.
5. For the 'passionate fair-weather sports fan' dad
There are die-hard sports fans. The ones who spend crazy amounts of money on season tickets to Tottenham Hotspurs games every year and cry angry tears whenever they lose. Then there are passionately fair-weathered sports fans who won't make a single mention of a foot or a ball all year and then suddenly throws a fit when it's time for the Champions League and they re-realise that they don't have the Sky Sports package. The solution? The Now TV Sky Sports pass. There are various payment options depending on how generous you're feeling.
6. Personalised Old Fashioned Sweet Shop – Only £20.99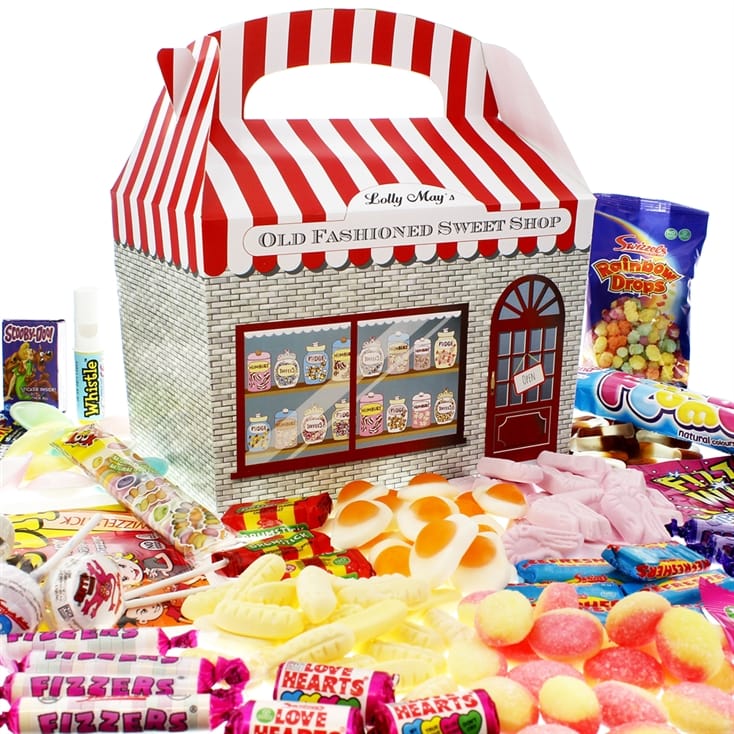 Designed  to look like a traditional, old fashioned sweet shop, with a candy striped roof and a window full of goodies, as well as being finished with a personalised gift card with a name and message of your choice, this beautiful gift box is bursting with nostalgic magic! includes Flying Saucers, Love Hearts, Cola Bottles, Lovely Lollies, Parma Violets, and so much more. This sugary delight is the perfect gift for birthdays, Christmas, anniversaries, to wishing someone a speedy recovery or just as an out-of-the-blue gift for the sweet-toothed being in your life. If you know someone who has a serious sweet tooth, we've got a gift that's sure to satisfy and give them the sugar rush they crave! This fabulous box measures approximately 19 x 13 x 20 cm, and is stuffed full of approximately 950g of mixed sweets, so you'll definitely be left feeling every bit the kid running riot in a sweet shop when you tuck in! 
7. Personalised Men's 7 Piece Grooming Set – Only £24.99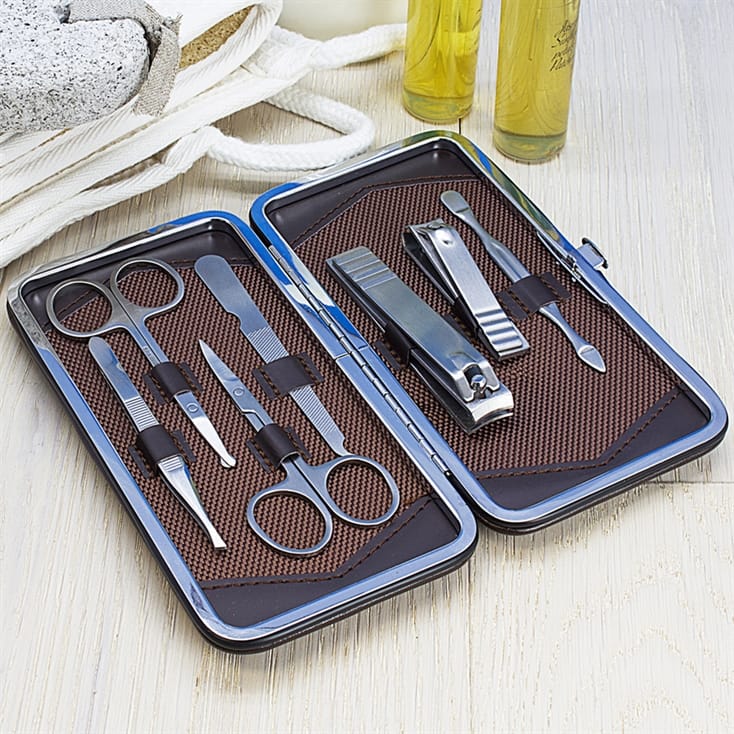 Are you looking for a gift for the man in your life? This personalised men's 7-piece grooming set is the perfect handy kit that any man will find useful. The set contains 7 items for keeping his nails and stray hairs trimmed and neat and all the grooming implements are kept securely in place in an attractive box. The box can be personalised with a message up to 100 characters.
The personalised grooming kit contains:
One pair of cuticle scissors
One pair of rounded scissors
Nail file and cleaner
Cuticle shaper
Large nail shaper
Small nail shaper
So, if your boyfriend, hubby or dad is starting to look a bit unkempt, this personalised grooming set will have him looking smart again in no time. It's also a great way for him to keep his grooming paraphernalia together in the bathroom or for taking with him when he's travelling.
8. PULSE NECK MASSAGER – £25.00
Is the stress of modern living leaving your muscles more knotted than a pair of wired earbuds in the bottom of a backpack? You need this portable Pulse Neck Massager!
This massager fits comfortably around the back of your neck, using 6 different massage modes to soothe and relax your tired, aching muscles. And, so you can target other muscle groups, this massager also has 2 moveable electrode pads, giving you double the massage action.
Also, so you can use it while on the go, it has a built-in rechargeable lithium battery. That keeps it wireless and means you can use it on the train, on the bus, or wherever you are, really.
If you are looking for the perfect way to relax after a long day or hectic week, this pulse neck massager is the ideal item for you. Order yours today!
9. BLUETOOTH SPEAKER AND WIRELESS CHARGER ALARM CLOCK – £25.00
If you're a little short of space but don't want to miss out on all of the cool tech on offer out there, we have the perfect product: This 3-in-1 Bluetooth Speaker and Wireless Charger Alarm Clock!
This handy little device takes 3 hugely useful pieces of tech and puts them all in one, compact device. For starters, it's a wireless charger that can charge compatible devices with its 2000 mAh battery. Secondly, it's a Bluetooth speaker that lets you stream your music to it and play it through a 3W speaker. Lastly, it's a classic alarm clock, displaying the time with a digital display and offering alarm tones to keep you always on time!
This speaker/charger/clock is a brilliant way to enjoy modern convenience without having to sacrifice space. So, a piece of tech that's about as versatile as a single parent, order this Wireless Charger Alarm Clock today!
10. LION KING SIMBA 3D MUG – £7.00
We could say that this Lion King Simba 3D mug won't change your (Circle of) Life… but we'd be lion!
Yep, modelled to look just like the cheeky prince of the jungle, this Lion King mug takes the shape of Simba's head. Its detail is more pitch-perfect than Elton John singing Can You Feel the Love Tonight? and its clever ear loop handle just can't wait to be in… your hand.
This mug is perfect for enjoying a delicious cup of Hakuna Mata-tea, (Pride) hot Rockolate, or anything as warm as your heart as the credits of this classic film start to roll.
So, if you're a Lion King fan, you need this mug like the ravaged Pride Lands need the return of Simba! You'll Ti-moan if you miss out, so order your Lion King Simba 3D mug today! _____________________________________________________________________________________________
Hopefully one of these ideas helps or gives you an idea
I hope you all enjoy the rest your week, and enjoy Father's Day. 😃