As you know by this blog that my major passion is photography, but another hobby of mine that has become one of my favourite things to do is…..baking 🙂 so I thought, seeing as Christmas is just a couple of weeks away, I would share a Chocolate Yule Log recipe that is a favourite amongst a majority of people.
Chocolate Yule Log
Ingredients:
125g Caster Sugar                                                                                      
4 Eggs, separated                         
60g Butter, softened        
100g Plain Flour 
1 teaspoon Baking Powder
1 tablespoon Lukewarm Water
1 pinch Salt
Chocolate Buttercream:
150g Butter, softened
200g Icing Sugar
100g Plain Chocolate, chopped
Unsweetened Cocoa Powder, for dusting
Method:
1. Preheat the oven to 180*C/Gas Mark 4. Grease and line a swiss roll tin with baking parchment, then grease the parchment.
2. Beat egg yolks with sugar until the mixture is light and fluffy. Add the softened butter, flour, baking powder and a tablespoon of lukewarm water. Beat till well combined.
3. In a clean bowl with a clean whisk, beat the egg whites with a pinch of salt until stiff. Add about 1/3 of the whites to the yolk mixture, and gently fold in. Repeat with remaining whites.
4. Spoon the cake mixture into the prepared tin, and spread evenly.
5. Bake in the preheated oven for 12 minutes.

6. After baking, wait 3 minutes, then carefully turn out the cake onto a large piece of parchment. Roll the parchment from one short end to the other.
For the Buttercream:
7. Melt the chocolate in a double boiler. Once melted, set aside.
8. Beat the softened butter till light and creamy. Gradually add the icing sugar, beating between each addition. Add the melted chocolate and beat until well combined.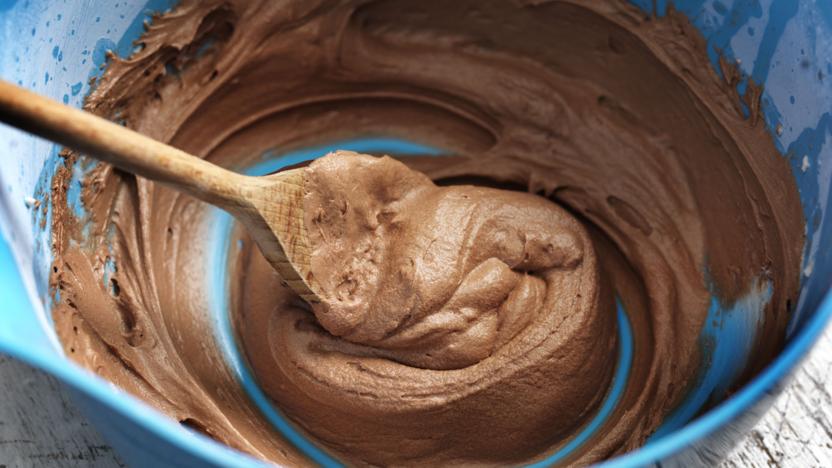 Assemble the Yule Log:
9. Carefully unroll the cooled sponge. Spread a thin layer of buttercream across the sponge to the edges. Firmly roll back up, using the parchment to help you, ensuring you have a tight roll.
10. At one end of the roll, cut off a slice at the diagonal, about 5cm in length at the longest side. This will represent a branch on the log. Set this slice aside.
11. Using the remaining buttercream, cover the entire roll with buttercream. Using a palette knife, create uneven 'ridges' in the buttercream to represent the bark of the log.
12. Somewhere near the centre of the roll, position the slice you cut off from the top to represent a branch sticking out of the log. Cover this with buttercream.
13. Drag the tines of a fork lengthways across the buttercream to create an extra bark effect.
14. Dust the entire log with cocoa powder. Add optional decorations, such as mini evergreen trees, etc… And enjoy!