Good Morning everybody, hope all is well! Did everyone manage to cope with Facebook, Instagram and WhatsApp being down on Monday? I'm not gonna lie, it was actually really refreshing not being glued to my phone and spending hours scrolling through Social Media, it gave me time to focus on other things/projects that I've been avoiding to do, did anyone else do this? Unfortunately though, because I've been busy – it's meant I haven't been resting my wrist which isn't helping it to get better, in fact I think it may actually be getting worse 😢 but I'm not a Doctor so I can't say for sure. I do think a trip to my GP is looking more and more likely. Anyway shall we get on with today's post
You probably wouldn't have guessed this about me, but I do find space interesting. As a child I was lucky enough to go to the National space Centre (located in Leicester) on a daytrip organized by the school I attended, and if I'm being honest I didn't think I would actually enjoy it as much as I did, but it was a lot better than I thought and I remember learning so much and being enthralled by everything that was in there, so when I saw that its World Space Week and what this years theme is about, I wanted to do a post on the incredible and inspiring women who have managed to overcome being discriminated because of their gender, and share some interesting facts with you, so lets start…
The theme of World Space Week 2021 is 'Women in Space' 👩‍🚀. Broadly speaking, STEM subjects are seen as being dominated by men, but there have been lots of amazing contributions by women to the world of space exploration. For example, Katharine Louise Bouman is an American scientist who helped take the first ever photograph of a black hole. Another Katharine, Katharine Coleman Goble Johnson, was an African American mathematician, whose work has been instrumental in US space exploration. Nonetheless, nearly 90% of those who have been to space have been men, so World Space Week is also looking to inspire some new budding female astronauts!
First Woman In Space: Valentina Tereshkova
The first woman in space, Valentina Tereshkova, blazed a trail for the many female space flyers who would follow. Tereshkova, a Soviet cosmonaut, was selected from more than 400 applicants to launch on the Vostok 6 mission June 16, 1963. She was 26 at the time. She was not a pilot, but had extensive parachuting experience, with 126 jumps under her belt. Tereshkova was one of four women who received 18 months of training for Vostok 6, and was ultimately selected to pilot the flight. The mission launched from Baikonur Cosmodrome two days after Vostok 5, piloted by cosmonaut Valeriy Bykovsky, with the two spacecraft's coming within 3 miles (5 kilometers) of each other. Tereshkova spent 70 hours in space and orbited Earth 48 times during her mission. Though an icon of Soviet space exploration, she never flew in space again and became a test pilot and instructor.
First American Woman In Space: Sally Ride
On June 18, 1983, NASA astronaut Sally Ride became the first U.S. woman in space when she launched on the STS-7 mission of the space shuttle Challenger. She was the third woman in space, after Valentina Tereshkova and Soviet cosmonaut Svetlana Savitskaya, who flew on the Soyuz T-7 mission on Aug. 19, 1982.  She joined NASA's astronaut corps in 1978 as one of the first six female astronauts to join the U.S. space agency. Ride was 32 when the STS-7 mission launched into space. The mission was NASA's seventh shuttle flight and marked the first time a woman controlled a space shuttle robotic arm. STS-7's main mission was deploy communications satellites for Canada and Indonesia. Challenger returned to Earth with Ride and her STS-7 crewmates on June 24, wrapping up a six-day flight. Ride would make history again in 1984 when she launched on the Challenger's STS-41G mission, beginning the first American woman to fly in space twice. In 2012 aged 61 Sally sadly passed away from Cancer.
First female space station commander: Peggy Whitson
NASA astronaut Peggy Whitson became the first woman to command the International Space Station when she took the helm of the outpost in April 2008 during Expedition 16. She joined NASA's Johnson Space Center as a biochemist in 1989 and served as the project scientist for the Shuttle-Mir program in 1992. In 1996, Whitson was selected to become a NASA astronaut and first launched to the International Space Station as part of the Expedition 5 crew in 2002. She spent 185 days in space on that flight, and also served as NASA's first official Science Officer on the station. Then came Expedition 16, when Whitson took her historic command of the space station. During the 192-day flight, Whitson welcomed a NASA shuttle mission commanded by another woman, Pamela Melroy, and racked up her career fifth spacewalk. In 2016, she became the first woman to command the space station twice when she took command of Expedition 51. She holds the record for being the oldest woman in space, having returned from her final mission at the age of 57. Whitson retired from NASA in June 2018.
First African American woman in space: Mae Jemison
NASA astronaut Mae Jemison flew on space shuttle Endeavour in September 1992, becoming the first African-American woman to travel to space. After working as a doctor for several years and serving term in the Peace Corps, Jemison joined NASA as an astronaut in 1987. Jemison launched into space on Endeavour on Sept. 12, 1992 as part of the seven-person STS-47 crew. She served as a mission specialist, performing experiments in two bone cell research experiments among other tasks. Endeavour carried a Spacelab module in its payload bay to allow room for more than 43 different studies during the mission. Jemison spent just over 190 hours in space during the STS-47 mission and left NASA in March 1993. 
First woman to spend (nearly) 1 year in space: Christina Koch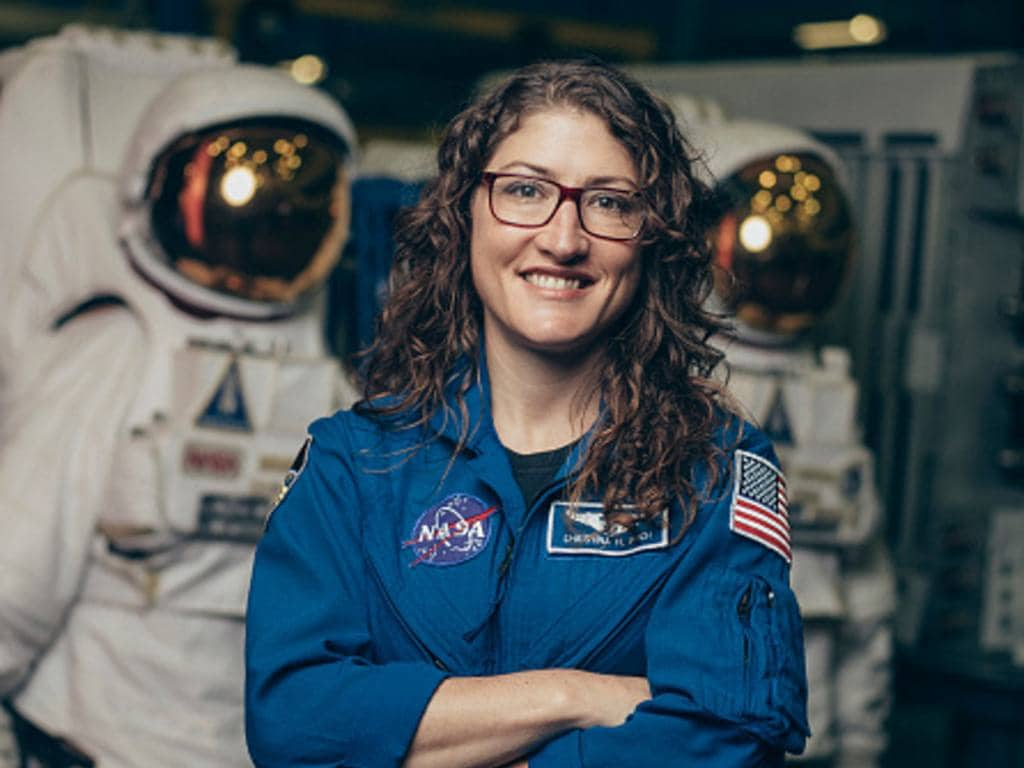 In April 2019, NASA announced that Expedition 59 astronaut Christina Koch's mission at the International Space Station would be extended to last 328 days. She broke the record for the longest single spaceflight by a woman — a record that was previously held by NASA astronaut Peggy Whitson, who spent 289 consecutive days in space from 2016 to 2017. Koch launched to the space station on March 14, 2019 and returned to Earth on Feb. 6, 2020.  
First Briton in space: Helen Sharman
British food chemist and private citizen Helen Sharman became the first British person to fly in space when she visited the Mir space station aboard the Soyuz TM-12 in May 1991. During this flight, she also became the first woman to visit the Mir space station. Sharman's road to space was a bit different from the professional astronauts and cosmonauts of NASA and Russia's Roscosmos agency. In 1989, Sharman answered a radio advertisement calling for applicants to fly in space as part of Project Juno, She beat out nearly 13,000 other applicants to win the coveted spot and spent 18 months training to fly on Russia's Soyuz spacecraft. Sharman launched to space on May 18th 1991, and spent eight days in space performing biological and crystal growth experiments.
First marathon in space: Sunita (Suni) Williams
NASA astronaut Sunita Williams became the first person to run a marathon in space during the Expedition 15 mission in 2007. She officially registered for the Boston Marathon and ran 26 miles in 4 miles and 26 minutes on the Combined Operational Load Bearing External Resistance Treadmill (COLBERT) in the Tranquility node of the International Space Station.
Other Notable 'First' Women:
First female spacewalker: Svetlana Savitskaya

First U.S. female spacewalker: Kathy Sullivan

First female space shuttle commander: Eileen Collins

First all-female spacewalk: Jessica Meir (On Expedition 61 With Christina Koch)

First teacher in space: Barbara Morgan

First to sequence DNA in space: Kate Rubins

First Canadian woman in space: Roberta Bondar

First Japanese woman in space: Chiaki Mukai

First French woman in space: Claudie Haigneré

First woman to join an ISS crew: Susan Helms

First female space tourist: Anousheh Ansari

First South Korean in space: Yi So-yeon

China's 1st female Taikonaut: Liu Yang
Facts:
Humans have been flying in space since 1961, with the first woman launching off planet Earth in 1963. Since then, women have gone on to set records for spacewalks and long-duration spaceflight on the International Space Station, with NASA aiming to land the first woman on the moon by 2024 under the Artemis program, named for the twin sister of Apollo. Here are 10 more interesting facts about Women In Space!
The first woman flew to space in 1963, two years after the first person, but it was not until almost 20 years later that more would be sent.

It has been concluded that women might be better suited for longer space missions.

Women still represent only about 10% of all people who have gone to space, being less chosen and enabled.

Payload Specialist Christa McAuliffe and mission specialist Judith Resnik became the first women to die on a space mission when the Space Shuttle Challenger exploded less than 2 minutes after launch with the loss of all hands.

Female astronauts are subject to the same general physical effects of space travel as men. These include physiological changes due to weightlessness such as loss of bone and muscle mass, health threats from cosmic rays, dangers due to vacuum and temperature, and psychological stress.

Space toilet designs did not have women in mind, until October 2020 when the first toilet with better design for women (as well as men) was delivered to the ISS.

Both men and women are affected by radiation. However, due to the currently used risk models for endometrial, ovarian and breast cancer, women at NASA can currently only spend half as much time on missions as men, which limits their career options compared to men.

Most of the 65 women who have been to space, have been United States citizens, with missions on the Space Shuttle and on the International Space Station. Other countries have had one (United Kingdom, France, South Korea, Italy) or two (USSR, Canada, Japan, Russia, China) women citizens in space, taking part in missions of programs with human spaceflight capability.

Mathematician Katherine Johnson of the U.S. National Aeronautics and Space Administration (NASA) was instrumental in getting astronauts into orbit safely and helped put humans (all men, as it happens) on the Moon.

2010 marked the first and only time to date that four women were in space at the same time: Tracy Caldwell Dyson, Dorothy Metcalf-Lindenburger, Stephanie Wilson and Japan's Naoko Yamazaki.
If you're interested in learning more about Women In Space, or just Space in general visit https://www.worldspaceweek.org/ to find out more!
Thank you for visiting my blog and taking the time to read this weeks post. I hope you all have a lovely week and I shall see you next Wednesday 😃