Good morning everyone, are you all well? hopefully the answer is yes. I've had a pretty good week, excluding Monday – My dad's old manager was harassing him the whole day causing him a lot of stress, which wasn't good for his heart as he suffers with heart problems as it is. One of the good things that made the weekend especially good was the return of I'm a Celebrity…Get me out of here! I love when its on, as it reminds me of my childhood when I was allowed to stay up late to watch it 😄 and I think even though its in Wales, this series is still going to be a good one!
Speaking of childhood days, and as you may have worked out by the title, todays post is about Mickey Mouse, I grew up watching anything to do with Mickey, and as today is his birthday, I thought it was only fitting to do a post to celebrate the mouse that has been referred by many artists who have drawn him as Walt Disney's "alter ego" and have said he "represents the world of animation." Read on to find out some interesting facts that you might not have known before…
Mickey Mouse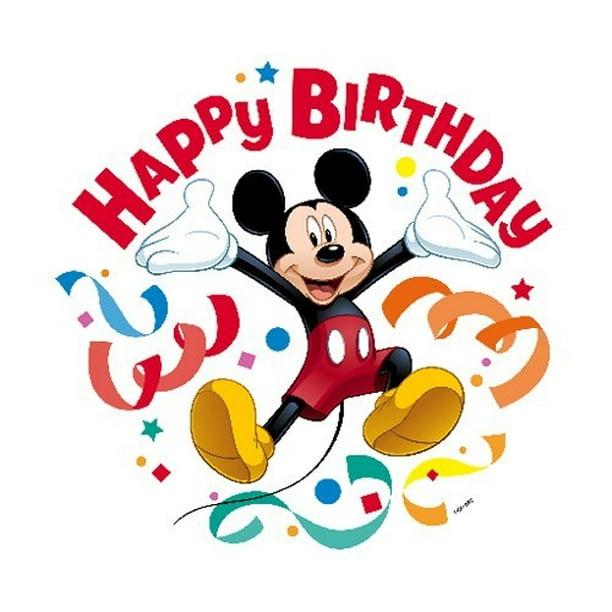 History:
Mickey Mouse is a cartoon character created in 1928 at Walt Disney Animation Studios who serves as the mascot of Disney. An anthropomorphic mouse who typically wears red shorts, large yellow shoes, and white gloves, Mickey is one of the world's most recognizable fictional characters. Created as a replacement for a prior Disney character, Oswald the Lucky Rabbit, Mickey first appeared in the short Plane Crazy, debuting publicly in the short film Steamboat Willie (1928), one of the first sound cartoons.
He went on to appear in over 130 films, including The Band Concert (1935), Brave Little Tailor (1938), and Fantasia (1940). Mickey appeared primarily in short films, but also occasionally in feature-length films. Beginning in 1930, Mickey has also been featured extensively as a comic strip character. The Mickey Mouse comic strip, drawn primarily by Floyd Gottfredson, ran for 45 years. He also appears in other media such as video games as well as merchandising and is a meet-able character at the Disney parks.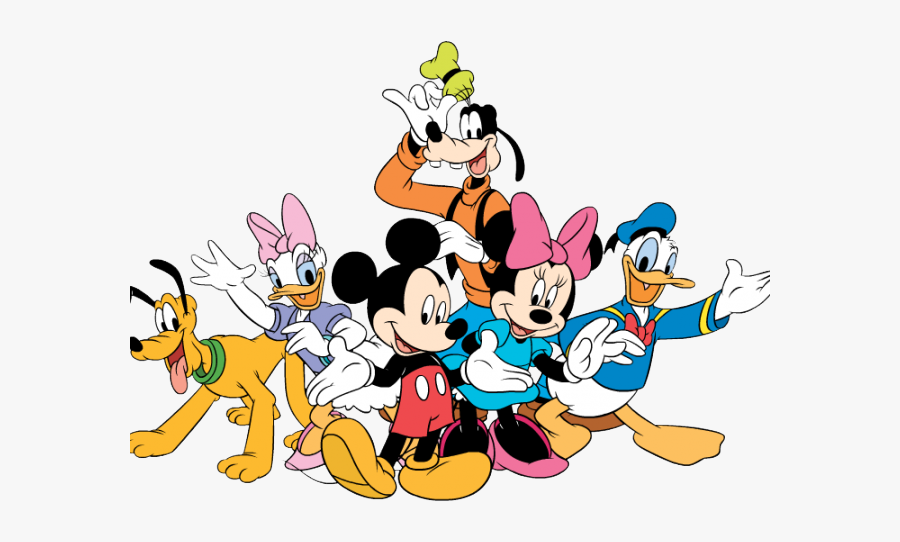 Mickey generally appears alongside his girlfriend/wife Minnie Mouse, his pet dog Pluto, his friends Donald Duck and Goofy, and his nemesis Pete, among others. Though originally characterized as a cheeky lovable rogue, Mickey was rebranded over time as a nice guy, usually seen as an honest and bodacious hero.
Design:
Throughout the earlier years, Mickey's design bore heavy resemblance to Oswald, save for the ears, nose, and tail Ub Iwerks designed Mickey's body out of circles in order to make the character simple to animate. Disney employees John Hench and Marc Davis believed that this design was part of Mickey's success as it made him more dynamic and appealing to audiences.
Mickey's circular design is most noticeable in his ears. In animation in the 1940s, Mickey's ears were animated in a more realistic perspective. Later, they were drawn to always appear circular no matter which way Mickey was facing. This made Mickey easily recognizable to audiences and made his ears an unofficial personal trademark. The circular rule later created a dilemma for toy creators who had to recreate a three-dimensional Mickey. In 1938, animator Fred Moore redesigned Mickey's body away from its circular design to a pear-shaped design. Colleague Ward Kimball praised Moore for being the first animator to break from Mickey's "rubber hose, round circle" design. Although Moore himself was nervous at first about changing Mickey, Walt Disney liked the new design and told Moore "that's the way I want Mickey to be drawn from now on."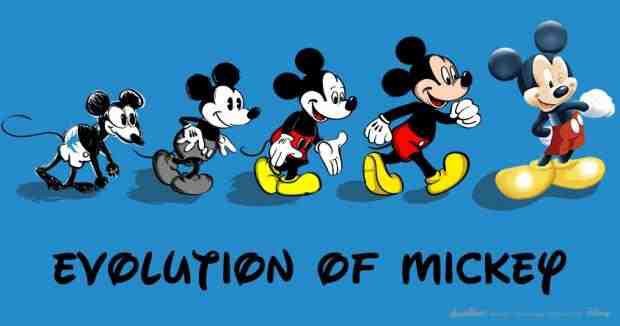 Some of Mickey's early appearance, particularly the gloves, and facial characteristics, evolved from blackface caricatures used in minstrel shows. Besides Mickey's gloves and shoes, he typically wears only a pair of shorts with two large buttons in the front. Before Mickey was seen regularly in color animation, Mickey's shorts were either red or a dull blue-green.
Facts:
Mickey was the first cartoon character to earn a star on the Hollywood Walk of Fame! His star was added on November 18, 1978.
Mickey has different names around the world. For example, he is known as Musse Pigg in Sweden, Mi Lao Shu in China and Topolino in Italy.
Walt Disney's original name for Mickey was Mortimer! However, his wife Lillian Disney felt that it didn't work for the character Walt had created and hence, she suggested Mickey!
Mickey's first phrase was his now-famous "Hot dog! Hot dog!"
The first person to give Mickey his voice was none other than Walt Disney himself!
While Steamboat Willie was Mickey's very first appearance, he made his feature film debut in Fantasia in 1940.
Mickey Mouse was inspired by the pet mouse Disney had as a child.
Mickey wears white gloves so that you can see his hands (otherwise they would blend in against his body, especially in the early days with cruder animation technology).
Walt Disney said that Minnie and Mickey Mouse are indeed married, although they keep it private and they do not share a home.
Mickey Mouse is said to be more recognizable around the globe than Santa Claus.
Mickey Mouse only has four fingers! Walt Disney felt that five fingers resembled a "bunch of bananas."
A Mickey Mouse cartoon could include more than 10,000 drawings for a seven and half minute film and could take anywhere from six months to two years to complete.
When penning Mickey's movements, early animators drew inspiration from popular comedic film stars of the day – like Charlie Chaplin.
The legendary Mickey Mouse Club children's variety show premiered in the 1950s, was revived in 1977 and then again in 1989. The latter edition launched the careers of some pop stars who took the 1990s by storm like Justin Timberlake, Britney Spears, JC Chasez and Christina Aguilera, as well as actors Keri Russell and Ryan Gosling.
Filmography: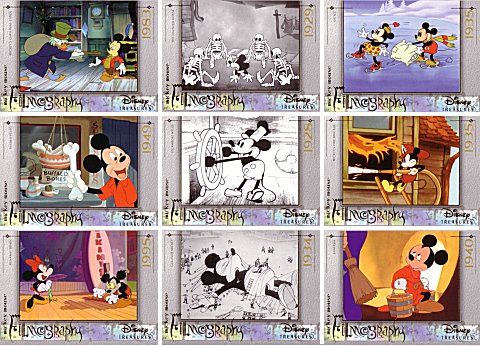 Best Short films:
Steamboat Willie (1928)
Plane Crazy (1928)
The Karnival Kid (1929)
Building a Building (1933)
The Band Concert (1935)
Thru the Mirror (1936)
Moving Day (1936)
Lonesome Ghosts (1937)
Symphony Hour (1942)
Mickey's Christmas Carol (1983)
Full-Length Films:
Fantasia (1940)
Fun and Fancy Free (1947)
Mickey's Once Upon a Christmas (1999)
Fantasia 2000 (1999)
Mickey's Magical Christmas (2001)
Mickey's House of Villains (2002)
Mickey, Donald, Goofy: The Three Musketeers (2004)
Mickey's Twice Upon a Christmas (2004)
Television:
The Mickey Mouse Club (1955–1959; 1977–1979; 1989–1994)
Mickey Mouse Works (1999–2000)
Disney's House of Mouse (2001–2003)
Mickey Mouse Clubhouse (2006–2016)
Mickey Mouse (2013–present)
Mickey and the Roadster Racers (2017–present)
Thank you for reading my blog. I hope you all have a good week (as good as it can be) and I will see you next Wednesday!