Good morning everyone, hope you're all well and have had a good week. I mentioned in last Wednesday's post that by the time my scheduled post went out I would be at the dentist that I had to get an emergency appointment for, due to swelling on my right side of my face causing me toothache, well it turned out that I had an infection in my gum that I'm on antibiotics for at the moment, and thankfully seems to be working! As well as having to deal with my tooth/gum, the majority of the week has not been plain sailing, first our car broke down on the way back from the dentist due to the alternator and battery needing to be replaced, so we didn't have our car until Monday. Then we had a few problems with our care coordinator who has not been helpful to us the entire time we've known her (still an ongoing issue). And to top it all off I popped my left shoulder quite badly to the point where I couldn't fully use it, luckily it seems to be getting back to normal with a few twinges here and there.
Anyway moving on with this weeks post… with the cost of living affecting everyone and prices on food continuously rising, my family and I have been reminiscing over the past week on meals that we use to have when I was younger, and one of the dinners we use to cook a lot was chips (or fries), pie and gravy. Without fail, at least once a week we would sit down and have a plate each, and since I turned vegetarian when I was a teenager due to health reasons, rather than buying store bought pies from the freezer aisle, we started making our own and I thought I would share with you the recipe that we used to start off with for practice, which turned out pretty tasty!
Vegetarian Mince & Gravy Pie
Ingredients
For the Pastry
210g (1 + 2/3 Cup) Plain/All Purpose Flour (plus extra for dusting)
1/2 tsp Salt
115g (1/2 Cup) Unsalted Butter, cold & cubed
5-6 tbsp Cold Water
1 Egg, beaten (for brushing)
For the Filling
2-3 tbsp Olive Oil
1 Onion, diced
2 Large Garlic Cloves, minced
Salt & Pepper
250g (8.8 oz) Frozen Meat Free Mince (I tend to use Quorn)
400ml (1 + 2/3 Cup) Onion Gravy
1 x Vegetable Stock Pot
1 tbsp Balsamic Vinegar
Method
To Make the Pastry:
Mix together the flour and salt in a mixing bowl then add the cubed butter. Rub everything together between your index fingers and thumbs until it resembles fine crumbs.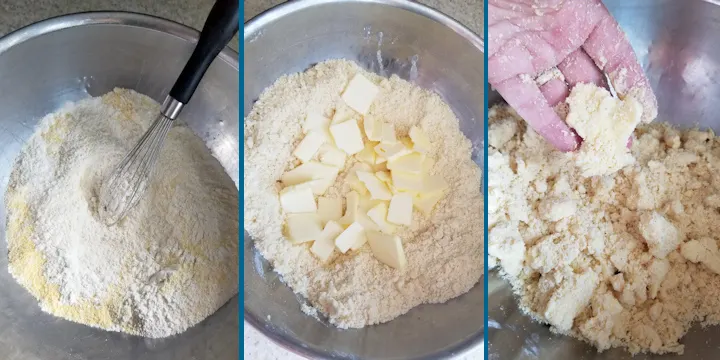 Add the water a little at a time and bring together until it forms a dough. Flatten into a disc, wrap in cling film and chill for 1 hour.
To Make the Filling:
Heat the frying pan over a low/medium heat then add the oil. When hot, add the onion and cook for 5 mins until translucent. Stir often with a wooden spatula.
Add the garlic and cook for 1 minute until fragrant then season with salt and pepper. Then add the frozen mince and cook, stirring constantly, until it's not frozen anymore.
If using gravy granules, make the gravy as per the packet instructions in a jug. Add the gravy, vegetable stock pot, balsamic vinegar and salt & pepper to the pan. Stir well and cook for about 5 minutes. It should leave a slight trail when you pull a spatula through it. Leave to cool while you prepare the pastry.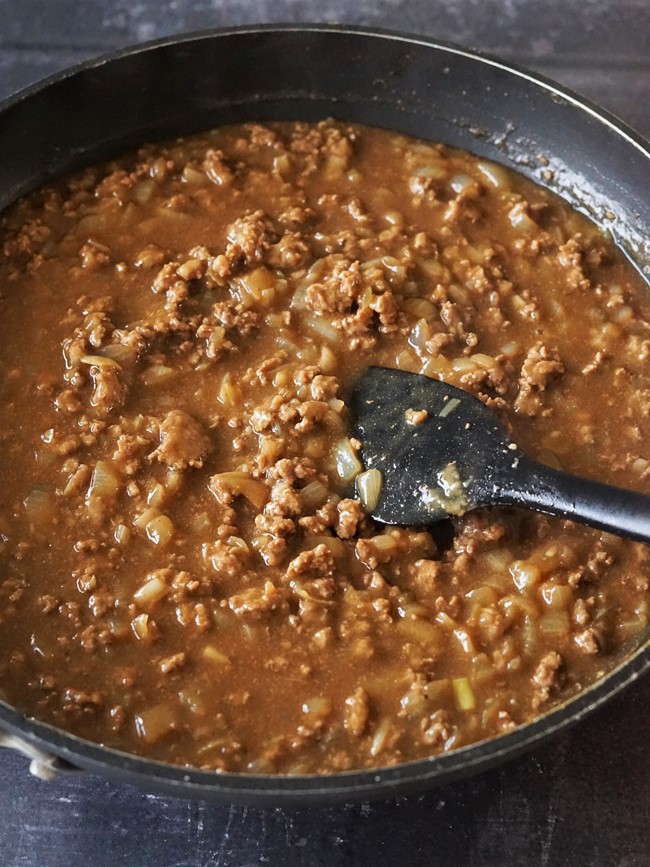 To Assemble the Pie:
Preheat your oven to 210ºC/200ºC Fan/410ºF. Dust your work surface with flour and roll out the pastry to approx 2mm thick with a rolling pin.
Carefully lift it over your baking dish and gently press it in. Trim the excess pastry off with a sharp knife. Re-roll the rest of the pastry to 2mm thick for the lid. 
Fill the pastry lined dish with the cooled filling.
Carefully lift the pastry over the top to form a lid, then trim the excess. Pinch/crimp together the edges to seal the pie.
Brush the top with beaten egg. Slice a cross in the middle with a knife to allow air to escape during cooking.
Place on a baking tray and bake for 45 mins until cooked through and gloriously golden.
Enjoy! (I like to whip up some extra gravy to pour over the top of the pie) *Optional*
*Goes perfectly with mash potato or fries and peas.*
Thank you for visiting my blog and reading today's post, if you decide to have a go at making this delicious pie, I hope you enjoy it. For now though I hope you have a lovely week and I will see you next time!