Good morning everyone, hope you're all well. A few things happened this week – My dad managed to get his car sorted out, the mechanic that fixed it collected it late last Monday, and we got it back early afternoon on Thursday! So we now have a working car again which is great as my dad and I got caught in a sudden downpour of rain whilst walking to the shop during the week, it's safe to say that we looked like drowned rats when we entered the store. Another good thing that happened this week was that my nephew finally got to go home from the hospital after spending 12 days in there and undergoing a big surgery to fix his femur… throughout the whole thing he's been amazing and taken everything in his stride, he truly is a little star. Now onto the not so good news… I had to go the Doctors yesterday as I have what looks like really bad Eczema on the back of my neck that seems to be spreading downwards (meaning my back) and the only treatment that might work is prescribed cream from the Doctor themselves as nothing else is going to be strong enough to work, the last time I got Eczema this bad was sometime during my childhood, which was quite a while ago. Hopefully the cream works.
Speaking of childhood let's move on with today's post… January 18th also known as National Winnie the Pooh Day commemorates author A.A. Milne's birthday in 1882. He brought the adorable, honey-loving bear to life in his stories, which also featured his son, Christopher Robin. Winnie the Pooh has been a childhood favorite for generations. Originally created in 1926, his stories have sparked wholesome, honey-loving, childhood dreams for nearly a century. Although there are many other characters within the Winnie the Pooh universe (Kanga, Rabbit, Roo, and Tigger — just to name a few), there is no doubt that the bear wearing a red t-shirt — with his fist shoved into a jar of honey — is most certainly a fan favorite. To learn more about Winnie the Pooh and its tremendous cultural impact, read on for some amazing Winnie the Pooh facts you never knew.
Jan. 18 is Winnie-the-Pooh day, in honor of creator A.A. Milne's birthday. He was born on this day in 1882.
The real bear who inspired him, Winnie, was a Canadian female black bear.
Christopher received a teddy bear on his first birthday from his father, Alan Alexander Milne. It was an 18-inch bear from Harrod's department store in London, and it could growl.
The bear was originally called Edward, but Milne and his son eventually renamed the stuffed teddy Winnie after the adorable black bear at the London Zoo.
Before writing Winnie-the-Pooh, A.A. Milne was a moderately successful humourist, playwright and mystery author.
Winnie wasn't the only character based on a real children's toy. After he received his teddy bear in 1921, Christopher was gifted more stuffed animals throughout the late '20s, including a stuffed pig, tiger, donkey, kangaroo, and baby kangaroo. These toys became the inspiration for the characters Piglet, Tigger, Eeyore, Kanga, and Roo. The only characters not based on an original stuffed animal were Owl and Rabbit.
The original stuffed animals can still be seen on display. Since 1987, Pooh and his friends, Eeyore, Piglet, Kanga, and Tigger, have all found a home at the New York Public Library's flagship Stephen A. Schwarzman building. Visitors from all over can go and see the original stuffed animals that inspired the beloved storybook characters.
The fictional Hundred Acre Wood is based on a real forest in England. With most of the characters being inspired by real life, it's no surprise that the setting of Milne's story has real-life origins, as well. Milne was inspired by Ashdown Forest, a wooded area near his home, about 40 miles southwest of London. Inside the forest lies a "Five Hundred Acre Wood," which sprouted the idea for Pooh's own "Hundred Acre Wood."
When Milne wrote his first Winnie the Pooh story in 1925, "The Wrong Sort of Bees," he actually hyphenated the character's name, which is why you still sometimes see it written that way. However, when Walt Disney bought the rights to the storybook character in 1961, he decided to drop the hyphens.
Winnie didn't always wear his iconic red shirt. When Pooh was originally illustrated by Shepard, it was sans the iconic red shirt he is seen sporting these days. It wasn't until 1932 that his red shirt was introduced when media producer Stephen Slesinger drew him on an RCA Victor picture record, after acquiring the trade rights from Milne to expand the character to radio and film.
One of the best known characters in British children's literature, a 2011 poll saw Winnie-the-Pooh voted onto the list of top 100 "icons of England"
Since Winnie the Pooh is a tale loved worldwide, it's no surprise that the story has been translated into more than 50 different languages! You can read the beloved children's story in French, Polish, and even Yiddish, to name a few.
While the story is warmly regarded in any language, its most successful translation was done in Latin by Alexander Lenard in 1958. First published in an edition of only 100 copies, Winnie Ille Pu spent 20 weeks on the New York Times' best seller list in 1960. It was the first non-English book to make the list—and the only Latin book that has ever graced it.
In 2006, Pooh received a star on the Hollywood Walk of Fame, marking the 80th birthday of Milne's creation.
In 2010, E. H. Shepard's original illustrations of Winnie the Pooh (and other Pooh characters) featured on a series of UK postage stamps issued by the Royal Mail.
In the Milne books, Pooh is naïve and slow-witted, but he is also friendly, thoughtful, and steadfast. Although he and his friends agree that he is "a bear of very little brain".
Pooh is occasionally acknowledged to have a clever idea, usually driven by common sense. These include riding in Christopher Robin's umbrella to rescue Piglet from a flood, discovering "the North Pole" by picking it up to help fish Roo out of the river, inventing the game of Poohsticks, and getting Eeyore out of the river by dropping a large rock on one side of him to wash him towards the bank.
Pooh is also a talented poet and the stories are frequently punctuated by his poems and "hums". Although he is humble about his slow-wittedness, he is comfortable with his creative gifts.
Pooh is very fond of food, particularly honey (which he spells "hunny"), but also condensed milk and other items. When he visits friends, his desire to be offered a snack is in conflict with the impoliteness of asking too directly.
Pooh is very social. After Christopher Robin, his closest friend is Piglet, and he most often chooses to spend his time with one or both of them. But he also habitually visits the other animals, often looking for a snack or an audience for his poetry as much as for companionship.
While Pooh and his friends love to play a good game of Poohsticks, they're not the only ones! The A.A. Milne-created game—which involves dropping a stick on the upstream water side of a bridge and crowning the winner based on whoever's stick appears downstream first—was borrowed from the fictional world to become a real-life game. And nearly every year since 1984, a Poohsticks World Championship has been held by the Rotary Club of Oxford Spires.
When the first book was released, it was an instant hit, selling 35,000 copies in the UK and over 150,000 copies in America. Since then over 50million copies of Winnie the Pooh books have been sold!
The Hundred Acre Wood characters Owl and Rabbit were the only two that weren't inspired by Christopher Robin's toys. Instead their characters came from real animals on Cotchford Farm, the Milnes' property in Sussex.
The name "Winnie-the-Pooh" first appeared in print in a Christmas story by Milne, published in the London Evening News on Christmas Eve, 1925.
Winnie the Pooh has always been a labour of love for Disney – Disney first purchased the rights to Winnie the Pooh in the 1960's, and since then they've been keeping the characters in the Hundred Acre Wood alive for future generations! It's not been easy though…when making the film Winnie the Pooh and the Blustery Day in 1968, Disney artists used around 1.2 million pencils and made almost 100,000 drawings.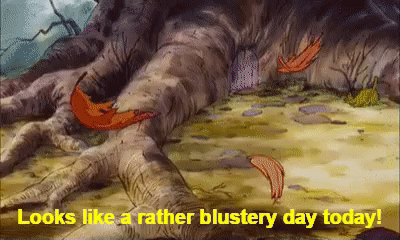 Jim Cummings is a famous voice actor who has voiced almost 400 characters! Winnie the Pooh was first voiced by Hal Smith, and then Sterling Holloway. Jim Cummings took over the voice of Winnie The Pooh in 1988, and he's being doing it ever since. In fact, he not only voices Pooh – he also voices Tigger, which means sometimes, he's talking to himself!
A.A. Milne's father ran a private boarding school, which A.A. attended. One of his teachers was a young H.G. Wells, who went on to become an iconic science fiction author.
You can send birthday cards to Winnie the Pooh. If you're unable to participate in celebrating National Winnie the Pooh Day on Jan. 18, consider celebrating later in the year by sending your own birthday card to the honey-loving bear. Every year, the NYPL encourages people to mail in cards for Winnie the Pooh's birthday on Aug. 21.
In a new collection of stories to celebrate the 90th anniversary of Winnie-the-Pooh in 2016, Pooh makes a new friend: Penguin.
Pooh visited Buckingham palace! Both the Queen and Winnie The Pooh were born the same year, 1926. So to celebrate their joint 90th birthday a special story was created where Pooh bear goes to visit the Queen to celebrate. The story was written by Jane Riordan and was illustrated in a similar way to the original drawings, pre-Disney. The story tells a tale of Pooh and friends visiting the Queen at Buckingham Palace so they can both celebrate their birthdays together and to deliver a special gift to the Queen. The special present is his iconic "hum."
Winnie The Pooh is a famous and much-loved character that Disney has showcased for over 90 years. The character has appeared in books and movies alongside his famous friends such as Eeyore, Tigger, Piglet and Christopher Robin. If you want to celebrate this national day here are a few things you could do:
Watch the animated series Winnie the Pooh. There are also several movies. All feature the lovable yellow bear.
Read the short stories that started it all. Winnie-the-Pooh (1926) is the first collection of stories and it is followed by The House at Pooh Corner.
Visit the place where all of the magic happened. If you have the time and budget, there are tours available throughout the areas of southeast England that helped inspire author A.A. Milne to write his beloved stories.
Visit Disney World in Orlando, Florida to experience Winnie the Pooh's Hundred-Acre Wood. It's a fantastical experience full of rides and themed characters.
Share the magic of this wonderful character by introducing him to a child in your life. Seeing the magic of Winnie through the eyes of children is quite an experience.
Thank you for visiting my blog and reading today's post, I hope you all have a lovely week and manage to stay warm, here in the U.K the temperature yesterday dropped to -3 degrees and might be dropping even further according to news reports, so if your currently experiencing cold weather as well, I hope your managing to find ways to keep warm, for now though, as good old Tigger would say TTFN (Ta-Ta-For-Now)!