Good morning everyone, hope you're all ok and had a good week. We visited my Nan on Sunday which was nice, there was non-stop laughter, and quite a lot of talking was done. Something else that happened this week was that yesterday I had my MSK (physio) appointment which has shown that theres been some improvement regarding my right wrist as I don't have tendonitits or any pain in it, but I'm now dealing with some kind of damage to the rest of my hand as the pain has now spread and my bones keep crunching when I try to exercise said hand, so the Doctor is a little concerned/confused on how to treat it correctly. Anyway, to take my mind off the pain that I'm still in from yesterday lets move on with todays post…
Can you believe Harry Potter and the Philosopher's Stone, the very first movie in the eight-film saga, turns 21 years old this month. As hard as it might be to believe, it somehow really has been over two decades since we were first introduced to Daniel Radcliffe as the Boy Who Lived, plus Emma Watson's Hermione, Rupert Grint's Ron, and so many other now-iconic takes on the series' most beloved characters. During these past 21 years, plenty of Potter fans have rewatched Philosopher's Stone countless times, becoming so familiar with the film that they've memorized everything from the Sorting Hat's ominous speech to the image Harry sees in the Mirror of Erised. Despite the movie's lasting popularity, though, there are still details about its creation that even the biggest Potterheads might not know. So here are 35 of them!
*Before continuing…I should forewarn you that if you haven't seen the film at all / or as of yet, this post might contain spoilers, so only read it if you are ok with that.*
About Harry Potter & The Philosopher's Stone
Run Time – 2 Hours and 32 Minutes
Directed By: Christopher Columbus
Summary:
Harry Potter is an average bespectacled eleven-year-old boy who has lived with the Dursley family ever since his parents died in a car crash. For some reason, the family has always mistreated him. On his eleventh birthday, a giant man named Rubeus Hagrid hands him a letter telling him that he has been accepted as a student at the Hogwarts School of Witchcraft and Wizardry. Harry learns that his parents were wizards and were killed by the evil wizard Voldemort, a truth that was hidden from him all these years. He embarks for his new life as a student, gathering two good friends Ron Weasley and Hermione Granger along the way. They soon learn that something very valuable is hidden somewhere inside the school and Voldemort is very anxious to lay his hands on it.
Main Cast:
Daniel Radcliffe – Harry Potter
Rupert Grint – Ron Weasley
Emma Watson – Hermione Granger
Robbie Coltrane – Rubeus Hagrid
Richard Harris – Albus Dumbledore
Alan Rickman – Severus Snape
Maggie Smith – Minerva McGonagall
Tom Felton – Draco Malfoy
Matthew Lewis – Neville Longbottom
James Phelps – Fred Weasley
Oliver Phelps – George Weasley
Warwick Davis – Filius Flitwick
Ian Hart – Quirinus Quirrell
David Bradley – Argus Filch
Julie Walters – Molly Weasley
Bonnie Wright – Ginny Weasley
Zoe Wanamaker – Madame Hooch
John Hurt – Mr. Ollivander
John Cleese – Nearly Headless Nick
Richard Griffiths – Vernon Dursley
Fiona Shaw – Petunia Dursley
Harry Melling – Dudley Dursley
Alan Rickman was hand-picked to play Snape by J.K. Rowling and received special instructions from her about the character. Rowling even provided him with vital details of Snape's backstory, not revealed until the final novel.
The child actors and actresses would do their actual schoolwork in the movie, to make the school setting more real.
Richard Harris, who had been acting for more than forty years by the time this movie entered production, stated that he had never been involved with a cast that was as close as this one.
In order to understand what he believed to be caretaker Filch's lonely lifestyle, David Bradley and his cat rented an isolated Irish cottage, in which to live for a month, before filming began.
The Hogwarts' motto, "Draco dormiens nunquam titillandus", means "never tickle a sleeping dragon".
Richard Harris only agreed to take the part of Albus Dumbledore after his eleven-year-old granddaughter threatened never to speak to him again.
Casting Harry Potter was the biggest challenge; they saw 5,000 boys audition, and none of them felt right. Producer and director Chris Columbus saw Daniel Radcliffe in David Copperfield (1999), showed it to the casting director, and said Radcliffe was the one, and that he was amazing. But she said they wouldn't get him, because his parents want him to focus on his schoolwork, and not acting, as well as all the attention he'd get. So they interviewed Harry Potters of different nationalities all over the world, and still hadn't found him. She got frustrated with Columbus because he had his heart set on Radcliffe. By sheer coincidence, the producer and screenwriter of this movie went to a theater, and in the front row was Radcliffe with his father, so they talked, and slowly persuaded him to cast Radcliffe.
Emma Watson's Oxford theater teacher passed her name on to the casting agents, and she had to do over five interviews before she got the part. Watson took her audition seriously, but "never really thought I had any chance of getting the role." The producers were impressed by Watson's self-confidence, and she outperformed the thousands of other girls who had applied.
As his audition, Rupert Grint sent a video of himself rapping while explaining why he wanted the part of Ron.
Tom Felton did not read any of the Harry Potter books before auditioning, and at the audition, Chris Columbus was asking each contender for the role of Malfoy what his favorite part in the book was. When it was his turn, Felton said his favorite part in the book was the part at Gringotts, which is what the previous contender had just said. Columbus saw through this very quickly and thought it was very funny.
The inscription around the Mirror of Erised reads: "Erised stra ehru oyt ube cafru oyt on wohsi". Reading the inscription backward it says, "I show not your face, but your heart's desire."
The filmmakers attempted to go the extra mile of matching the kid's appearances to how the novel describes them, by fitting Daniel Radcliffe (Harry Potter) with green-colored contact lenses, and similarly making Emma Watson (Hermione Granger) wear fake buck teeth. But when Radcliffe's eyes reacted strongly to the contacts, and Watson couldn't talk clearly with the fake teeth in her mouth, these ideas were dropped.
In order to give Hogwarts Castle an authentic look and feel, much of the filming was done at locations around England, including Christ Church, Oxford, Durham Cathedral, Gloucester Cathedral, and Alnwick Castle. In fact, the only sets that were built for Hogwarts were the Great Hall, the Grand Staircase, and the Gryffindor Common Room. In the later movies, additional sets were built for the various classrooms and other locations around Hogwarts.
Professor Quirrell's (Ian Hart's) classroom was filmed on-location at Lacock Abbey in Wiltshire, in a room known as the Warming room. The cauldron seen in the room is not a prop, in fact, came with the location. It is believed that the cauldron is over 500 years old, and was used by cooks who worked for Queen Elizabeth I.
All of the food that you see in the Great Hall feasts is real. Chris Columbus wanted a very elaborate welcome feast to match the description in the book, with roast beef, ham, turkey, and all the trimmings. Unfortunately, filming under the hot stage lighting for hours at a time quickly caused the food to develop an unpleasant odor, despite the meat being changed every two days and the vegetables twice a day. For the following films, samples of real food were frozen, so that molds could be made of them, and copies cast in resin.
One of Chris Columbus' daughters had trouble reading until she read "Harry Potter and the Sorcerer's Stone" in two days, which opened her eyes to the world of books. After reading "Harry Potter and the Chamber of Secrets", she asked Columbus to make movies out of them, but there were fifty other directors already interested. Columbus fell in love with the first two books too, so he sat down with Warner Bros., saying how obsessed he was with making this film more than anything else. Columbus asked to be the last director Warner Bros. saw, which took about ten days. Columbus stayed up until three a.m. re-writing the script each day. It was already a good script, but Columbus wanted to talk about the visuals. He told Warner Bros. he had re-written the script for free, and that made an impression on them because that didn't happen in Hollywood, where they have to be paid for everything. Because Columbus had done that without any pressure from Warner Bros., it made the difference, and after subsequent meetings, five weeks later, he got the job of directing it.
Despite being called a great wizard by Hermione, Harry does not (intentionally) cast a single spell throughout the entire movie. He accidentally makes the glass at the zoo disappear and causes several incidents at Ollivander's while trying to buy a wand, but he does not successfully and purposely cast any spell during the film.
Like in the United States, the film was released as "Harry Potter and the Sorcerer's Stone" in India and the Philippines. However, it was released under the original name "Harry Potter and the Philosopher's Stone", in the rest of the world.
In order to make the Dursleys' house even more unpleasant, set decorator Stephenie McMillan deliberately sought out the ugliest furnishings possible.
In this movie, the scar on Harry's forehead is off-center. This was done at J.K. Rowling's request. Due to the artwork on the covers of her books, many people have assumed that his scar is supposed to be in the center of his forehead. The books, however, never specified exactly where on his forehead the scar is located.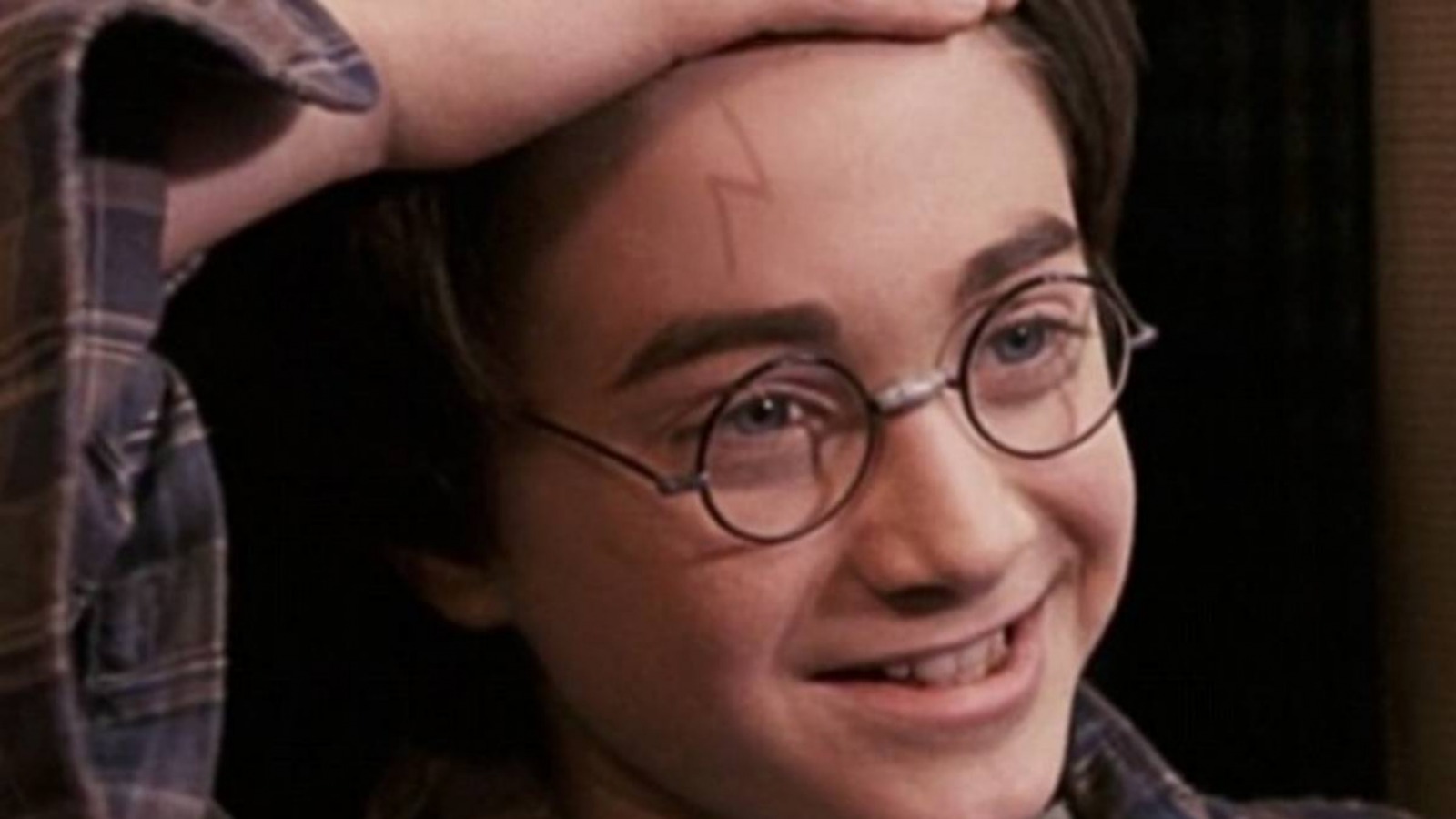 J.K. Rowling insisted that the principal cast be British, but also permitted Irish actors, which then created a "strictly British and Irish cast" rule for the franchise. Notable examples to fall under this rule are Richard Harris and Fiona Shaw, who were both Irish. Zoë Wanamaker, though she has made her name as a British actress, was actually born in the United States, but grew up in Britain and formally became a British citizen in 2000.
Three owls play Hedwig: Gizmo, Ook, and Sprout, but mainly Gizmo.
Hagrid is eight feet six inches tall, although in the books he is portrayed as about twelve feet tall.
Two different versions of Hagrid's hut were built: One was massive and contained only large props so that the actors would look small inside it, and the other was normal-sized so Hagrid would look really big inside it.
Almost all the scenes with Harry and/or the trio were filmed in chronological order, the most notable exceptions being: The final scene in this movie, where the trio return home on the Hogwarts Express, was the first scene filmed, followed by the scene when Harry first sees the locomotive at Platform 9 3/4 (the only other scene which required the actual train present). Then, the Quidditch match was the last thing filmed, mostly due to how long it took the visual effects departments to figure out how to do it.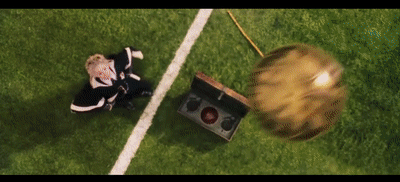 The only Harry Potter movie that features a set of triplets, the Saunders Triplets (baby Harry Potter, 1999), and a set of twins James Phelps and Oliver Phelps (Fred and George Weasley, respectively, born 1986).
James Phelps and Oliver Phelps, the twin actors who play Fred and George Weasley respectively, both have naturally dark brown hair which was dyed red for their roles. Similarly, Tom Felton's hair, which is also naturally brown, was bleached blonde for his role of Draco Malfoy.
The only Harry Potter movie not to feature Mark Williams, who played Arthur Weasley.
Dame Julie Walters has said if had she known that fellow Midlander Mark Williams would be cast as Molly Weasley's husband Arthur in the following movie, then she would have played up their shared accent, feeling that this would have helped signpost their family's perceived uniqueness in the magical world.
Bonnie Wright (Ginny Weasley) was never meant to say the words "good luck" to Harry at Kingscross. She was not meant to say anything, but the editors kept those lines in any way.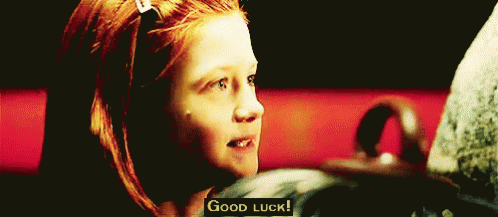 The Wizard's chess set, with which Harry (Daniel Radcliffe) and Ron (Rupert Grint) were playing in the Great Hall, is based on the Lewis Chessmen, which dates from the twelfth century.
Grint kept a broken piece of the horse from the giant Wizard's Chess set.
During filming, Daniel Radcliffe and Rupert Grint changed the screen language on Robbie Coltrane's mobile phone to Turkish. Coltrane had to phone hair designer Eithne Fennel's Turkish father in order to find out Turkish for "change language".
On another occasion, Watson printed out two signs saying "kick me" and stuck them on Radcliffe and Grint's backs. It took them 20 minutes to notice.
The trio was also caught breaking a book from the set on the camera and then pretending it didn't happen.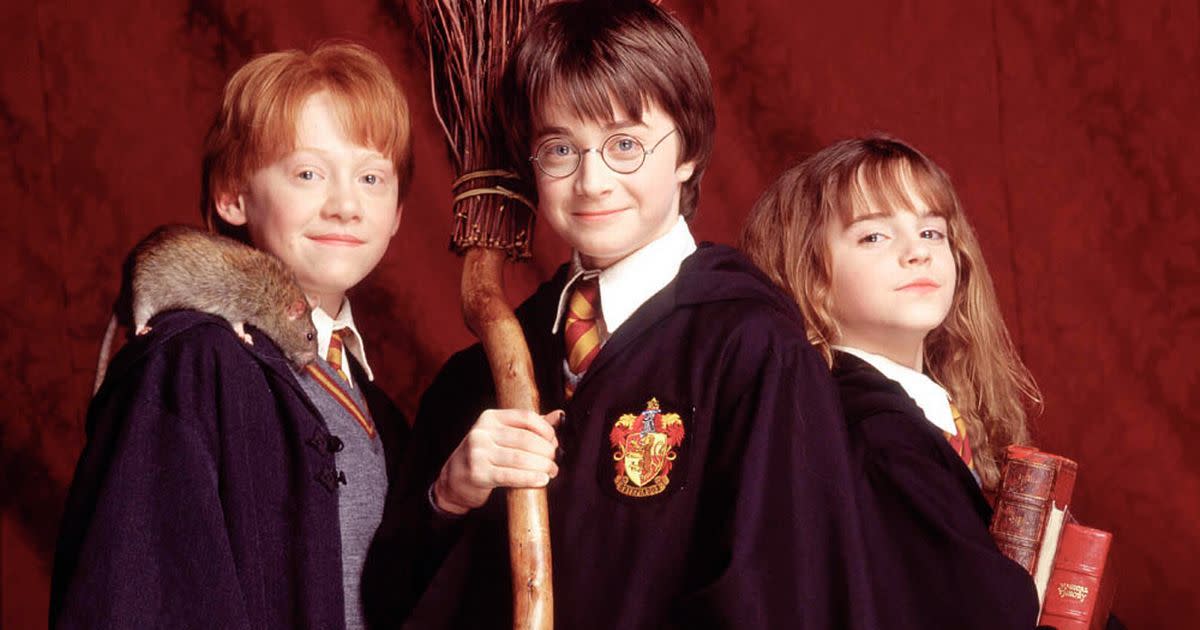 Harry Potter and the Philosopher's Stone is one of the most influential movies of our time. For many fans, it's an actual world that they can escape to when reading or watching. Director Chris Columbus and his team of filmmakers had a huge and wildly important job on their hands, not to mention an unimaginably difficult one; Bringing a secret magical world to life, but he and J.K.Rowling brought the amazing wizarding world to life and gave us one of the best franchises in history!
Thank you for visiting my blog and reading today's post, I hope you all have a lovely week and I shall see you next Wednesday!