Good morning all! Is everyone doing alright? It's been a very long and tiring week for me and my family, to start with…my nan was transferred from that terrible hospital that caused her so much upset to one nearer to her home. Thankfully she seems to be a bit happier and more comfortable at this new hospital, which has eased some worry and stresses that we've been dealing with but not by much as there have been numerous phone calls that have had to be made and a lot of messages/emails that have been sent between multiple people, so it has been non-stop since last Wednesday. Anyway, before I ramble on too much and bore you anymore about what my family and I are having to deal with, let's move on to today's post!
Shrek turns twenty-one this year. That means anyone that grew up watching the green giant, no not the vegetable kind, can now enjoy an eyeball martini or pint just like their favorite ogre. The idea that an ugly ogre could be a big-screen hero in a romantic comedy-fairy tale was not one many had high hopes for. The lack of a traditional prince wasn't the only hurdle for "Shrek," the next big animated production from the newly formed DreamWorks. Producers and directors came and went. A major role had to be recast. And technology was proving to be thorny. In fact, the project was initially unpopular among employees. But when the movie was widely released on May 18, 2001, it immediately topped the box office, received wide critical acclaim, and went on to win the first Academy Award for the best-animated feature. Twenty-one years later, "Shrek" is still a beloved, offbeat fairy tale whose characters and jokes continue to permeate pop culture, reaching another generation of fans.
*This post may contain spoilers*
Summary:
The story follows the titular Shrek, an ogre who finds his swamp overrun by fairy tale creatures who have been banished by the corrupt Lord Farquaad aspiring to be king. Shrek makes a deal with Farquaad to regain control of his swamp in return for rescuing Princess Fiona, whom Farquaad intends to marry. With the help of Donkey Shrek embarks on his quest but soon falls in love with the princess, who is hiding a secret that will change his life forever.
Main Cast:
Mike Myers as Shrek / Blind Mouse
Cameron Diaz as Princess Fiona
Eddie Murphy as Donkey
John Lithgow as Lord Farquaad
Vincent Cassel as Monsieur Robin Hood
Conrad Vernon as Gingerbread Man
Chris Miller as Magic Mirror / Geppetto
Cody Cameron as Pinocchio / Three Little Pigs
21 Fun Shrek Facts
Steven Spielberg was originally going to produce the film in 1991 when he was in charge of Amblin Entertainment. Then, the film would have been in hand-drawn animation and was going to star Bill Murray as Shrek and Steve Martin as Donkey.
Mike Myers originally voiced Shrek with his natural speaking voice before the film was test-screened. Then he tried country Canadian accents for Shrek. However, after viewing a rough cut of the film, he felt that something was missing from his performance, and re-recorded all of his lines with a Scottish accent, based on the voice his mother used when reading him bedtime stories as a child. The original voice can still be heard in the technical goofs on the DVD. The decision to revoice Shrek in a Scottish accent ended up costing an additional $4 million, as it took him twenty sessions to complete the re-voiceover.
Shrek is based on a book from 1990 by William Steig, an artist, and illustrator. The original story is about an ogre who leaves home to seek his fortune, and in the book, Shrek can also breathe fire! Steig died aged 95 in 2003, so he lived long enough to see his character come to life!
"Shrek" means "monster" in Yiddish, and is derived from the German word "Schreck", which means "terror" or "fright".
The song "I'm a Believer", which has become one of the series' theme songs, was chosen specifically because of the line "I thought love was only true in fairy tales."
The scene where Princess Fiona burps were written after a recording session where Cameron Diaz burped after drinking Coca-Cola. Eddie Murphy improvised Donkey's response to Shrek, "She's as nasty as you are!"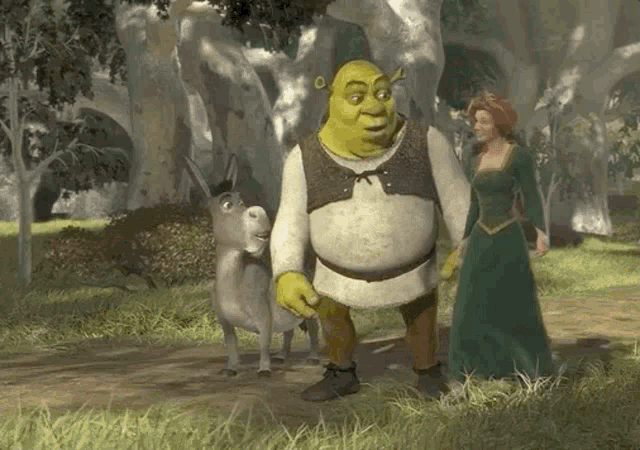 The four writers credited with writing "Shrek" are Ted Elliott, Terry Rossio, Joe Stillman, and Roger S.H. Schulman. Elliott and Rossio worked together on Disney's "Aladdin" in 1992, and Stillman and Schulman worked on "Beavis and Butthead" and "Alf Tales," respectively.
The film's art director Douglas Rogers visited a magnolia plantation in Charleston, South Carolina to do research for the look of Shrek's swamp. He ended up getting chased by an alligator.
The effects department actually took mud showers to study how to realistically portray mud in the film.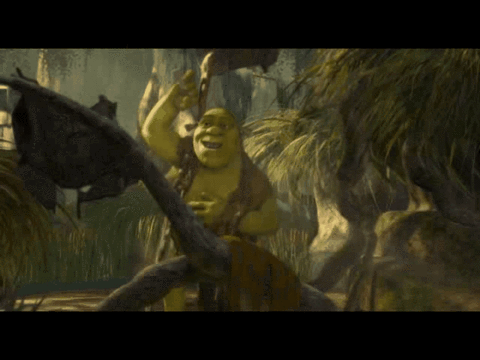 This is the only Shrek film to not have any scenes set in Far Far Away, as it wasn't introduced until the next movie.
According to Co-director Andrew Adamson, Shrek's height varies between seven and eight feet depending on who you ask. He was seven feet and since then he's grown in people's minds, and now he's usually referred to as eight feet.
Donkey's appearance was based on Pericles ("Perry"), a miniature Donkey who lives in Barron Par, Palo Alto (California) – right in the neighborhood of the Pacific Data Images/DreamWorks animators.
The film borrows a few ideas from Disney films. Examples include: Fiona singing with a bluebird, which is a parody of Snow White and the Seven Dwarfs; Shrek and Donkey gazing at the stars is a parody of The Lion King, where Simba is taught about the great kings of the past; Fiona becoming a permanent ogre via mist is a parody of Beauty and the Beast where Beast returns human, and Donkey flying is a parody of Peter Pan and Dumbo.
The list of fairytale characters in the movie: Snow White and the Seven Dwarves; the Wicked Witch of the West (or the East); The Three Bears; Pinocchio and Geppetto; the Three Little Pigs; Tinkerbell and Peter Pan; The Big Bad Wolf; The Pied Piper of Hamelin; The Gingerbread Man; Cinderella; the Three Blind Mice; Robin Hood and his Merry Men. Of all the fairytale characters Snow White, Pinocchio, Tinker Bell, Peter Pan, and Cinderella are the only ones that are based on Disney.
The film also foreshadows Fiona's identity as something other than a normal human princess. For instance, at one point the trio walks through a bug-infested field, and Fiona uses a cobweb stretched between two branches to ensnare the bugs. She wraps the web up into a candyfloss-Esque snack, which she passes to Shrek to eat. After she does this, she licks her fingers, hinting she shares Shrek's appetite for gross food not usually edible for humans. Later, she says his weed rat recipe is delicious and digs into it.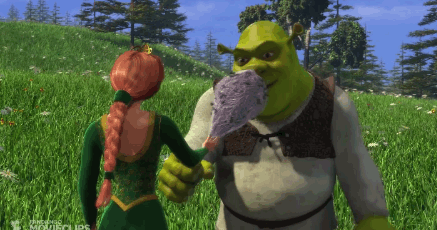 The principal actors never met each other. They all read their parts separately, with a reader feeding them the lines. John Lithgow later admitted that, while he enjoyed playing Lord Farquaad, he was a little disappointed that he never actually worked directly with Mike Myers, Cameron Diaz, or Eddie Murphy.
In 2001, Shrek, Monsters Inc., and Jimmy Neutron: Boy Genius were the first films nominated at the Academy Awards for "Best Animated Feature" and Shrek won. Making Shrek the first animated film to win an Oscar. It is also the only DreamWorks Animation film so far to win an Oscar.
In 2007, Jeffrey Katzenberg said that the film not only saved the company, financially speaking, but that it gave Dreamworks Animation an image that allowed them to make Madagascar (2005), Kung Fu Panda (2008), and How to Train Your Dragon (2010).
Shrek saying to Donkey, "That'll do, Donkey, that'll do" is a reference to the 1995 film "Babe" about a farmer and his sheep herding pig.
Mike Myers actually read opposite his (then) wife Robin Ruzan when recording his lines for the climactic love scene at the end of the movie.
After its success in the early 2000s, "Shrek" was adapted into a Broadway musical in 2008. It ran on Broadway until 2010 and starred Brian d'Arcy James as Shrek and Broadway legend Sutton Foster as Princess Fiona. The musical won a Tony Award for best costume design in 2009.
Whether one was a kid, an adult, or somewhere in between when Shrek first hit theaters, there's no denying the ongoing influence the film has had in the years since its release. To celebrate, grab a drink and some snacks and turn on the TV. Shrek and its many sequels are available on various streaming services. You could also try having a Shrek party and dressing up as your favorite character.
Thank you for visiting my blog and reading today's post, I hope you all have a lovely week and I shall see you next Wednesday 😃