Good Morning everyone! Hope you're all Ok 🤞🏽 Has everyone been enjoying the sunny weather?! I wish I could say I have, but hot weather tends to cause my headaches to become worse which is probably why I didn't particularly enjoy the start of the week, but Sunday definitely cheered me up as we visited Kim, Chris and Isaac! It was so nice seeing them again and being able to actually hug them (cuddles with my nephew are now one of my favorite things) I loved seeing his little face light up with a smile and hearing him laugh, but I mostly loved being able to spend time with all of them, hopefully (fingers crossed) we'll be able to see each other more often.
On with today's post…Many of us have grown up watching Donald Duck cartoons. We fondly remember scenes of Donald losing his cool over small things and getting into comical situations. Without Donald Duck, we wouldn't have some of our favorite cartoons from the '90s — "Duck Tales" being one of them. Who could forget the scene of Scrooge McDuck swimming through piles of money? Admit it, you probably wanted to do that too. So I thought to celebrate Donald turning 87 years old, I would do a post about him. Lets start…
Happy Birthday Donald Duck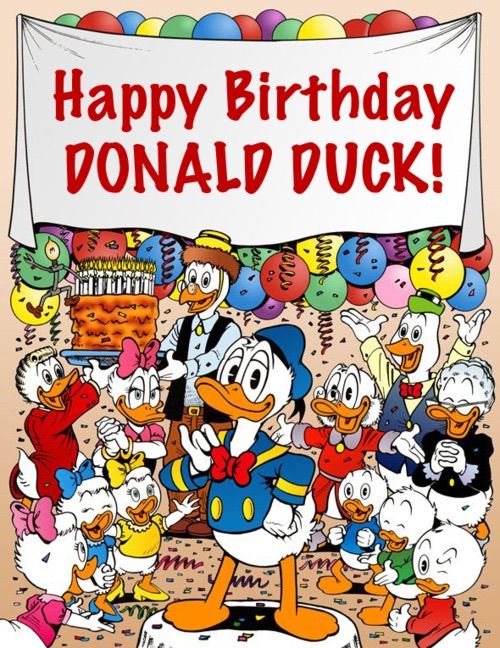 Each year June 9th commemorates the birthday of a funny animated cartoon character. Donald Duck made his first screen debut on June 9, 1934, in The Wise Little Hen. Usually wearing a sailor suit with a cap and a black or red bow tie, Donald Duck is most famous for his semi-intelligible speech along with his mischievous and irritable personality. He has appeared in more films than any other Disney character, and in 2002 was also declared by TV Guide as one of the 50 greatest cartoon characters of all time. In addition to animation, Donald is also known for his appearance in comic books and newspaper comic strips. One of Donald Duck's famous sayings is "Oh boy, oh boy, oh boy."
Early Development:
Donald's first appearance was in the 1934 cartoon The Wise Little Hen, which was part of the Silly Symphonies series of theatrical cartoon shorts. The film's official debut of June 9 is officially recognized by the Walt Disney Company as Donald's birthday. Donald's appearance in the cartoon, as created by animator Dick Lundy, is similar to his modern look – the feather and beak colors are the same, as are the blue sailor shirt and hat – but his features are more elongated, his body plumper, his feet smaller, and his sclera white. Donald's personality is not developed either; in the short, he only fills the role of the unhelpful friend from the original story. Burt Gillett brought Donald back in a 1934 Mickey Mouse cartoon, Orphans' Benefit. Donald is one of a number of characters who are giving performances in a benefit for Mickey's Orphans. Donald's act is to recite the poems Mary Had a Little Lamb and Little Boy Blue, but every time he tries, the mischievous orphans heckle him, leading the duck to fly into a squawking fit of anger. This explosive personality would remain with Donald for decades to come.
In 1936, Donald was redesigned to be a bit fuller, rounder, and cuter, beginning with the cartoon Moving Day. He also began starring in solo cartoons, the first of which was Ben Sharpsteen's 1937 cartoon, Don Donald. This short also introduced a love interest of Donald's, Donna Duck, who evolved into Daisy Duck. Donald's nephews, Huey, Dewey and Louie, would make their first animated appearance a year later in the 1938 film, Donald's Nephews, directed by Jack King (they had been earlier introduced in the Donald Duck comic strip by Al Taliaferro). By 1938, most polls showed that Donald was more popular than Mickey Mouse.
Personality:
Donald has two dominant personality traits are his fiery temper and his upbeat attitude to life. Many of Donald's shorts start with Donald in a happy mood, until something comes along and spoils his day. His rage is a great cause of suffering in his life. On multiple occasions, it has caused him to get in over his head and lose competitions. There are times when he fights to keep his temper in check, and he sometimes succeeds in doing so temporarily, but he always returns to his normal angry self in the end. Whilst Donald's aggressive nature does have its advantages, at times it is a hindrance, but it has also helped him in times of need. For example, when faced with a threat of some kind i.e. Pete's attempts to intimidate him, he is initially scared, but his fear is soon replaced by anger. As a result, instead of running away, he fights—with ghosts, sharks, mountain goats, giant kites, and even the forces of nature.
Donald is something of a prankster, and as a result, he can sometimes come across as a bit of a bully, especially in the way he sometimes treats Chip n' Dale and Huey, Dewey and Louie, his nephews. However, with a few exceptions, there is seldom any harm in Donald's pranks. He almost never intends to hurt anyone, and when his pranks go too far, he is often apologetic. In Truant Officer Donald, for example, when he is tricked into believing he has accidentally killed Huey, Dewey, and Louie, he shows great regret, blaming himself. His nephews appear in the form of angels, and he willingly endures a kick by one of them—that is, of course, until he realizes he has been tricked, whereupon he promptly loses his temper.
Voice(s) Of Donald Duck:
Donald's first voice was performed by Clarence Nash, who voiced him for 50 years. Nash voiced Donald for the last time in Mickey's Christmas Carol (1983), making Donald the only character in the film to be voiced by his original voice actor. He did, however, continue to provide Donald's voice for commercials, promos, and other miscellaneous material until he died in 1985. Since Nash's death, Donald's voice has been performed by Disney animator Tony Anselmo, who was actually mentored by Nash for the role. Anselmo's first performance as Donald is heard in a 1986 D-TV special, D-TV Valentine on The Disney Channel, and in his first feature film, Who Framed Roger Rabbit, in 1988. Walt Disney insisted on character consistency, and integrity. As long as Clarence was alive no one other than Clarence was permitted to provide Donald's voice. Continuing in that tradition, in 1988 Roy E. Disney created the department of Disney Character Voices to insure continuation of character integrity, consistency, and quality in recording methods. Roy named one official voice for all Walt Disney legacy characters. Tony Anselmo was named by Roy E. Disney as Disney's official voice of Donald Duck. While Anselmo continues as the official voice role of Donald for every other Disney projects, in the TV series Mickey and the Roadster Racers, later named Mickey Mouse Mixed-Up Adventures, Donald is voiced by actor Daniel Ross.
Comics:
While Donald's cartoons continue to be shown in the United States and around the world, his weekly and monthly comic books enjoy their highest profile in many European countries, especially Italy, Sweden, Denmark, Norway, Finland and Iceland, but also Germany, the Netherlands, and Greece. Most of them are produced and published by the Italian branch of the Walt Disney Company in Italy (Disney Italy) and by Egmont in Denmark, Norway, Finland and Sweden. According to the Inducks, which is a database about Disney comics worldwide, American, Italian and Danish stories have been reprinted in the following countries. In most of them, publications still continue: Australia, Austria, Argentina, Belgium, Brazil, Bulgaria, Canada, China, Colombia, Croatia, Czech Republic, Denmark (Faroe Islands), Egypt, Estonia, Finland, France, Germany, Greece, Guyana, Hungary, Iceland, India, Indonesia, Israel, Italy, Japan, Latvia, Lithuania, Mexico, the Netherlands, Norway, Philippines, Poland, Portugal, Romania, Russia, Saudi Arabia, Slovakia, Spain, Sweden, Thailand, Turkey, the United Kingdom, the United States, and the former Yugoslavia.
Facts About Donald Duck:
Donald was born on Friday the thirteenth (The license plate on his car was 313, which refers to his birthday – 13th March).
Was one of the Presenters of the Oscars in 1958.
Has his own star on the Hollywood 'Walk of Fame'. Donald received his own star on the Hollywood Walk of Fame in 2005.
Donald has a middle name. His middle name is Fauntleroy, so his full name is Donald Fauntleroy Duck.
Donald never wears trousers. Never in the long history of this temperamental duck has he ever worn a pair of trousers.
Donald's greatest enemies are Chipmunks Chip and Dale. Two creatures that appear to be very sweet, but sometimes can make Donald's life extremely hard. They often manage to outsmart Donald, but sometimes Donald pranks them back.
Donald was modeled after a real specie of Ducks. He is an American Pekin, to be exact. This breed of duck actually has its origins in China but became a popular commercial duck choice for U.S. breeders after being brought over in the late 1800s. Pekin ducks are recognizable by their large bodies (larger than most other duck breeds) and their white (or sometimes creamy colored) plumage.
Donald's first appearance in comic strip format was the 1934 Silly Symphony comic strip sequence based on the short The Wise Little Hen. Donald made a few more appearances in Disney-themed strips, and by 1936, he had grown to be one of the main characters in the Silly Symphony strip. Ted Osborne was the primary writer of these strips, with Al Taliaferro as his artist.
Donald is the only significant film and television cartoon character to appear as a mascot for a major American university: a licensing agreement between Disney and the University of Oregon allows the school's sports teams to use Donald's image as its "Fighting Duck" mascot. In 1984, Donald Duck was named an honorary alumnus of the University of Oregon during his 50th birthday celebration.
Donald has a few memorable phrases that he occasionally comes out with in certain situations. For example, when things do not go as he had planned or do not work properly, he often says, "What's the big idea!?" When he gives up on something he is trying to do, he tends to say, "Aw, phooey!" He greets his girlfriend Daisy, and occasionally others, with, "Hiya, toots!" And when he is very excited about something, he usually mutters, "Oh boy, oh boy, oh boy…" under his breath.
He has a twin sister called Della who is also the mother of Donald's nephews Huey, Louie and Dewey.
Donald was created by Walt Disney when he heard Clarence Nash doing a peculiar voice while reciting "Mary Had a Little Lamb". Nash described the voice as a goat; Walt, however, insisted that it was a duck. Nash was hired on the spot, and with a voice in place, a stage was needed to put this new duck character to the test.
Donald Duck's father's name is Quackmore Duck, his mother's name is Hortense McDuck.
Donald is the fifth most published comic book character in the world after Superman, Batman, Spider-Man, and Wolverine, according to toplst.com.
Daisy Duck may be Donald's true love, but she wasn't his first. That honor goes to Donna Duck, who appeared in the 1937 cartoon short Don Donald. Daisy would make her debut three years later in Mr. Duck Steps Out
Donald is the nephew of the wealthy and money obsessed Scrooge McDuck – which is where Donald Duck has inherited his obsession with gold and money.
Donald's line in nautical attire isn't just for show. At various times he's been a member of both the U.S. Navy and U.S. Army. He was retired honorably from active service at a special ceremony and parade in 1984.
Donald scored an Oscar in 1943, for the wartime anti-Nazi animated short Der Feuhrer's Face.
Donald is the all-time most published comic book character (that isn't a superhero).
On occasion, Donald Duck has been known to fight crime as the costumed superhero Super Duck (a.k.a. "The Masked Mallard" or "Super Donald"). Super Duck first appeared in the Italian version of Donald's comic book in 1969. Super Duck doesn't have any super powers, but rather uses his brains along with various gadgets and electronic gizmos to defeat criminals such as the Beagle Boys.
Thank you for visiting and reading my blog, I hope you liked it and maybe found out a few things about Donald that you never knew (I know I did). So here's to you Donald Duck, Happy Birthday 🎂
For now though, enjoy the rest of your week and I shall see you next Wednesday!