Good Morning everyone, hope you're all doing ok! I've been so tired this past week and suffering quite badly with my headaches, which probably hasn't been helped by the occasional random bursts of sunshine that has peaked through at times (my body doesn't cope well with warm temperatures), so I've been having to lie down in a dark room a lot more and close my eyes to try and help ease the pain, rather than taking paracetamol as I don't like taking tablets, but other than that I can't really complain.
Anyway on with today's post…
Women's History Month, which is observed in the US, UK and Australia in March, and in October in Canada, began with a single day. International Women's Day is March 8, and it has been observed in some shape or form since 1911. It was officially commemorated by the United Nations in 1975 and was officially recognized by the UN two years later.
The courageous women who energized and transformed a grateful nation. Valiant is such a noble word, and descriptive of the plight of the Women's Suffragist Movement and the actions of those refusing to be silenced to ensure equality. Their valiancy means "possessing or acting with bravery or boldness: courageous" and "marked by, exhibiting, or carried out with courage or determination: heroic." Today we have our vote and we demand our voice through our vote be respected and heard. Each day we should recognize the many achievements of women throughout history in art, athletics, business, government, philanthropy, humanities, science, and education. Women have contributed a lot to society, and we have made great strides in reducing the gender equity gap and fighting for the right to vote and I want to share with you some of the women who made that happen…
Susan B. Anthony (1820-1906)
A lecturer and activist, Anthony was arrested in 1872 for casting a "test vote" in Rochester, New York, in the presidential election, in an attempt to claim that the constitution already permitted women the right. Despite being found guilty in the court case United States v. Susan B. Anthony, she refused to pay her fine. In 1878, Anthony and Elizabeth Cady Stanton arranged for Congress to be presented with an amendment giving women the right to vote. Introduced by Sen. Aaron A. Sargent (R-CA), it later became known colloquially as the Susan B. Anthony Amendment. It was eventually ratified as the Nineteenth Amendment to the U.S. Constitution in 1920. Anthony traveled extensively in support of women's suffrage, giving as many as 75 to 100 speeches per year and working on many state campaigns. She worked internationally for women's rights, playing a key role in creating the International Council of Women, which is still active. She also helped to bring about the World's Congress of Representative Women at the World's Columbian Exposition in Chicago in 1893.
Elizabeth Cady Stanton (1815-1902)
One of the most well-known leaders of the suffrage movement, Elizabeth Cady Stanton was among those responsible for calling the 1848 Seneca Falls convention — which brought together over 200 women and 40 men, and is widely considered the birthplace of women's suffrage. Stanton was the primary writer of the convention's Declaration of Sentiments. Her demand for women's right to vote generated a controversy at the convention but quickly became a central tenet of the women's movement. She was also active in other social reform activities, especially abolitionism. In May 1869, two days after the final AERA convention, Stanton, Anthony and others formed the National Woman Suffrage Association (NWSA), with Stanton as president. They focused primarily on winning suffrage at the national level while the American Woman Suffrage Association (AWSA) pursued a state-by-state strategy. The NWSA initially worked on a wider range of women's issues than the AWSA, including divorce reform and equal pay for women.
Sojourner Truth (1797–1883)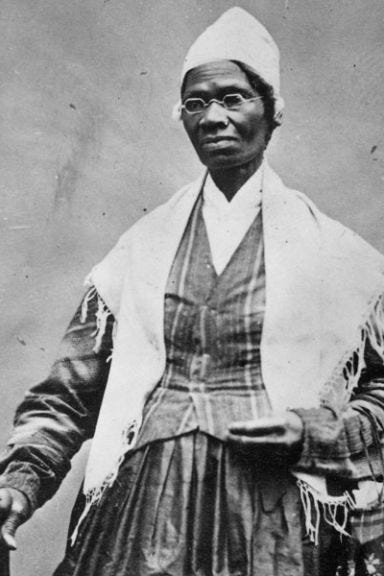 Born into slavery in 1797, Isabella Baumfree (who changed her name to Sojourner Truth) is one of the most important early fighters for suffrage and equality. Known for her speech, "Ain't I A Woman?" delivered at the 1851 Women's Rights Convention in Akron, Ohio, Truth's early work calling attention to the intersection between race and gender paved the way for suffrage and civil rights. While she worked alongside prominent suffragists like Elizabeth Cady Stanton and Susan B. Anthony, Truth eventually broke with them over their refusal to support votes for Black people without women also having the right. A memorial bust of Truth was unveiled in 2009 in Emancipation Hall in the U.S. Capitol Visitor's Center. She is the first African American woman to have a statue in the Capitol building. In 2014, Truth was included in Smithsonian magazine's list of the "100 Most Significant Americans of All Time".
Lucretia Mott (1793-1880)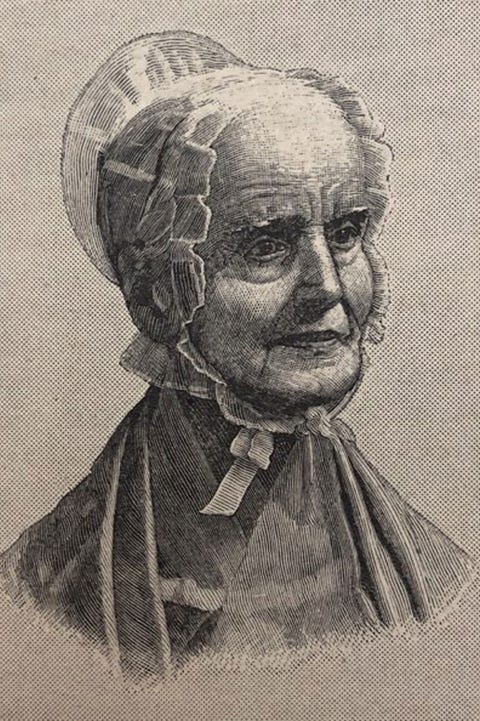 Founder of the Philadelphia Female Anti-Slavery Society in 1833, Lucretia Mott was a lifelong fighter for equality. Mott came into women's suffrage through her abolition work, which brought her to the World Anti-Slavery Convention in London in 1840, where she met Elizabeth Cady Stanton. The two then worked together to help organize the 1848 Seneca Falls Convention, and Mott continued to speak for women's rights at annual conventions thereafter. In 1848 she was invited by Jane Hunt to a meeting that led to the first public gathering about women's rights, the Seneca Falls Convention, during which Mott co-wrote the Declaration of Sentiments. Her speaking abilities made her an important abolitionist, feminist, and reformer; she had been a Quaker preacher early in her adulthood. When the United States outlawed slavery in 1865, she advocated giving former slaves, both male and female, the right to vote (suffrage). She remained a central figure in reform movements until her death in 1880.
Emmeline Pankhurst (1858-1928)
Emmeline and her daughters, Christabel Pankhurst and Sylvia Pankhurst, were leaders of the more confrontational and radical wing of the British suffrage movement. Emmeline, Christabel, and Sylvia Pankhurst were major figures in the founding of the Women's Social and Political Union (WSPU) and are often used to represent the British history of women's suffrage. She transformed the WSPU machinery into the Women's Party, which was dedicated to promoting women's equality in public life. In her later years, she became concerned with what she perceived as the menace posed by Bolshevism and joined the Conservative Party. She was selected as the Conservative candidate for Whitechapel and St Georges in 1927. She died on 14 June 1928, only weeks before the Conservative government's Representation of the People (Equal Franchise) Act 1928 extended the vote to all women over 21 years of age on 2 July 1928. She was commemorated two years later with a statue in Victoria Tower Gardens, next to the Houses of Parliament. In 1999, Time named her as one of the 100 Most Important People of the 20th Century, stating that "she shaped an idea of objects for our time" and "shook society into a new pattern from which there could be no going back".
Alice Paul (1885-1977)
Alice Paul became active in the women's suffrage movement in the 20th century. Born well after Stanton and Anthony, Paul visited England and brought back a more radical, confrontational approach to winning the vote. After women succeeded in 1920, Paul proposed an Equal Rights Amendment to the U.S. Constitution. Following the Women's Suffrage Parade, Paul went on to lead the National Woman's Party (NWP), which focused on a constitutional amendment and direct protest actions. In 1917, Paul and others were arrested while picketing the White House demanding President Woodrow Wilson's support for suffrage. She later staged a hunger strike in jail. Once the 19th Amendment was adopted, Paul continued working toward gender equality, writing the Equal Rights Amendment (ERA) in 1923. She also won a large degree of success with the inclusion of women as a group protected against discrimination by the Civil Rights Act of 1964 alongside legal scholar Pauli Murray.
Mary McLeod Bethune (1875-1955)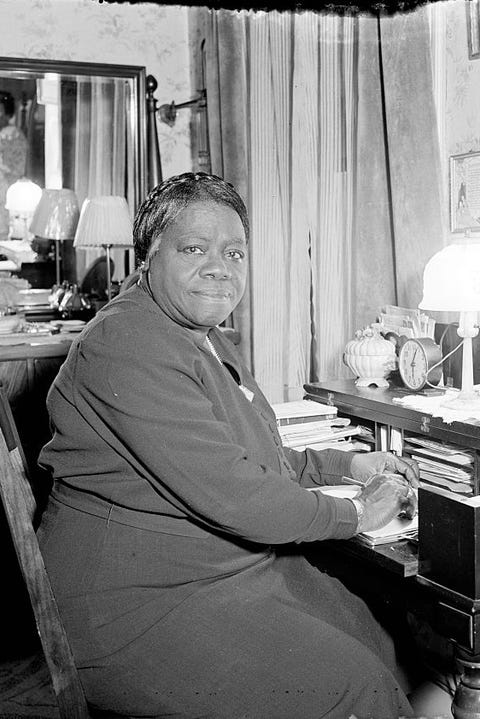 Educator and activist, Mary McLeod Bethune dedicated her life to civil rights and suffrage. In 1912, she joined the Equal Suffrage League, which was an offshoot of the National Association of Colored Women. Following the passage of the 19th Amendment, Bethune turned her attention to encouraging Black women to vote and resisting voter suppression. She rode a bicycle door to door to raise money for a "poll tax," and she fought back against voter literacy tests by offering night classes. Bethune also served as president of the National Association of Colored Women (NACW) and later became an advisor to President Franklin Delano Roosevelt and First Lady Eleanor Roosevelt. In 1973, Bethune was inducted into the National Women's Hall of Fame. On July 10, 1974, the anniversary of her 99th birthday, the Mary McLeod Bethune Memorial, by artist Robert Berks, was erected in her honor in Lincoln Park (Washington, D.C.) It was the first monument honoring an African American or a woman to be installed in a public park in the District of Columbia.
Lucy Stone (1818-1893)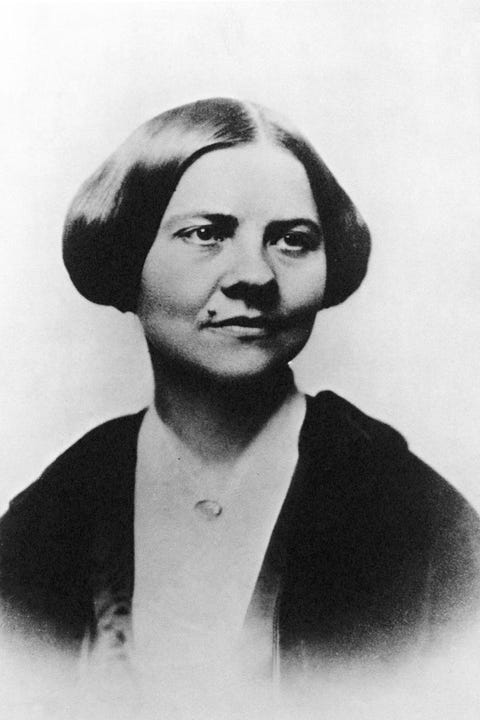 The first Massachusetts woman to earn a college degree, Lucy Stone was a suffragist and abolitionist. Unlike many of her peers, Stone was in favor of the 15th Amendment, seeing this reform as in line with her abolitionist goals on the road to gaining voting rights for women. While Stanton and Anthony would form the National Woman Suffrage Association (NWSA) seeking a constitutional amendment, Stone and others created the American Woman Suffrage Association (AWSA) which favored a state-by-state strategy to suffrage. Stone was also known at the time for defying gender norms in her refusal to take her husband's last name. Stone wrote extensively about a wide range of women's rights, publishing and distributing speeches by herself and others, and convention proceedings. In the long-running and influential Woman's Journal, a weekly periodical that she founded and promoted, Stone aired both her own and differing views about women's rights. Called "the orator", the "morning star" and the "heart and soul" of the women's rights movement, Stone influenced Susan B. Anthony to take up the cause of women's suffrage.
Daisy Elizabeth Adams Lampkin (1883-1965)
Daisy Elizabeth Adams Lampkin was an American suffragist, civil rights activist, organization executive, and community practitioner whose career spanned over half a century. Lampkin's effective skills as an orator, fundraiser, organizer, and political activist guided the work being conducted by the National Association of Colored Women (NACW); National Association for the Advancement of Colored People (NAACP); National Council of Negro Women and other leading civil rights organizations of the Progressive Era. Upon securing the right to vote, Lampkin became increasingly involved in civic engagement and civil rights advocacy effort on both the local and national level. She served as Chairwoman of the Allegheny County Negro Women's Republican League, vice-Chairwoman of the Negro Voters League of Pennsylvania and vice-Chairwoman of the Colored Voters Division of the Republican National Committee. She established the first Red Cross chapter among black women and organized local chapters of both the Urban League and NAACP in Pittsburgh. Most notably, she was made a stockholder and subsequently vice-president of the Pittsburgh Courier, which she used to raise funds for social justice causes and events. Lampkin's influence in national politics would eventually take her to the White House to meet with then President Calvin Coolidge and other noted black leaders regarding racial equality in 1924. Reflective of both the period and Lampkin's position, she was the only woman in attendance at the meeting.
Carrie Chapman Catt (1859-1947)
Carrie Chapman Catt was an American women's suffrage leader who campaigned for the Nineteenth Amendment to the United States Constitution, which gave U.S. women the right to vote in 1920. Catt served as president of the National American Woman Suffrage Association from 1900-1904 and 1915-1920. She founded the League of Women Voters in 1920 and the International Woman Suffrage Alliance in 1904, which was later named International Alliance of Women. She "led an army of vote-less women in 1919 to pressure Congress to pass the constitutional amendment giving them the right to vote and convinced state legislatures to ratify it in 1920" and "was one of the best-known women in the United States in the first half of the twentieth century and was on all lists of famous American women."
Mary Church Terrell (1863-1954)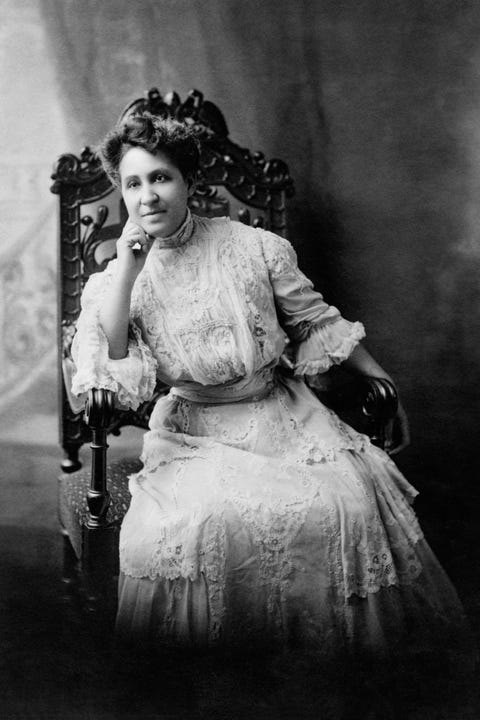 Mary Church Terrell was a barrier-breaking, lifelong fighter for gender and racial equality, who got her start as an activist in the anti-lynching movement. An active member of the National American Woman Suffrage Association and president of the National Association of Colored Women (NACW), Terrell saw the right to vote as essential to elevating the status of Black women and the race as a whole. She, along with other members of the National Woman's Party (including Alice Paul and Lucy Burns) picketed the White House demanding passage of the 19th Amendment. Terrell saw her fight for suffrage as crucial, as a member of "the only group in this country that has two such huge obstacles to surmount … both sex and race."
Ida B. Wells (1862-1931)
An American investigative journalist, educator, and early leader in the civil rights movement. She was one of the founders of the National Association for the Advancement of Colored People (NAACP). Over the course of a lifetime dedicated to combating prejudice and violence, and the fight for African-American equality, especially that of women, Wells arguably became the most famous Black woman in America. She married Ferdinand L. Barnett in 1895 and had a family while continuing her work writing, speaking, and organizing for civil rights and the women's movement for the rest of her life. Wells was outspoken regarding her beliefs as a Black female activist and faced regular public disapproval, sometimes including from other leaders within the civil rights movement and the women's suffrage movement. She was active in women's rights and the women's suffrage movement, establishing several notable women's organizations. A skilled and persuasive speaker, Wells traveled nationally and internationally on lecture tours.
Thank you for reading my post, I hope you all have a good week! See you next Wednesday 😃