Good Morning everyone, hope you're all well. I'd like to say I'm doing good, but I may have done some damage to my left shoulder , as last Friday I fell and landed on it (quite hard) which resulted in a large crack being heard, and ever since I've been unable to lift it/use it. I've been advised by a Nurse to go to A&E to have an X-ray on it as she thinks there's a possibility it could be broken 😟 so it looks like I'm going to be taking a trip to the hospital within the next couple of days to see what's wrong with it.
As I've injured my shoulder really badly and been unable to lift anything, I haven't been able to go out to take photos with my camera, so whilst I haven't been able to do that, it has given me a chance to look online for places to take photos for my blog for the future sometime, and one of the things I came across was most photographed Landmarks that are popular around the world, and I thought I would share with you a list of the top 10….
The Eiffel Tower, Paris
The Eiffel Tower, one of the most visited attractions in Paris – nay, the world – welcoming almost seven million visitors per year, opened 129 years ago today. Completed on March 31, 1889, the tower was the world's tallest man-made structure for 41 years until the completion of the Chrysler Building in New York in 1930. It is 324 metres tall (including antennas) and weighs 10,100 tonnes. It was the tallest structure in France until the construction of a military transmitter in the town of Saissac in 1973. The Millau Viaduct, completed in 2004, is also taller, at 343 metres.
2. Big Ben, London
While everyone knows this iconic landmark as Big Ben, the structure was officially known as "The Clock Tower". In 2012, however, the official name was changed to Elizabeth Tower, marking the historic Diamond Jubilee of Queen Elizabeth II. Although Big Ben is commonly used to refer to the tower as a whole, the nickname actually refers directly to the clock tower's largest bell, weighing a staggering 13.5 long tons. The tower was designed by the English architect Augustus Pugin and completed in 1859. Standing at the literally towering height of 96 meters, Big Ben features 334 steps for those willing to take the challenge of climbing from the ground floor to the belfry.
3. Empire State Building, New York
It stands 103 stories tall (1,250 feet to top floor, excludes height of antennae, which is 204 feet). It is located on Fifth Avenue between 33rd and 34th streets in Manhattan. The Empire State Building took only one year and 45 days to build, or more than seven million man-hours. The building has been featured in several movies such as "An Affair to Remember," "Sleepless in Seattle," "Elf" and "The Amazing Spider-Man."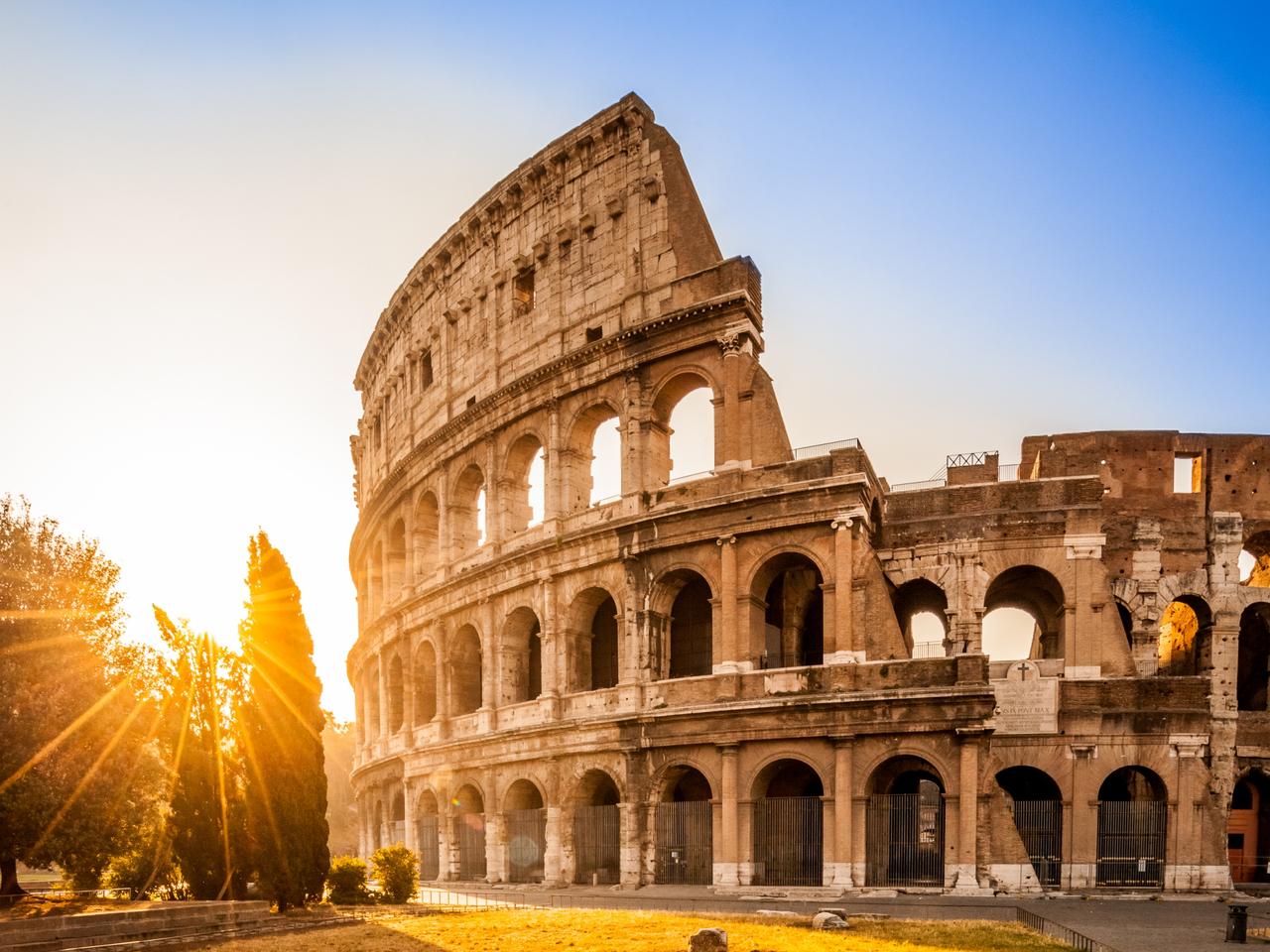 4. Colosseum, Rome, Italy
Easily Italy's most iconic structure, the Colosseum draws around 4 million visitors to the city of Rome every year. Built between 72 AD and 80 AD, the Colosseum consists of stone and concrete. It was constructed by tens of thousands of Jewish slaves under the rule of the Emperor Vespasian. Measuring 189 metres long, 156 metres wide and 50 metres in height, the Colosseum is the largest amphitheater in the world.
5. Taj Mahal, India
The Taj Mahal is a white marble built by Mughal emperor Shah Jahan in memory of his third wife, Mumtaz Mahal. In Arabic, the Taj Mahal is known as "crown of palaces". It is said to be the jewel of Islamic art in a nation that is predominantly Hindu. As if to show case the expanse of the Mughal Empire, it combines architectures from all the corners of the Empire including Islamic, Persian, Ottoman Turkish and Indian architectural styles. The Taj Mahal was built by a whopping 22,000 laborers, painters, stonecutters, embroidery artists. It's intricate work of art and architectural genius took 17 years to complete.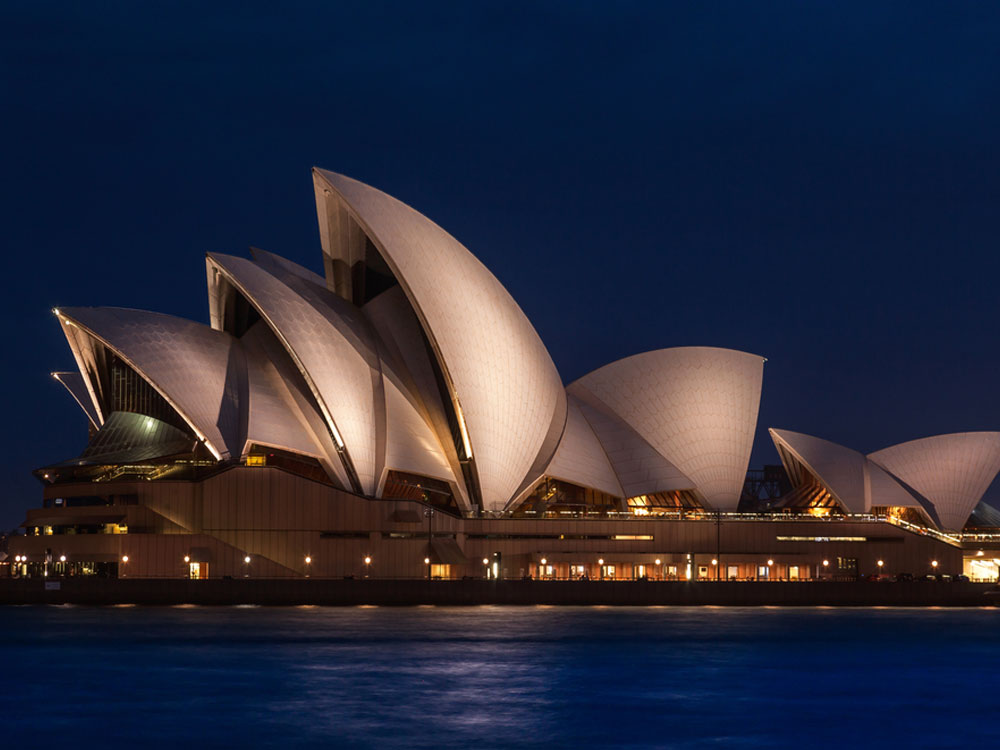 6. Sydney Opera House, Australia
Construction was expected to take four years. It took 14 years. Work commenced in 1959 and involved 10,000 construction workers. There are more than 1 million roof tiles covering approximately 1.62 hectares sitting over the structure. They were made in Sweden. Sydney Opera House was opened by Queen Elizabeth II on 20th October, 1973. She has since visited four times, most recently in 2006. Also more than 10.9 million people visit the Opera House every year.
7. Trevi Fountain, Rome
This is the largest Baroque fountain in Rome and one of the most famous fountains in the world. At 85 feet high and 65 feet across, this fountain and its piazza take up almost an entire city block. The overarching theme of the Trevi Fountain is to tame the waters, a clear reference to the aqueducts which provide the fountain with water which brings both health and abundance. Over the course of one day, this fountain will produce 2,823,800 cubic feet of water. All of it is recycled, so you don't have to worry about any water going to waste!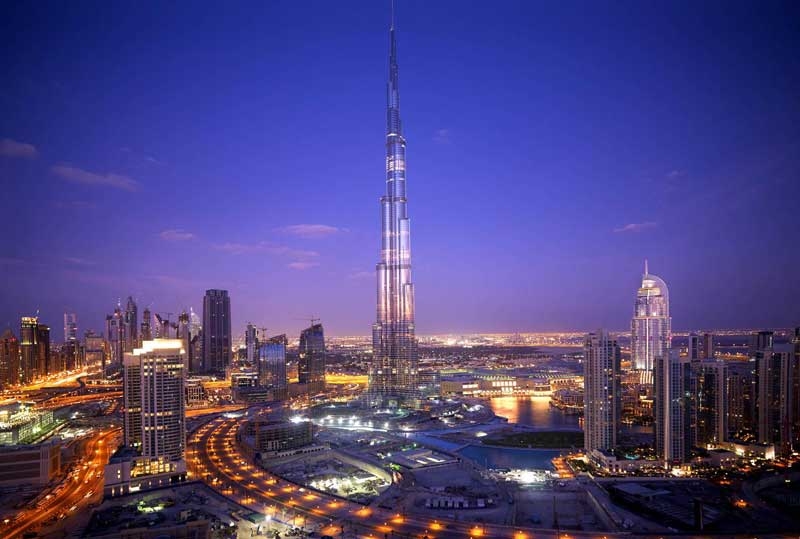 8. Burj Khalifa, Dubai, UAE
The Burj Khalifa height is a staggering 828 meters (2716.5 feet) tall, soaring over Dubai. It's three times as tall as the Eiffel Tower and nearly twice as tall as the Empire State Building. Laid end to end, its pieces stretch over a quarter of the way around the world. It's cloud-piercing height is certainly one of the most impressive facts about Burj Khalifa.With 160 floors, the Burj Khalifa also holds the record of highest number of floors in the world.
9. Golden Gate Bridge, San Francisco
The bridge is 8,981 feet long (1.7 miles) and contains about 88,000 tons of steel. The total weight of the bridge is 887,000 tons. There are two towers that hold up the two steel cables anchoring the bridge. Also, there are approximately 80,000 miles of wire inside each of the two steel cables. The towers stand 726 feet above the water and 500 feet above street level. They weigh 44,000 tons each and are 4,200 feet apart from each other. The bridge is 90 feet wide. There are six driving lanes and two sidewalks. The width of the driving lanes is 62 feet between curbs and the sidewalks are 10 feet each. Street level is about 220 feet above the water.
10. Machu Picchu, Peru
More than 7,000 feet above sea level in the Andes Mountains, Machu Picchu is the most visited tourist destination in Peru. A symbol of the Inca Empire and built around 1450 AD, Machu Picchu was designated a UNESCO World Heritage Site in 1983 and was named one of the New Seven Wonders of the World in 2007. Machu Picchu is made up of more than 150 buildings ranging from baths and houses to temples and sanctuaries. The compound contains more than 100 separate flights of stairs. Most of the individual staircases were carved from one slab of stone.
Thank you for taking the time to come and visit my blog and reading today's post, I hope you all enjoy the rest of your week, and I will see you next Wednesday!